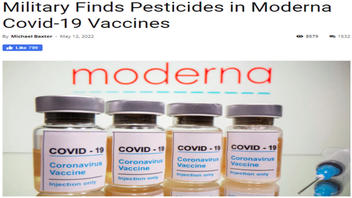 Did the U.S. military find pesticides in Moderna COVID-19 vaccine vials? No, that's not true: Not only are there no pesticides on the ingredients list for Moderna's COVID-19 vaccine, but the Department of Defense press office issued a statement saying, "There is no truth to this."
The claims appeared in an article (archived here) published by Real Raw News (RRN) on May 12, 2022, titled, "Military Finds Pesticides in Moderna Covid-19 Vaccines." It opened:
On May 2 Real Raw News reported that U.S. Special Forces under White Hat authority had raided a Moderna Covid-19 vaccine repository and destroyed approximately 250,000 vials of the company's precious clot shots. Additional information has become known, and we can now report that the Special Forces team had confiscated several boxes of vaccines prior to destroying the stockpile.

The product was then shipped to White Hats at U.S. Army Medical Research Command (USAMRDC) for chemical analysis. Fort Deitrick Deputy Commander Col. Andrew C. Kim personally oversaw the tests and on 6 May forwarded the results to the office of Marine Corps General David H. Berger.

A source within the general's office relayed the findings to RRN.

According to him, 10 of 60 vials contained insecticides, or more specifically moderate concentrations of cypermethrin and resmethrin, synthetic pesticides found commonly in products like Ortho Home Defense. Although neurotoxicity via ingestion by humans is toxic but 'generally weak', sufficient quantities or potent concentrations of these products can affect the nervous system in humans.
This is what the post looked like on Real Raw News on May 17, 2022: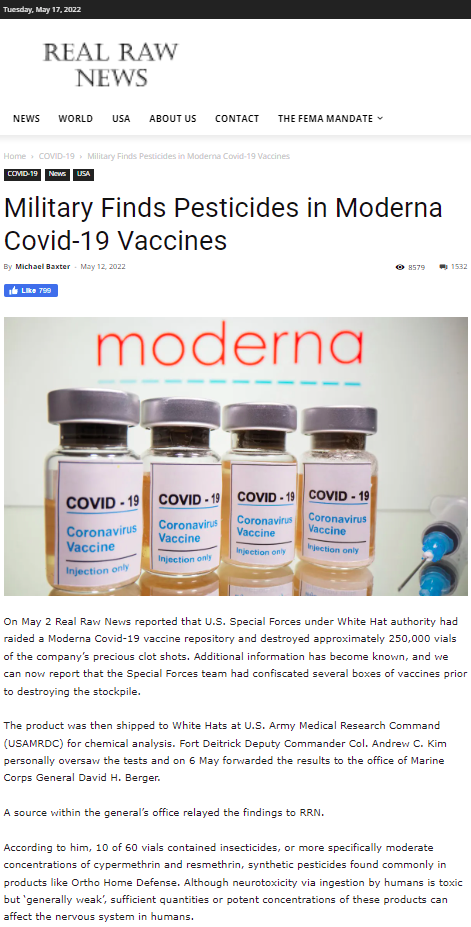 (Source: RealRawNews.com screenshot taken on Tue May 17 16:12:06 2022 UTC)
The two chemicals named in the article are cypermethrin and resmethrin. Both are pesticides that Real Raw News claimed were found in vials of Moderna's COVID-19 vaccine. Neither are included on the ingredients list for the shot from the drugmaker.
In a May 17, 2022, email to Lead Stories, the U.S. Department of Defense press office had this to say about the claims in the article:
There is no truth to this.
In a separate May 17, 2022, email to Lead Stories, the U.S. Food and Drug Administration said:
The claim that the military found pesticides in Moderna's COVID-19 vaccine is completely false. ... The ingredients for Moderna COVID-19 Vaccine and Spikevax are listed in the respective product labeling for each product, and the vaccines do not include any pesticides.
Further, the U.S. biological defense program is based at Fort Detrick in Frederick, Maryland, not Fort Deitrick, as it is called in the Real Raw News article.
Real Raw News has a long history of publishing false claims in mock news stories, many of them about convictions and executions of various public figures at Naval Station Guantanamo Bay in Cuba. For example, the site reported former Secretary of State Hillary Clinton was hanged (she wasn't); former White House Chief of Staff John Podesta was executed (he wasn't); and that "the military" convicted former Attorney General William Barr on charges of treason (it didn't).
The website for Real Raw News includes a disclaimer that warns readers not to take its content too seriously. Specifically, it says:
Information on this website is for informational and educational and entertainment purposes. This website contains humor, parody, and satire. We have included this disclaimer for our protection, on the advice on legal counsel.

(Source: RealRawNews.com screenshot taken Tue Aug 3 16:39:48 UTC 2021)
Lead Stories has covered claims published by Real Raw News in the past. Previous Lead Stories debunks of Real Raw News items are collected here.