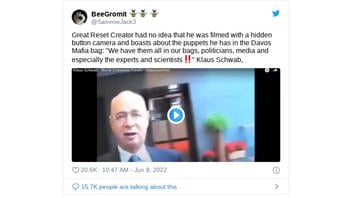 Did Klaus Schwab, founder and executive chairman of the World Economic Forum (WEF), say that he has politicians, media, experts and scientists "all in our bags"? No, that's not true: A social media post alleging that such leaders are "puppets" for the WEF relies on a fake quote.
The claim appeared in a tweet (archived here) on June 8, 2022. It features a video of Schwab speaking to someone behind the camera. The caption of the tweet reads:
Great Reset Creator had no idea that he was filmed with a hidden button camera and boasts about the puppets he has in the Davos Mafia bag: 'We have them all in our bags, politicians, media and especially the experts and scientists‼️' Klaus Schwab,
This is what the post looked like on Twitter at the time of writing: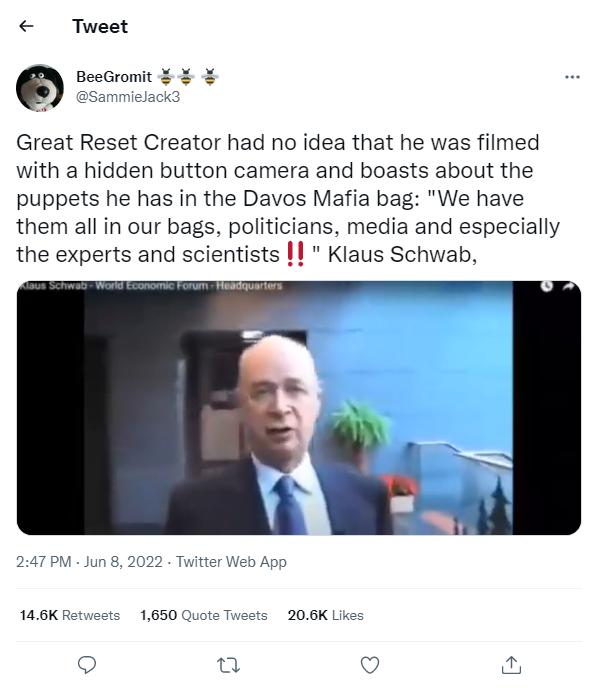 (Source: Twitter screenshot taken on Mon Jun 13 15:04:18 2022 UTC)
Two things are clear in the video: Schwab was very aware that he was being filmed and he did not say the "quote" in the tweet. Lead Stories identified the video used in the tweet as originating from a tour of the WEF headquarters featuring Schwab and uploaded to the WEF YouTube page on July 17, 2007. The clip as posted in the tweet begins at the 3:50 mark of the YouTube video. In both the clip posted to Twitter and the YouTube video, Schwab was just discussing WEF stakeholders at the time the video was recorded. He actually said:
We have -- if I look at our stakeholders, we have business, of course, as a very important audience. And we have politics, we have continuous partnerships with many governments around the world. Then of course we have NGOs, we have trade unions, we have all those different parts.
The person recording the video, identified as serial entrepreneur Loic Le Meur in the YouTube video description, mentioned media as another stakeholder. Schwab agreed:
Media, of course. And very important experts and scientists and academia. Because if we are looking at the future, I think we should look at new solutions, and the new solutions will be very much driven by technological developments.
When asked by Le Meur if religious leaders were also in this group of stakeholders, Schwab said:
Religious leaders, we have social entrepreneurs, very important social entrepreneurs.
Schwab does not say the quote in the tweet in any part of the full YouTube video of the tour.
Lead Stories searched for the quote on the WEF website and through Google's search engine. There were no results indicating that Schwab ever publicly made such a bold statement.
The supposed "Davos Mafia" referred to in the tweet appeared to be a euphemism for the WEF, which hosts its annual meeting in Davos, Switzerland.
Lead Stories has previously debunked several claims about Schwab, which can be found here.