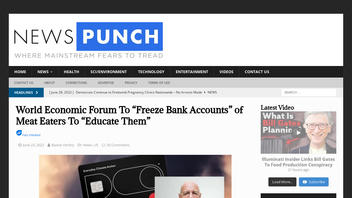 Will the World Economic Forum (WEF) "freeze" the "bank accounts of "meat eaters to 'educate them,'" and does the Doconomy credit card refuse to let a consumer buy items when they are "deemed to be a net polluter"? No, neither are true: The CEO of Doconomy told Lead Stories that this claim is "clearly a lie," as the carbon emissions limit on their app is voluntary for the Doconomy card holder. The WEF connection lies with an article that appeared on the WEF website in 2019.
The two claims originated from a website that has been previously debunked several times by Lead Stories for publishing content that is not credible or accurate.
The claims appeared in an article published by NewsPunch on June 23, 2022, titled "World Economic Forum To 'Freeze Bank Accounts' of Meat Eaters To 'Educate Them'" (archived here), which opened:
Klaus Schwab's World Economic Forum is pushing a credit card that will track your carbon consumption and cut you off when you have 'used up all your carbon credits.'
Users on social media only saw this title, description and thumbnail:
New card popular with virtue signaling liberals
Doconomy is a startup that created an alliance with financial institutions like Mastercard to launch a credit card that allows people to measure their carbon footprint. It is one of the companies in the Cards & Payments Challenge, which brings innovators of digital payment systems together to "normalize climate action in our daily consumption patterns."
In an email to Lead Stories sent on June 27, 2022, Mathias Wikström, CEO and founder of Doconomy, told Lead Stories this claim is:
... clearly a lie.

The Carbon Emissions limit is a completely voluntary limit that you can set in order to understand what it would take to meet the 2030 CO2 reduction targets as an individual.

Doconomy is the market leader in tracking and measuring the environmental impact per transaction based on carbon intensity per category. Doconomy's methodology is available through an API and provided in 32 countries by 35 leading banks and financial institutions.
The connection to the WEF appears to stem from a May 13, 2019, WEF article titled, "This credit card has a carbon-emission spending limit."
In a follow-up email to Lead Stories sent on June 28, 2022, Wikström verified that the card has never had a mandated spending limit since its inception in Sweden:
The card came with a voluntary limit (National Swedish CO2 impact average per capita as stated by the The Swedish Environmental Protection Agency, divided in 12 to get a monthly indicator).

There is no card with the limit in the market today.
About News Punch
NewsPunch (formerly YourNewsWire) has published several hoaxes and fake news articles in the past so anything they write or publish should be taken with a large grain of salt. Their Facebook page "The People's Voice" even lost its verification checkmark according to a 2018 report from Media Matters For America.
The Terms of Use of the site (archived here) also make it clear they don't really stand behind the accuracy of any of their reporting:
NEWSPUNCH, LLC AND/OR ITS SUPPLIERS MAKE NO REPRESENTATIONS ABOUT THE SUITABILITY, RELIABILITY, AVAILABILITY, TIMELINESS, AND ACCURACY OF THE INFORMATION, SOFTWARE, PRODUCTS, SERVICES AND RELATED GRAPHICS CONTAINED ON THE SITE FOR ANY PURPOSE.
The site was profiled in The Hollywood Reporter in 2017 where it was described as:
Your News Wire, a 3-year-old website of murky facts and slippery spin, is published by Sean Adl-Tabatabai and Sinclair Treadway -- a Bernie Sanders supporter in 2016 -- out of an apartment in L.A.'s historic El Royale.
RationalWiki described it as:
YourNewsWire (styled as YourNewsWire.com) is an Los Angeles-based clickbait fake news website known for disseminating conspiracy theories and misleading information, contrary to its claimed motto ('News. Truth. Unfiltered').
A while ago we reported that YourNewsWire had rebranded itself as NewsPunch by changing its domain name in an apparent effort to evade filtering/blocking.