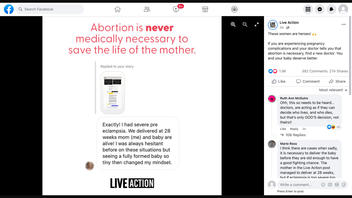 Is abortion never medically necessary to save the life of the mother? No, that's not true: Two board-certified OB-GYNs said there are multiple reasons why abortion could be medically necessary to save the life of the mother. Some of these reasons include cancer, heart failure, and ectopic pregnancies.
The claim appeared in a Facebook post on July 3, 2022, with the caption "These women are heroes!

"If you are experiencing pregnancy complications and your doctor tells you that abortion is necessary, find a new doctor. You and your baby deserve better." The post reads:
Abortion is never medically necessary to save the life of the mother.
This is what the post looked like on Facebook at the time of writing: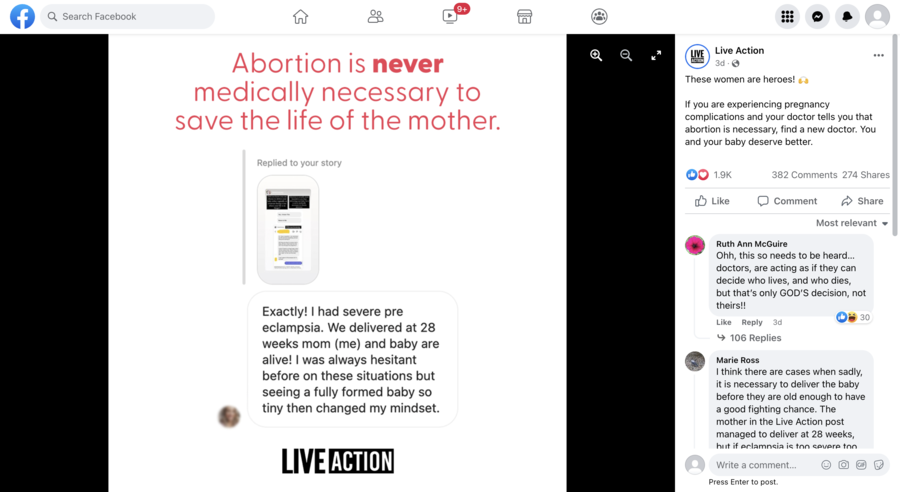 (Source: Facebook screenshot taken on Thu Jul 7 14:24:19 2022 UTC)
There's also an Instagram story reply in the post: "Exactly! I had severe pre eclampsia. We delivered at 28 weeks mom (me) and baby are alive! I was always hesitant before on these situations but seeing a fully formed baby so tiny then changed my mindset."
Dr. Felice Gersh, a dual board-certified doctor in OB-GYN and integrative medicine, told Lead Stories over the phone on July 6, 2022, that the claim is not accurate and listed numerous reasons why.
Cancer, leukemia, lupus, heart problem, renal disease
If the mother has been diagnosed with cancer, the treatment would end the fetus' life, but if the mother forgoes the treatment it would end her life. The same reasoning applies to leukemia and lupus. Heart disease, heart defects or heart failure in the mother would become exacerbated during pregnancy. That's because pregnancy makes the heart double its output to keep the baby alive. Renal disease found in the mother has the same effect.
Incorrect implants
A cornual pregnancy is when the embryo incorrectly implants on the uterine muscle, instead of inside the uterus. When OB-GYNs discover that the embryo is placed there, it's usually too late. The embryo may have a heartbeat at that stage, but it will rupture and kill the mother if the pregnancy goes any further. An abdominal pregnancy is when the embryo implants on the omentum, or the abdominal wall. Gersh noted that a pregnancy can be viable if this happens, but it's very rare. These types of pregnancies are more likely to cause a massive hemorrhage for the mother.
Preeclampsia
Can pregnant women deliver a live baby despite preeclampsia, as in the anecdote seen in the Facebook post? Gersh said:
So, preeclampsia is a vascular disease of pregnancy, and because it's vascular it can involve pretty much any organ system. It's characterized by hypertension (high blood pressure), renal disease that involves losing protein into the urine, and edema where there's a lot of fluid retention, which is also related to renal and vascular dysfunction. It's a very life-threatening condition when you have very severe preeclampsia and it's one of the causes of maternal death. There are cases when preeclampsia can go to the point of eclampsia, that's when you actually have seizures, or it can advance to an even more advanced stage called HELLP Syndrome.
HELLP Syndrome is a series of symptoms affecting red blood cells, liver function and platelets, usually only affecting pregnant women, according to the American Pregnancy Association.
Gersh continued:
Many women have milder forms of preeclampsia. They can survive and sometimes their babies are born severely prematurely, and have significant conditions for the rest of their lives in various ways related to the mother having preeclampsia. So if a woman had, for example, severe preeclampsia that was life-threatening ... they wouldn't call this an abortion, they would call it an early delivery to try and save the life of the mother. Delivering the baby would end preeclampsia for the mother.
Gersh guessed that this woman's doctor advised her to have an early delivery at 28 weeks because if she didn't, she and her baby would die. Preeclampsia can get worse for the first few weeks following delivery, but eventually it ends because there is no more pregnancy to cause preeclampsia.
In a July 6, 2022, email, Dr. Jessica Shepherd, a board-certified OB-GYN and chief medical officer at Verywell Health, gave us a list of other medical conditions that can threaten the life of a pregnant woman:
placental abruption
cardiomegaly and heart failure
sepsis
respiratory distress
hemorrhage
pulmonary embolism
stroke
heart attacks or hypertensive disorders of pregnancy
Other Lead Stories fact checks concerning abortion are here.