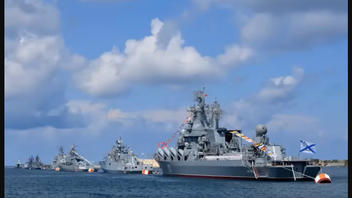 Does this video prove that 30 British aircraft intercepted Russia's Black Sea fleet? No, that's not true: The video shows a compilation of file photos, some not even of British aircraft, with subtitles. At least one shows an obsolete aircraft. Some of the subtitles do not make sense in terms of a military operation such as: "an early warning aircraft has been identified in the sky which Russian news publication ghost becomes a talisman reports ..."
The claim appeared in a Facebook post on July 1, 2022, under the title "AGHAST! 30 British aircraft 'intercepted' Russia's Black sea Fleet!"
This is what the post looked like on Facebook at the time of writing: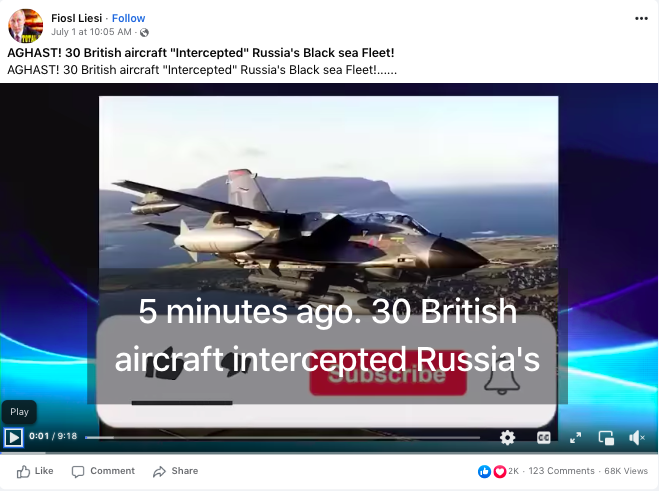 (Source: Facebook screenshot taken on Thu Jul 7 15:48:15 2022 UTC)
The first image is a still photo in an unidentifiable location, most likely of a Tornado modified by the U.K. Royal Air Force (RAF) with a Sea Eagle anti-ship missile.
The second image is likely an American-made, McDonnell Douglas F-4 Phantom II, originally developed by McDonnell Aircraft for the U.S. Navy, which saw combat in both the Vietnam War and Operation Desert Storm. The F-4 Phantom is not listed as an aircraft in active use by the RAF and aircraft enthusiast sites say RAF retired them in the 1990s.
The subtitles say, "British media reported that about 30 military and combat aircraft are engaged in a large scale military operation whose targets and targets are not announced according to several sources" but a Google search surfaced no news items that support the claim.
Lead Stories previously debunked a claim that U.S. Air Force F35s were carrying out air raids in the Black Sea, destroying Russian forces.
Other Lead Stories fact checks related to the 2022 Russia-Ukraine conflict can be found here.