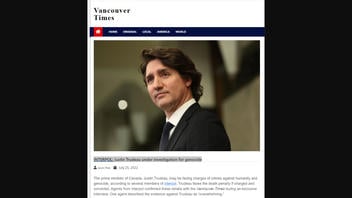 Is Canadian Prime Minister Justin Trudeau being investigated for genocide by Interpol? No, that's not true: As of July 26, 2022, the International Criminal Police Organization made no announcement regarding Trudeau being a suspect. The article that made the claim was published on a satirical website and did not provide any evidence.
The claim appeared in an article titled "Interpol: Justin Trudeau under investigation for genocide," published by the Vancouver Times on July 25, 2022 (archived here.)
The article opened:
The prime minister of Canada, Justin Trudeau, may be facing charges of crimes against humanity and genocide, according to several members of Interpol. Trudeau faces the death penalty if charged and convicted. Agents from Interpol confirmed these details with the Vancouver Times during an exclusive interview. One agent described the evidence against Trudeau as 'overwhelming.'
Here is what the article looked like at the time of writing: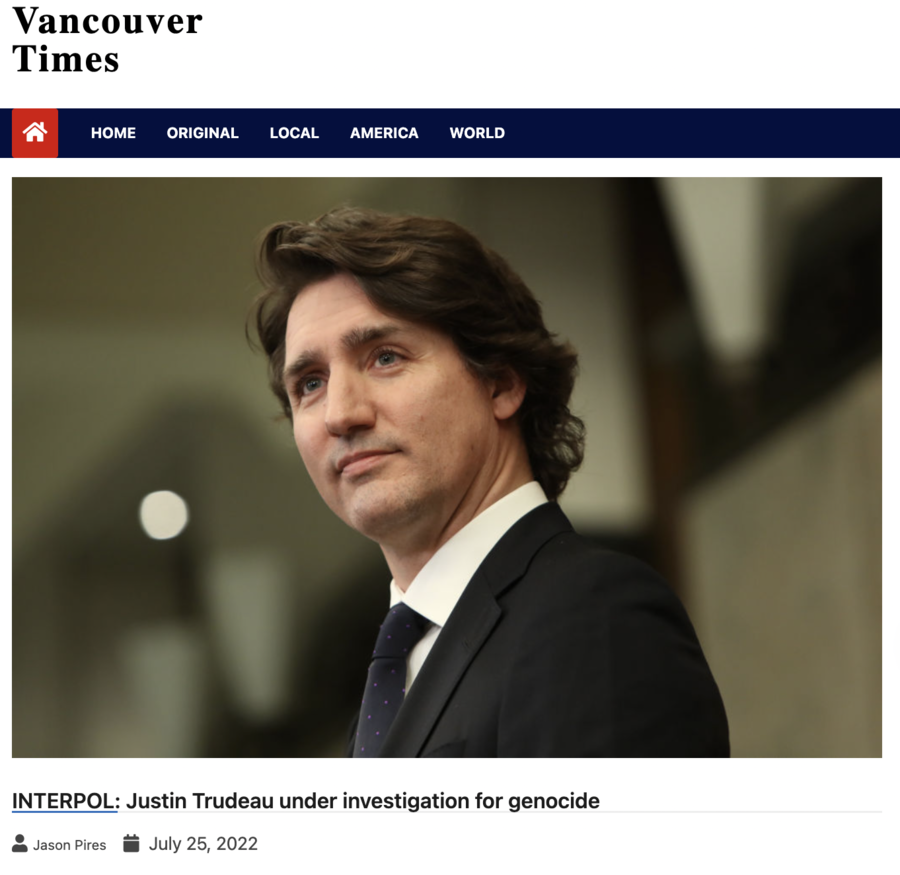 (Source: Vancouvertimes.org screenshot taken on Tue Jul 26 19:16:39 2022 UTC)
The article links to the Interpol website, but there are no search results with Trudeau's name: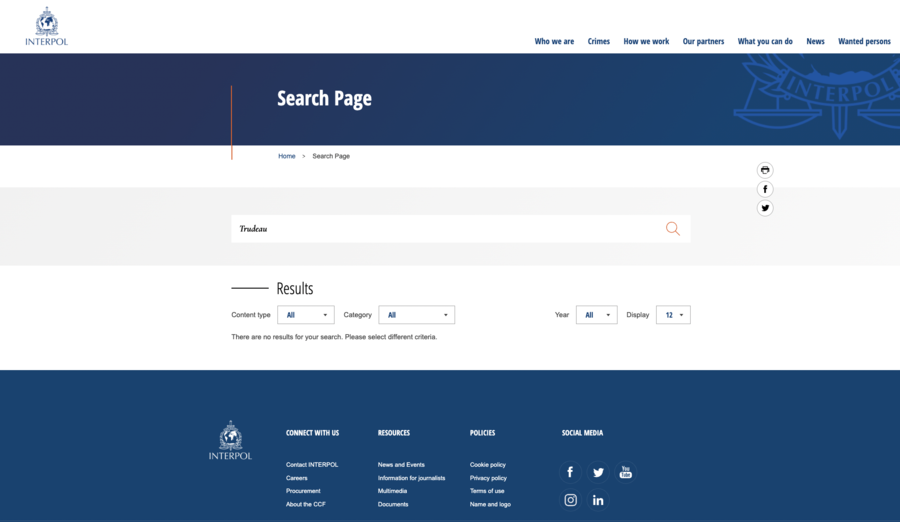 (Source: Interpol.int screenshot taken on Tue Jul 26 17:18:50 2022 UTC)
Interpol's website contains no information about any investigations treating administering vaccines against COVID-19, proven to be safe and effective, as a possible genocide or a crime against humanity. The organization's press releases that mention the shots date back to 2021 and discuss either "fake vaccine" distribution in South Africa or other fraudulent activities aimed to extort money for vaccination.
The Vancouver Times story cites an anonymous Interpol agent describing the evidence against Trudeau as "overwhelming" and says the website was granted an "exclusive interview" with the source. However, the article doesn't contain any other quotes from this supposed interview and provides no examples or details to support the statement of the purported source.
While Canadian truck drivers did protest against COVID-related restrictions and vaccine mandates at the beginning of 2022, and many were critical of the government's approach to handling discontent, 72 percent of Canadians surveyed did not support these protests.
The government of Canada says safety is always evaluated before any medical product is approved for mass use:
Health Canada reviews scientific evidence of a drug or vaccine, including results from clinical trials, to assess the product's safety, efficacy and quality before it can be sold in Canada. To facilitate earlier access to COVID-19 drugs or vaccines, Health Canada prioritized the review of these products while ensuring there is adequate evidence of safety, efficacy and quality to merit access to Canadians.
More information about approved vaccines in Canada can be found here.
Vancouver Times describes itself as a satirical website that bears no responsibility for the "completeness, accuracy, timeliness" of published materials. In July 2022, it ran other similar stories accusing Microsoft co-founder Bill Gates and World Health Organization Director-General Tedros Adhanom Ghebreyesus of "crimes against humanity." Lead Stories debunked these claims here and here.
Lead Stories fact checks of other Vancouver Times reports can be found here.