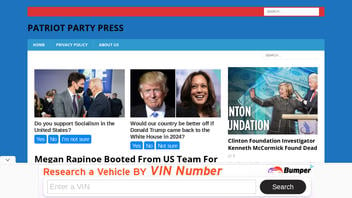 Was Megan Rapinoe booted from the U.S. women's soccer team for assaulting a teammate? No, that's not true: The story was posted on a satire website. The claim is "100 percent not true," Neal Buethe, spokesperson for U.S. Soccer, told Lead Stories. The names listed in the article as teammates are "made up," he said. They are not part of the official U.S. Women's National Team.
The claim appeared in an article published by Patriot Party Press on July 19, 2022, titled "Megan Rapinoe Booted From US Team For Assaulting a Teammate" (archived here), which opened:
The team voted to get rid of its biggest problem.
Users on social media only saw this title, description and thumbnail:
The team voted to get rid of its biggest problem.
The About Us section of the Patriot Party Press website clearly states that they are a satire site:
Taterforceone.com is a subsidiary of the 'America's Last Line of Defense' network of parody, satire, and tomfoolery, or as Snopes called it before they lost their war on satire: Junk News
Buethe emailed Lead Stories on July 22, 2022 to say, "100 percent not true. Definitely a false story. Quite ridiculous."
The teammates mentioned in the article, Sandy Batt and Josephine Barron, are not listed on the official website of the U.S. Women's National Soccer team. Here is a screenshot of the roster as of July 22, 2022:

(Source: U.S. Soccer website screenshot taken on Fri Jul 22 17:45:39 2022 UTC)
Patriot Party Press is part of the "America's Last Line of Defense" network of satire websites run by self-professed liberal troll Christopher Blair from Maine along with a loose confederation of friends and allies. He runs several websites and Facebook pages with visible satire disclaimers everywhere. They mostly publish made-up stories with headlines specifically created to trigger Republicans, conservatives and evangelical Christians into angrily sharing or commenting on the story on Facebook without actually reading the full article, exposing them to mockery and ridicule by fans of the sites and pages.
Every site in the network has an about page that reads (in part):
Before you complain and decide satire is synonymous with 'comedy':

sat·ire ˈsaˌtī(ə)r noun: The use of humor, irony, exaggeration, OR ridicule to expose and criticize people's stupidity or vices, particularly in the context of contemporary politics and other topical issues.

Everything on this website is fiction. It is not a lie and it is not fake news because it is not real. If you believe that it is real, you should have your head examined. Any similarities between this site's pure fantasy and actual people, places, and events are purely coincidental and all images should be considered altered and satirical. See above if you're still having an issue with that satire thing.