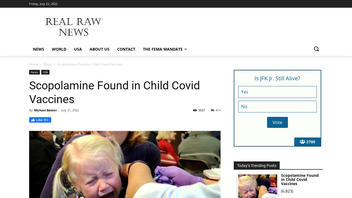 Did the U.S. military find scopolamine in COVID-19 vaccines for children? No, that's not true: As of July 22, 2022, only Pfizer and Moderna vaccines were approved for people 17 and under in the United States. Neither of them includes the anti-nausea medication. In a phone interview the same day, a U.S. Department of Defense official told Lead Stories, "This is not true."
The claim appeared in an article (archived here) published by Real Raw News on July 21, 2022, titled "Scopolamine Found in Child Covid Vaccines | Real Raw News." It opened:
The U.S. military has found the drug scopolamine in Covid-19 vaccines destined to reach the arms of children, sources in Gen. David H. Berger's office told Real Raw News.

Scopolamine is known by several names, most notably hyoscine, burandanga, 'Devil's Breath,' and 'the Zombie Drug.' Derived from nightshade plants, it gained notoriety in Columbia where the criminal element uses it to drug naïve, careless tourists. On the internet stories abound of bar-hopping tourists chatting up local ladies, passing out, and waking up 3 days later--only to find they were robbed, and their bank accounts drained. Some never regain consciousness.
This is what the post looked like at the time of writing: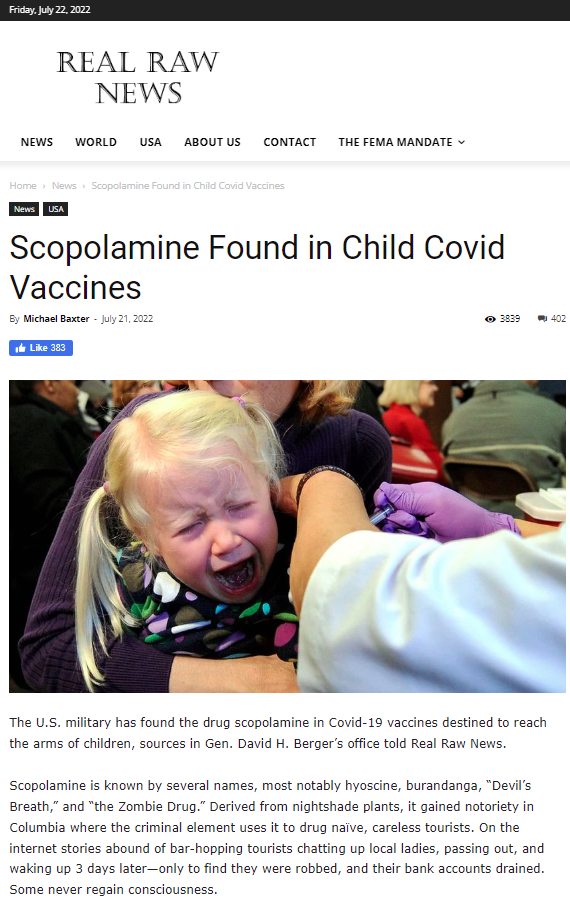 (Source: Facebook screenshot taken on Fri Jul 22 12:54:27 2022 UTC)
Anti-nausea medication
While the Real Raw News article uses several scary-sounding nicknames to describe scopolamine, it's a legitimate prescription drug. The medicine is used to prevent nausea and vomiting caused by motion sickness, anesthesia and surgery. It works by calming down the stomach and blocking signals in the part of the brain that causes nausea and vomiting.
The Food and Drug Administration's Office of Media Affairs dismissed the notion of the two COVID vaccines containing scopolamine in a July 22, 2022, email response to Lead Stories:
This claim is completely false. Ingredients for the COVID-19 vaccines authorized for use in children may be found in the Fact Sheets for Health Care Providers Administering Vaccine (Vaccination Providers) in the 'Description' section for each.
Martha Sharan with the Centers for Disease Control and Prevention provided this statement in another July 22, 2022, email:
There is no evidence that there is scopolamine in COVID-19 vaccines.
The vaccine makers
Scopolamine is not on the ingredients list for either of the two vaccines approved for teens and children under the age of 17. Pfizer Media Relations confirmed that in a July 22, 2022, email to Lead Stories:
Scopolamine is not a component of the mRNA vaccine for children nor is it a component of the COVID-19 vaccine.
Lead Stories also requested a response from Moderna but had not received one at the time of publication.
Real Raw News
Real Raw News has a long history of publishing false claims in mock news stories, many of them about convictions and executions of various public figures at Naval Station Guantanamo Bay in Cuba. For example, the site reported former Secretary of State Hillary Clinton was hanged (she wasn't); former White House Chief of Staff John Podesta was executed (he wasn't); and that "the military" convicted former Attorney General William Barr on charges of treason (it didn't).
The website for Real Raw News includes a disclaimer that warns readers not to take its content too seriously. Specifically, it says:
Information on this website is for informational and educational and entertainment purposes. This website contains humor, parody, and satire. We have included this disclaimer for our protection, on the advice on legal counsel.

(Source: RealRawNews.com screenshot taken Tue Aug 3 16:39:48 UTC 2021)
Lead Stories has covered claims published by Real Raw News in the past. Previous Lead Stories debunks of Real Raw News items is collected here.