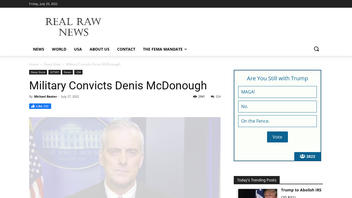 Did the U.S. military convict and vote to execute Secretary of Veterans Affairs Denis McDonough? No, that's not true: A spokesperson for the Pentagon told Lead Stories the story was "completely false." The U.S. Department of Veterans Affairs told Lead Stories the claim was not true. The claim was published on a satire website that is known for concocting purely farcical stories regarding government officials and celebrities.
The claim appeared in an article published by Real Raw News on July 27, 2022, titled "Military Convicts Denis McDonough | Real Raw News" (archived here), which opened:
On July 22 a panel of three officers at Guantanamo Bay convicted and voted to execute the criminal Biden regime's secretary of veteran affairs, Denis McDonough, following a brief tribunal that saw the defendant deliver a teary-eyed opening statement in which he apologized for fleecing the VA for billions of dollars but also refused to take full accountability for his crimes.
Users on social media saw this title, description and thumbnail:
"This is completely false," a Department of Defense duty officer emailed Lead Stories on July 29, 2022. "No," Gary J. Kunich, public affairs specialist with the U.S. Department of Veterans Affairs, told Lead Stories via email on July 29, 2022 when asked if the claim was true.
Lead Stories previously reported that McDonough was not arrested by special forces on July 14, 2022. Our article, titled, "Fact Check: Special Forces Did NOT Arrest Secretary of Veterans Affairs Denis McDonough," reported that a duty officer at the Pentagon said the claim was "completely and totally false," and the Department of Veterans Affairs said "No," when asked if the claim was true.
The article uses real people to tell the fictional story. Vice Adm. Darse E. Crandall is the Judge Advocate General of the Navy. McDonough is also a real person who is the Secretary of Veterans Affairs but he was not arrested by Special Forces in mid-July 2022.
Real Raw News has a long history of publishing false claims in mock news stories, many of them about convictions and executions of various public figures at Naval Station Guantanamo Bay in Cuba. For example, the site reported former Secretary of State Hillary Clinton was hanged (she wasn't); former White House Chief of Staff John Podesta was executed (he wasn't); and that "the military" convicted former Attorney General William Barr on charges of treason (it didn't).
The website for Real Raw News includes a disclaimer that warns readers not to take its content too seriously. Specifically, it says:
Information on this website is for informational and educational and entertainment purposes. This website contains humor, parody, and satire. We have included this disclaimer for our protection, on the advice on legal counsel.

(Source: RealRawNews.com screenshot taken Tue Aug 3 16:39:48 UTC 2021)
Lead Stories has covered claims published by Real Raw News in the past. Previous Lead Stories debunks of Real Raw News items are collected here.