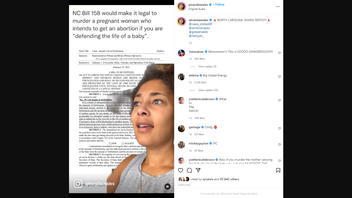 Is North Carolina House Bill 158 expected to legalize the murder of a pregnant woman if the person who kills the woman is defending the life of the baby? Not really: Although state representatives did propose HB158 -- which would allow a person to defend, using deadly force if necessary, what the bill considers a human life beginning at the moment of fertilization -- there hasn't been action indicating that the bill will become law.
The claim appeared in an Instagram reel post published on July 19, 2022. The speaker in the reel opened by saying:
What am I -- what am I -- what am I looking at right here? North Carolina Bill 158 would make it legal to murder a pregnant woman who intends to get an abortion if you are defending the life of the baby?
This is how the reel looked on Instagram at the time of writing: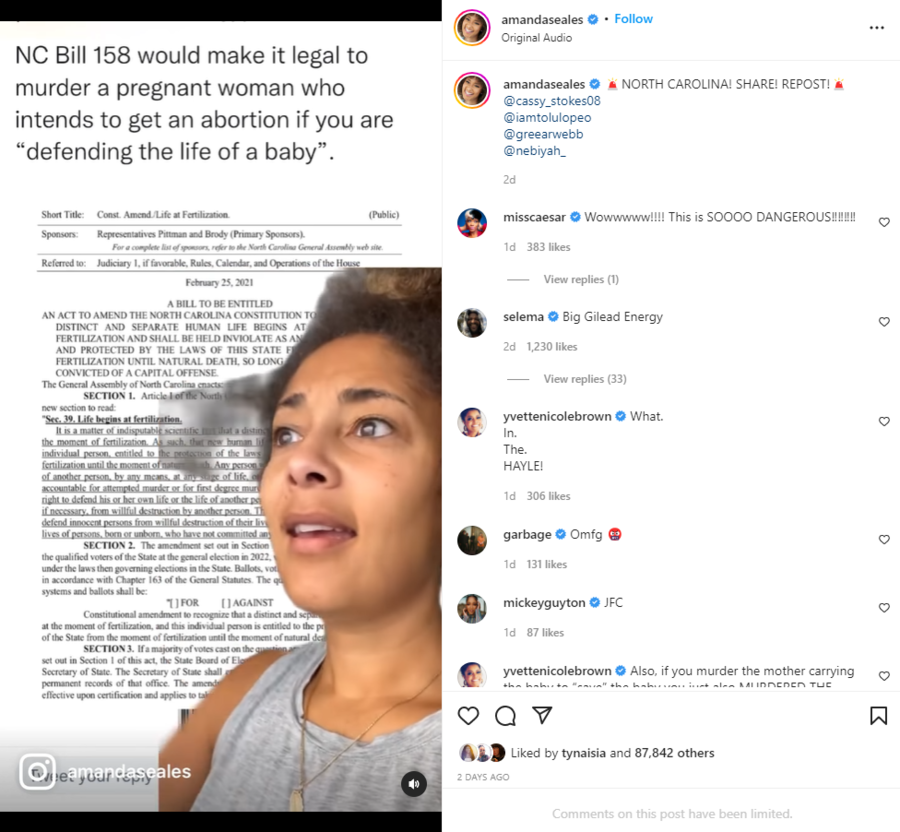 (Source: Instagram screenshot taken on Thu Jul 21 16:05:13 2022 UTC)
HB158 is primarily sponsored by state Rep. Larry Pittman and state Rep. Mark Brody and was introduced during the North Carolina General Assembly's 2021 legislative session. Pittman, who is to retire at the end of the 2021-22 legislative term, has acknowledged that the bill may not get the outcome he pushed for, stating at a rally in support of the bill:
I don't know what the outcome of this is gonna be -- doesn't look right now like the bill is gonna be heard. But maybe we can change that. Even if we get it heard it may not pass.
Lead Stories reached out to Pittman and Brody for comment on the claim and will update this fact check with any responses.
The bill proposes that Article I of the North Carolina Constitution be amended to add a section that recognizes human life as beginning at "the moment of fertilization." Following that definition of human life, any person who willfully attempts to "destroy the life of another person" should be "held accountable for attempted murder or for first degree murder, respectively." The section also proposes that any person has the right to defend their life or another's from "willful destruction by another person" and can use deadly force if necessary.
Although abortion rights have been left to the states after the landmark Supreme Court decision Roe v. Wade was overturned on June 24, 2022, there is no evidence that North Carolina will enact HB158. The bill is unlikely to go to vote, much less into effect, as it has not found a House committee home at the time of writing. Committee recommendation for further action is necessary for the progression of legislation. The bill also received a total of only five sponsors out of the state's 120-member House of Representatives. Additionally, the last item listed in the bill's history is from August 4, 2021, as shown below -- making the implication that this bill is a major concern in 2022 misleading: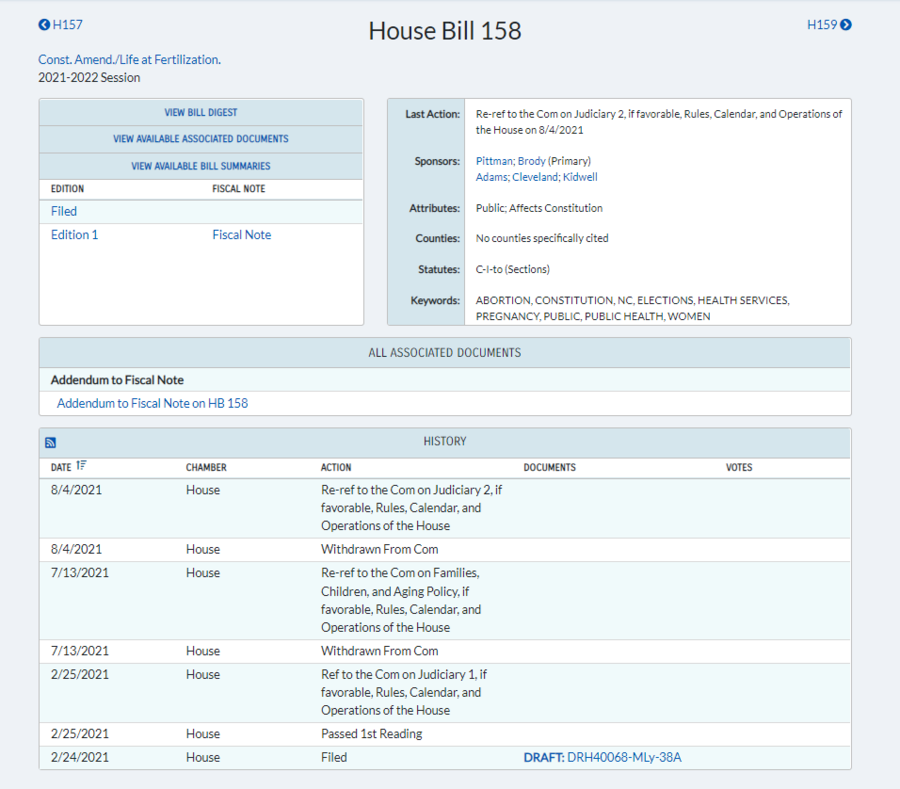 (Source: North Carolina General Assembly screenshot taken on Thu Jul 21 17:45:06 2022)
While many states enacted strict abortion bans after the fall of Roe v. Wade, Democratic leaders in North Carolina have blocked efforts by the state's Republicans to follow suit. On July 21, 2022, state Attorney General Josh Stein declined Republican lawmakers' request for him to try to renew a 20-week abortion ban, which is blocked by an injunction at the time of writing. Additionally, North Carolina Gov. Roy Cooper signed an executive order on July 6, 2022 to protect access to reproductive health care in the state.
Other Lead Stories fact checks related to abortions can be found here.