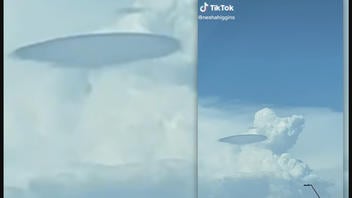 Was a large gray disc spotted hovering over Tempe, Arizona, an unknown object? No, that's not true: The unusual sight, which appeared in a TikTok video on July 15, 2022, was not a UFO from outer space or anything else unknown. Meteorologists agree the smooth disc shape in the viral video is a lenticular cloud -- a cloud form that is frequently described as "looking like a UFO."
The object was spotted in Tempe on July 15, 2022. An 11-second video of the sighting was posted to TikTok the same day questioning what the mysterious object was. The video was captioned with these hashtags:
#ufo #ufosky #area51
original sound - Nesha Higgins
This is how the video appeared at the time of writing: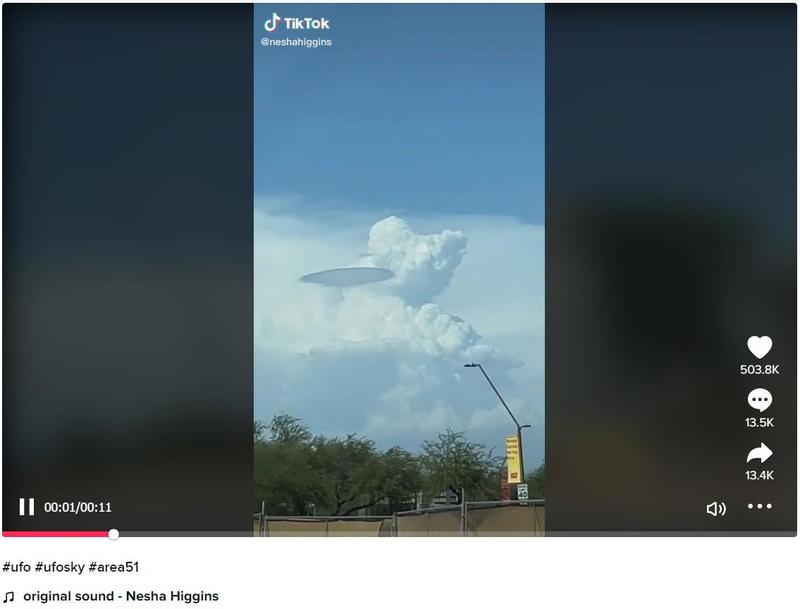 (Image source TikTok screenshot taken on Thu Jul 21 17:53:42 2022 UTC)

Two people can be heard discussing what they see:
Person 1: What the fuck is that? Like that is the craziest shit I've ever seen in my life bro.

Person 2: It's like ... it's so cool!

Person 1: What is that?
After the video went viral it got some coverage from both local Arizona news stations (here) and outlets with an even wider audience (here and here).
On July 19, 2022, Mesa, Arizona, NBC station KPNX 12news.com published an article titled, "'Notorious for being described as UFOs': Viral video captures a spectacular sight over Tempe." The 12News meteorologist Krystle Henderson IDed the cloud:
"Those clouds are notorious for being described as UFOs," Krystle said. "They have a smooth, oval flying-saucer-shaped look. They can be singular or stacked like pancakes. If you google lenticular clouds you'll see other photos and see what I mean."
The article explained that Arizona has perfect conditions for lenticular clouds to form, citing a weather.gov article about "standing lenticular clouds," caused when fast-moving air is forced up and over a topographic barrier, such as a mountain.
The video was shot looking northeast as the vehicle was approaching the intersection of Priest Drive and Rio Salado Parkway. Instantstreetview.com shows the mountains visible to the north in the distance. On July 16, 2022, in response to a critical comment, an additional 19-second-long clip was shared to TikTok. At the 12-second mark, distant mountain peaks are visible in the direction of the lenticular cloud.
The comment, which seemed to imply that the entire video was somehow faked, stated:
I know right? I think people would have pulled over and took pictures and videos. You would have seen more of this. Don't trust TikTok please.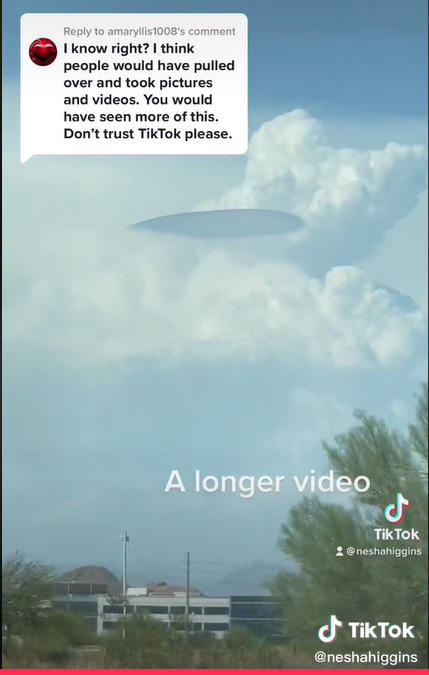 (Image source: TikTok screenshot taken on Thu Jul 21 18:59:00 2022 UTC)
There is no indication that this video is faked. Lenticular clouds are an authentic natural phenomenon that are not uncommon in mountainous areas. They have been documented for centuries (here and here). The World Meteorological Organization has an article on cloudatlas.wmo.int titled, "Orographic influence on the leeward side" that explains how the movement of moist air over mountains causes lenticular clouds to form. Included in this article is a time-lapse video that shows lenticular clouds forming and remaining stationary for hours at Table Mountain in Cape Town, South Africa.