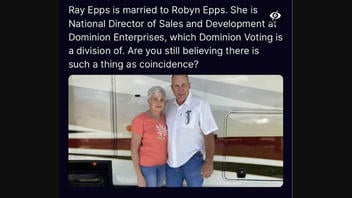 Does Ray Epps' wife work for a company that owns Dominion Voting Systems? No, that's not true: Robyn Epps is the wife of Ray Epps, who has become a target of a conspiracy theory that claims that since he has not been arrested for participating in the insurrection at the Capitol on January 6, 2021, he is therefore a government agent. She worked for a company called Dominion Enterprises, which is a marketing services company, until 2018. Dominion Voting Systems, which has been a target of false claims of vote tampering in the 2020 presidential election, told Lead Stories there is no relationship between the two companies.
The claim appeared in a Facebook post on July 28, 2022. It opens:
Ray Epps is married to Robyn Epps. She is National Director of Sales and Development at
Dominion Enterprises, which dominion voting is a division of. Are you still believing there's such a thing as a coincidence?
This is what the post looked like on Facebook at the time of writing: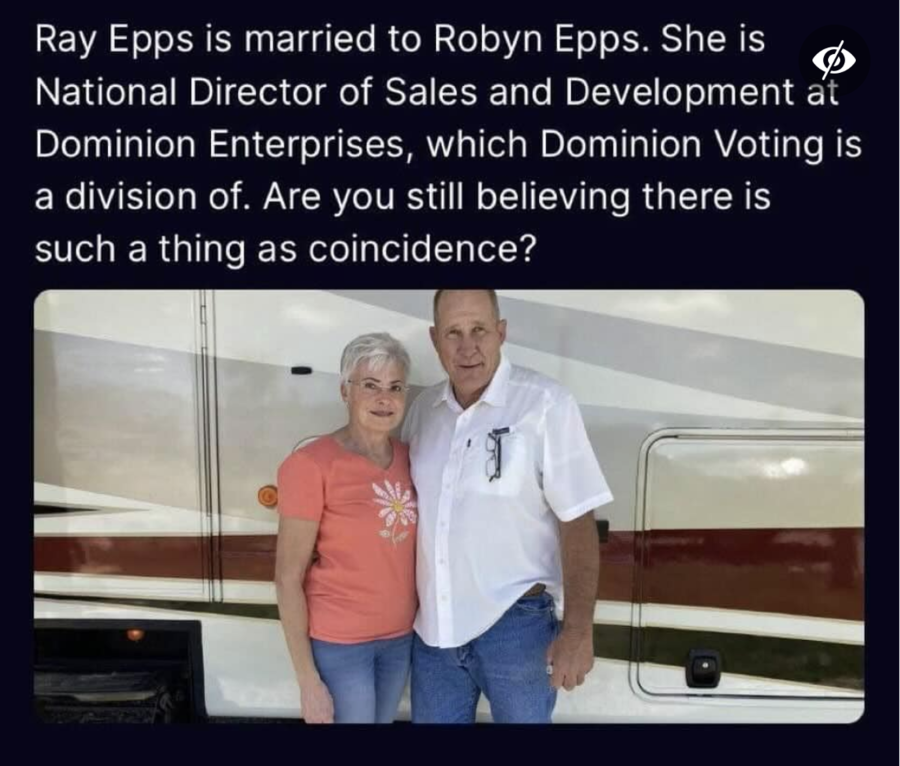 (Source: Facebook screenshot taken on Thu Jul 28 19:39:39 2022 UTC)
According to Robyn Epps' LinkedIn account, she was the national director of sales and development at Dominion Enterprises for 27 years -- from October 1990 to June 2018. A 2007 press release announced her promotion to national director of sales and development for a division of the company:
Norfolk, VA, July 26, 2007 --(PR.com)-- For Rent Media Solutions, a leading apartment resource for searching apartment communities nationwide, and a division of Dominion Enterprises, has announced that Robyn Epps has been promoted to national director of sales and development for After 55 Housing and Resource Guide. Epps' first project for the company is to re-launch Senior Outlook magazine as After 55 Housing and Resource Guide.
Dominion Enterprises is a "leading marketing services company serving the wide-ranging needs of many industries including real estate, automotive, and travel," according to their website. Electronic voting machine company Dominion Voting Systems is not a division of Dominion Enterprises. A Dominion Voting Systems spokesperson shared a statement with Lead Stories via email on July 28, 2022:
Dominion Voting Systems has no connection to Dominion Enterprises. They are two separate companies. Any claims about a business or financial relationship between Dominion Voting Systems and Ms. Epps are completely false.
Lead Stories has covered the false accusations against Dominion Voting System regarding the 2020 election here.