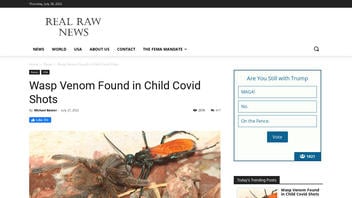 Did the U.S. military find wasp venom in COVID-19 vaccines for children? No, that's not true: As of July 28, 2022, only Pfizer and Moderna vaccines were approved for people 17 and under in the United States. Neither of them includes the venom of the tarantula hawk wasp, as a published claim states. U.S. Department of Defense spokesperson Lisa Lawrence told Lead Stories in a July 28, 2022, email, "This is false."
The claim appeared in an article published (archived here) by Real Raw News on July 27, 2022, titled "Wasp Venom Found in Child Covid Shots | Real Raw News" It opened:
Do the horrors ever end?

The U.S. military continues to find anomalous ingredients in Covid-19 vaccines that manufacturers Pfizer and Moderna manufactured--and allegedly attenuated--for children between the ages of 6 months and 5 years old. Last week, Real Raw News exclusively reported that the military had found the drug scopolamine, a hallucinogenic mixture with harmful properties, at mass vaccination centers in New York, California, and Washington. The criminal Biden regime and CDC Director Rochelle Walensky have said 'these shots will protect our children against the deadliest disease we've ever faced.' White Hats within the U.S. military, however, have been scouting these bulk vaccination sites and surreptitiously confiscating vaccine vials for chemical analysis. The latest data show that samples acquired from a vaccination center in Redmond, Washington, contain the venom of the tarantula hawk wasp, which, according to entomologist Justin Schmidt, ranks among the most painful stings on the planet.
This is what the post looked like on the Real Raw News website at the time of writing: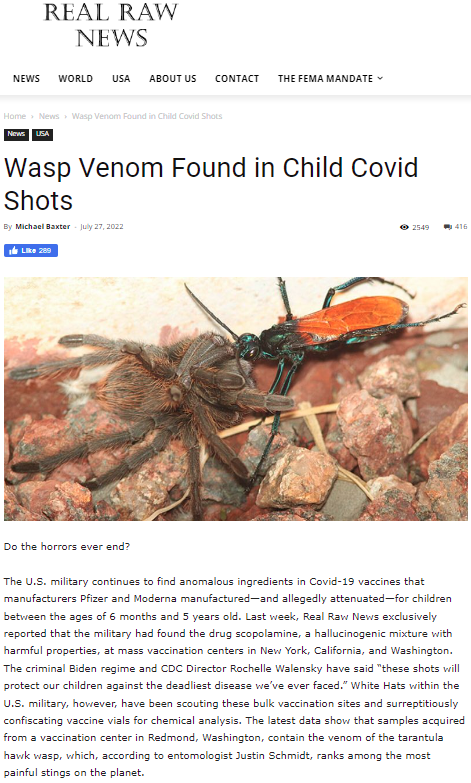 (Source: Real Raw News screenshot taken on Thu Jul 28 14:57:53 2022 UTC)
Tarantula hawk wasp
Real Raw News uses a string of scare tactics throughout its article, including how painful a tarantula hawk wasp sting is, the low pain thresholds of children and how some children go into anaphylactic shock after being stung. It also tries to build credibility by throwing in a quote from a purported Army official:
'This is obviously meant to make children scream in pain when they get a Covid shot. The shot is painful enough, but with the wasp venom added, it's 100 times worse,' said Captain John Forsythe at Medical Research and Development Command [MRDC]. 'That only a small percentage of children get the contaminated vaccines doesn't matter. It's unspeakably horrifying and potentially harmful to those who get it. The vaccine is deadly enough without the contaminants.'
In a July 28, 2022, email, Chelsea Bauckman, a deputy public affairs officer with the Army's MRDC, said:
I can confirm the statement is false. We have not funded any pediatric COVID-19 vaccine research, nor any research associated with wasp venom or any other toxins in COVID-19 vaccines. We also do not have anyone in our organization by that name.
FDA and CDC
The Food and Drug Administration's Office of Media Affairs dismissed the notion of the two COVID vaccines containing wasp venom in a July 28, 2022, email response to Lead Stories:
This claim is completely false. Ingredients for the COVID-19 vaccines authorized for use in children may be found in the Fact Sheets for Health Care Providers Administering Vaccine (Vaccination Providers) in the 'Description' section for each. This information is also available in the package insert for the licensed (approved) vaccine, COMIRNATY, which is approved for use in individuals 12 years of age and older. Please see the fact sheets and package insert at the following links:

Moderna COVID-19 Vaccine

Pfizer-BioNTech COVID-19 Vaccine

COMIRNATY (COVID-19 Vaccine, mRNA)
Martha Sharan with the Centers for Disease Control and Prevention provided this statement in another July 28, 2022, email:
There is no evidence that there is wasp venom in COVID-19 vaccines.
The vaccine makers
Wasp venom is not on the ingredients list for either of the two vaccines approved for teens and children under the age of 17. Pfizer Media Relations also confirmed that in a July 28, 2022, email to Lead Stories:
There is no wasp venom in the vaccine.
Lead Stories also requested a response from Moderna but had not received one at the time of publication.
Real Raw News
Real Raw News has a long history of publishing false claims in mock news stories, many of them about convictions and executions of various public figures at Naval Station Guantanamo Bay in Cuba. For example, the site reported former Secretary of State Hillary Clinton was hanged (she wasn't); former White House Chief of Staff John Podesta was executed (he wasn't); and that "the military" convicted former Attorney General William Barr on charges of treason (it didn't).
The website for Real Raw News includes a disclaimer that warns readers not to take its content too seriously. Specifically, it says:
Information on this website is for informational and educational and entertainment purposes. This website contains humor, parody, and satire. We have included this disclaimer for our protection, on the advice on legal counsel.

(Source: RealRawNews.com screenshot taken Tue Aug 3 16:39:48 UTC 2021)
Lead Stories has covered claims published by Real Raw News in the past. We debunked the claim that the U.S. military found pesticides in Moderna COVID vaccines and that the military destroyed the Moderna vaccine warehouse. Other Lead Stories debunks of Real Raw News items are collected here.