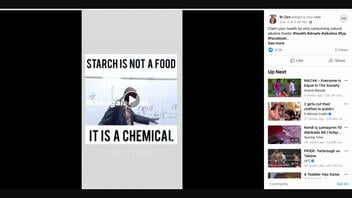 Is starch a manmade substance? No, that's not true: Starch exists in nature, and can be found in many naturally occurring foods. Starch exists in many foods, such as rice, bananas, and potatoes, a registered dietician told Lead Stories. A 2016 scientific paper summarizes the current understanding of plants creating their own starch in order to survive.
The claim appeared in a Facebook post on July 11, 2022, with the caption "Claim your health by only consuming natural alkaline foods! #health #drsebi #alkaline #fyp #facebookreels #knowledgeispower." The video opened:
Anything that God made is on the alkalized side.
This is what the post looked like on Facebook at the time of writing: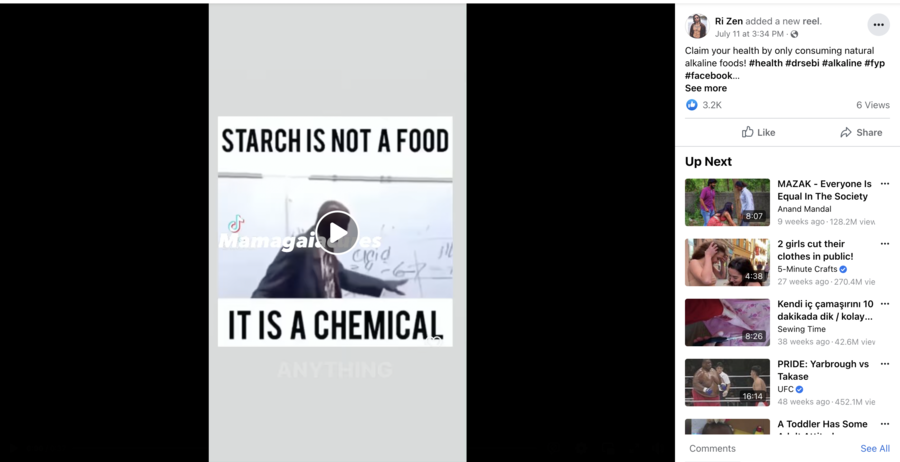 (Source: Facebook screenshot taken on Thu Jul 21 15:54:22 2022 UTC)
The video, with on-screen text saying, "STARCH IS NOT A FOOD IT IS A CHEMICAL," claims that anything God made does not contain starch, anything manmade has starch in it, and starch is not a food. The man making the claim in this video is "Dr. Sebi." Lead Stories has fact checked previous claims Sebi has made here, here and here.
According to Merriam-Webster Dictionary, the medical definition of the word "starch" is "a white odorless tasteless granular or powdery complex carbohydrate (C6H10O5)x that is the chief storage form of carbohydrate in plants, is an important foodstuff, has demulcent and absorbent properties, and is used in pharmacy especially as a dusting powder and as a constituent of ointments and pastes."
Registered dietician Amy Goodson told us in a July 21, 2022, email that starch is a carbohydrate naturally found in many grains and vegetables, like maize, potatoes, rice, peas, sweet potatoes, bananas and many other foods. She wrote:
Starch is the main source of energy for the human body and most of us consume the food containing starch (grains and vegetables) on a daily basis because we need carbohydrates to function. Starch can also be extracted from all these vegetables and grains to be used as a separate high quality food ingredient or to make other starch-based ingredients.
Goodson credits her response to this website.
A 2016 scientific paper titled, "Formation of starch in plant cells" from the peer-reviewed journal Cellular and Molecular Life Sciences, writes that starch is categorized into two different types: transitory starch and storage starch. Transitory starch is made in the chloroplasts found in the leaves of plants during the day, and then broken down at night to sustain its metabolism and energy production and be used in the absence of photosynthesis. Storage starch is what humans eat when we consume foods that contain starch.