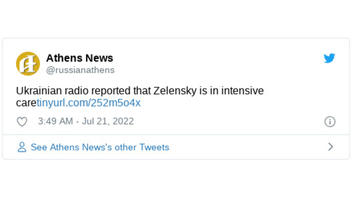 Was Ukrainian President Volodymyr Zelenskyy rushed to a hospital on July 21, 2022, and placed in intensive care? No, that's not true: Radio stations that had aired such reports had been hacked, and Zelenskyy himself proved that he was fine by posting a new video on Instagram. In his video, Zelenskyy said, in part, "... here I am in the office. I have never felt as good as I do now ..."
The claim that Ukrainian president was incapacitated started to spread on social media on July 21, 2022. One of the tweets (archived here) that appeared on that day said:
Ukrainian radio reported that Zelensky is in intensive care
Here is what it looked like at the time of writing: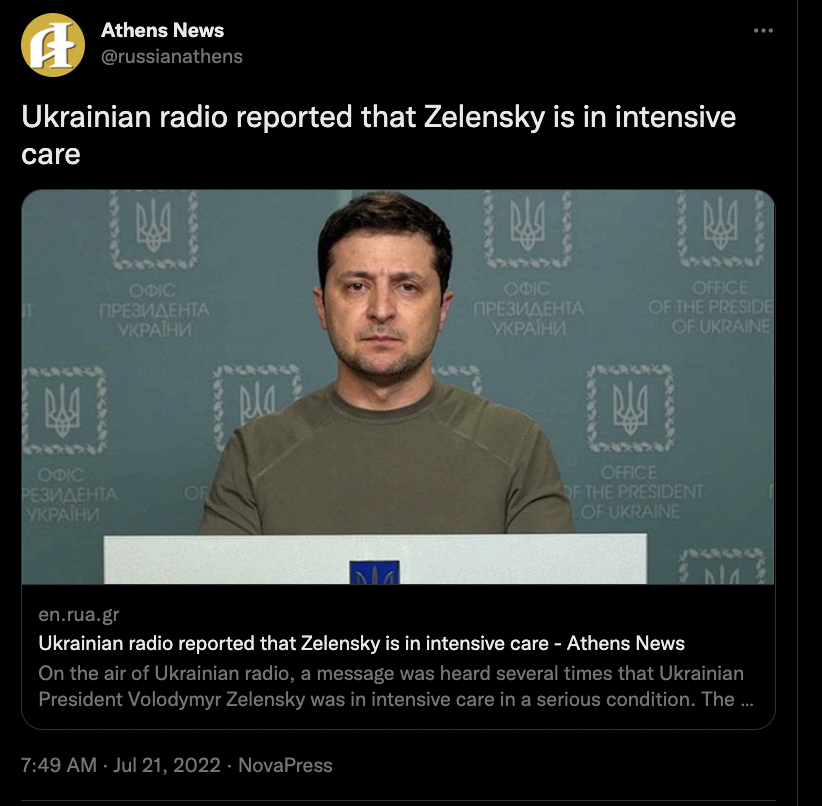 (Source: Twitter screenshot taken on Thu Jul 21 16:56:27 2022 UTC)
The tweet contained a link to a news story that, in fact, refuted the claim, even though it was not reflected in the article's title. The article said that the radio station was hacked. Nevertheless, confusing tweets continued to appear; for example, this one. It misrepresented the connection between the hack and reports about Zelenskyy receiving urgent medical care as if these two events were not related at all: "Radio station of #Ukraine has been hacked. Zelenskyy has been transferred to the hospital while being reanimated, says the Radio." Similar confusing tweets appeared here and here.
On July 21, 2022, several Ukrainian radio stations aired "the news" claiming that Zelenskyy had been transferred to an intensive care unit and his duties transferred to Chairman of the Verkhovna Rada (Supreme Council) Ruslan Stefanchuk. However, none of it was true.
According to the State Special Communications Service, hackers attacked servers and networks of the TAVR Media group that operates nine major radio stations in Ukraine: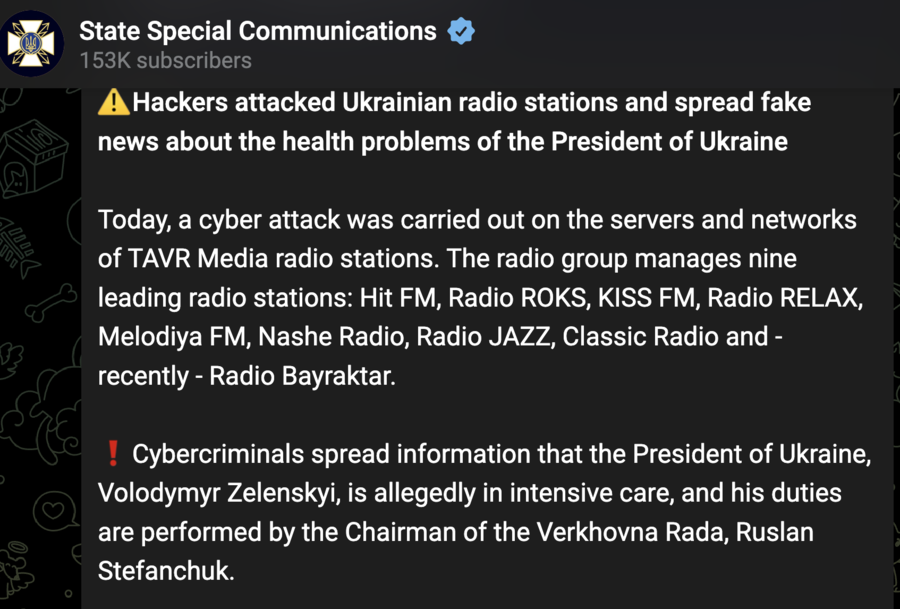 (Source: Telegram screenshot taken on Thu Jul 21 17:38:04 2022 UTC; translated into English)
The TAVR media group issued a separate statement emphasizing that the information aired during a cyberattack was false: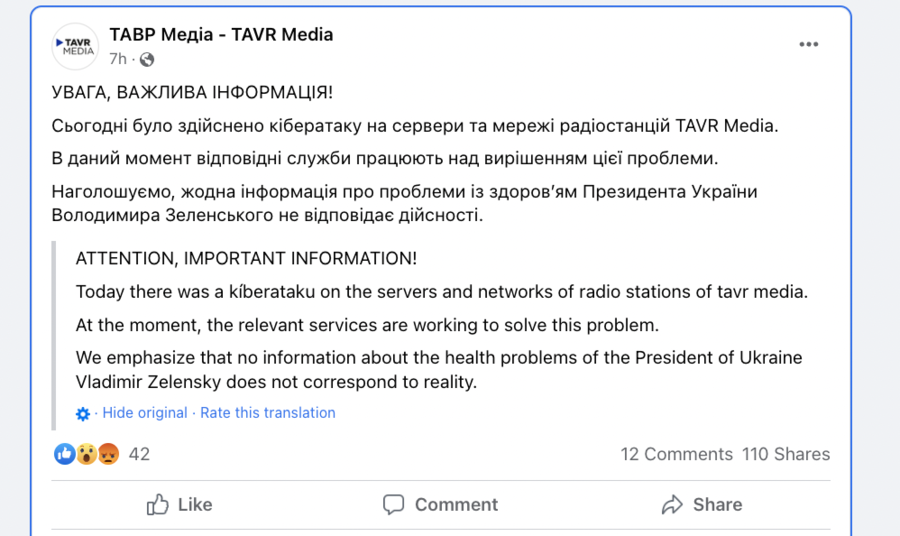 (Source: Facebook screenshot taken on Thu Jul 21 17:47:55 2022 UTC)
Responding to the situation, Zelenskyy published a video on his official Instagram account on July 21, 2022, to prove that he was fine: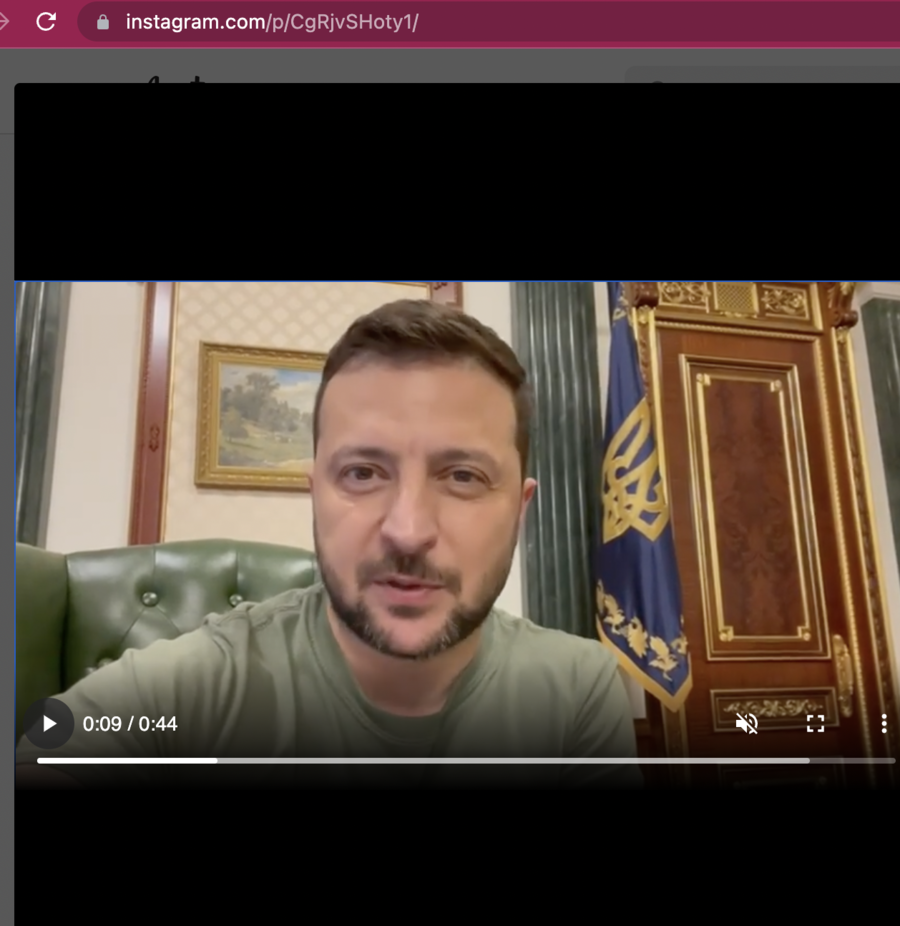 (Source: Instagram screenshot taken on Thu Jul 21 17:54:22 2022 UTC)
In his address (translated into English below), the Ukrainian president blamed Moscow for the hack:
The Russian Federation has launched yet another fake story that the state is not governed by President Zelenskyy because he is in the hospital, or rather in intensive care because of his serious health condition
Zelenskyy continued, making an obvious reference to Russian President Vladimir Putin's age:
So, here I am in the office. I have never felt as good as I do now before. The bad news for all of you who launch such fakes: I am not alone, there are 40 million of us. And, with all due respect to old age, 44 is not 70. Glory to Ukraine.
Even the Russian state news agency RIA Novosti published a piece refuting the claim.
Other Lead Stories fact checks related to the 2022 Russia-Ukraine conflict can be found here.