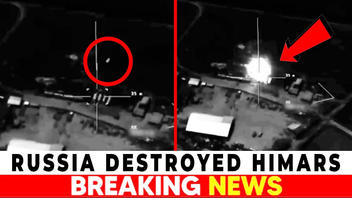 Did Russia destroy two U.S.-made High Mobility Artillery Rocket Systems (HIMARS) operated by Ukrainian forces on July 6, 2022? No, that's not true: Kyiv immediately refuted the claim, and two weeks later, the Pentagon confirmed that all 12 HIMARS that had already been shipped to Ukraine at that point were still intact.
The claim started to circulate on social media on July 6, 2022. This YouTube English-language video (archived here) is one example.
The caption said:
Ukraine War Drone Footage 2022!
The video opened:
While the war between Russia and Ukraine continued, a remarkable development took place in the world.
The voice-over went on:
Russia destroyed two U.S.-made HIMARS missile systems in Ukraine.
Here is what the YouTube video looked like at the time of writing: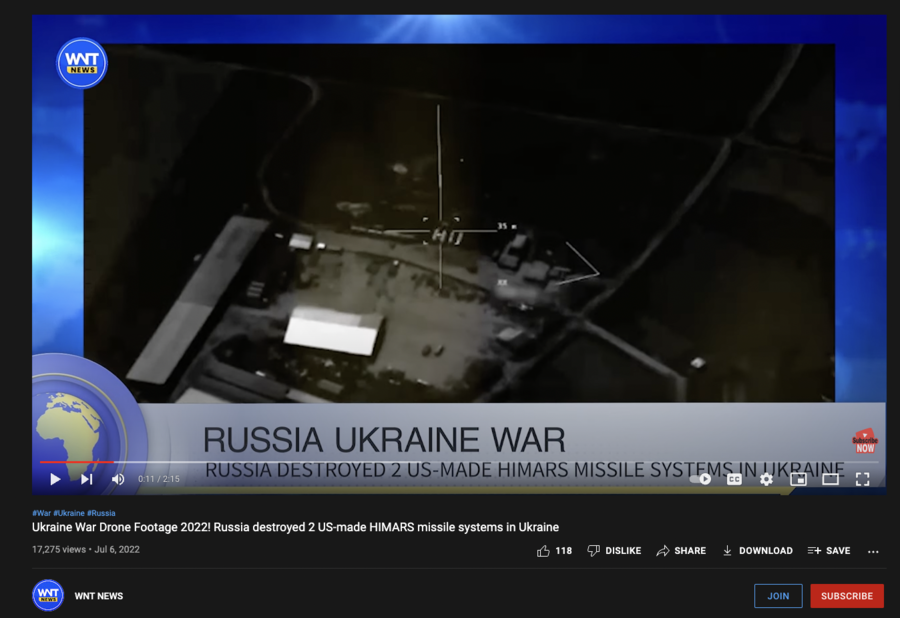 (Source: YouTube screenshot taken on Fri Jul 22 4:00:00 2022 UTC)
The video containing the same shots of a strike appeared on Reddit with a logo of a pro-Kremlin Telegram channel RVvoenkory, affiliated with the Rusvesna website, whose logo is also visible on the bottom right corner: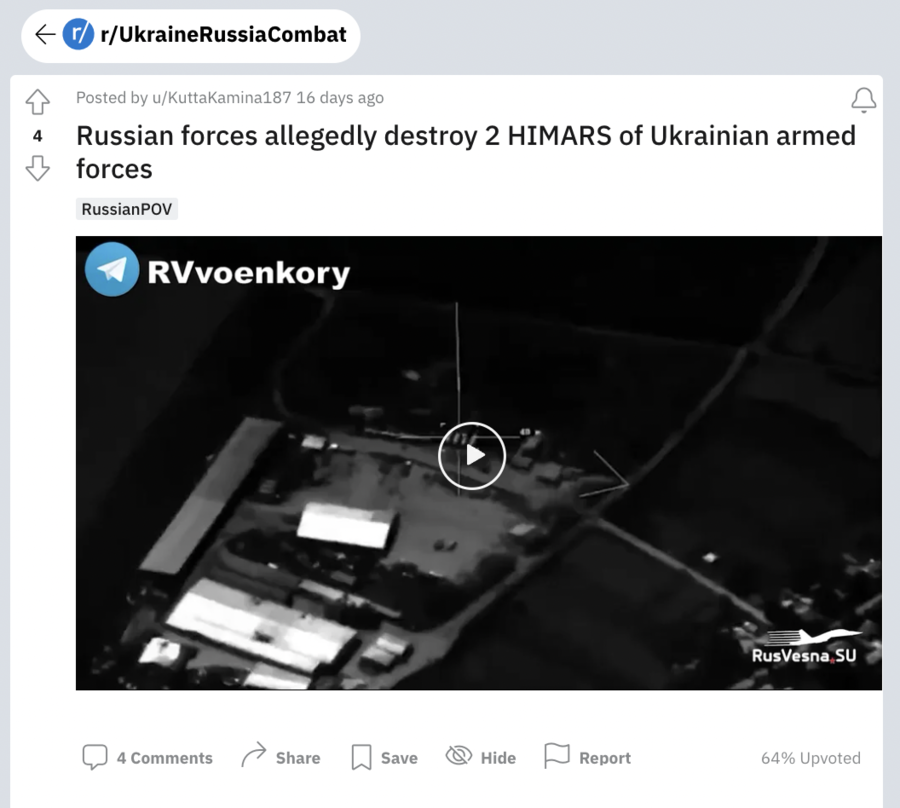 (Source: Reddit screenshot taken on Fri Jul 22 16:02:39 2022 UTC)
Polygraph.info, a fact-checking website launched by the Voice of America, described Rusvesna as a part of the Russkaya Vesna network (translated as "Russian spring," an obvious reference to the Arab spring): It promotes "the themes of a Russian nationalism under threat and the uniqueness of Russian values, together with strong support for President Vladimir Putin" among the Russian-speaking population of former Soviet republics.
The same video made it to TikTok, where it was shared by a user under the nickname vladmirputinn: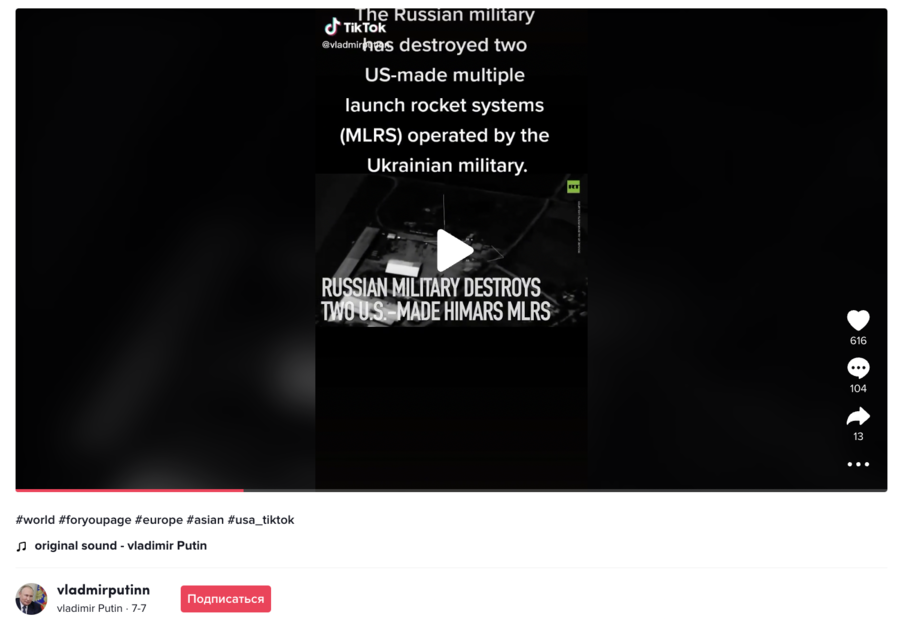 (Source: TikTok screenshot taken on Fri Jul 22 16:29:44 2022 UTC)
A similar video with an orange logo of another Russian state-owned media enterprise, Sputnik, was posted on Twitter, too: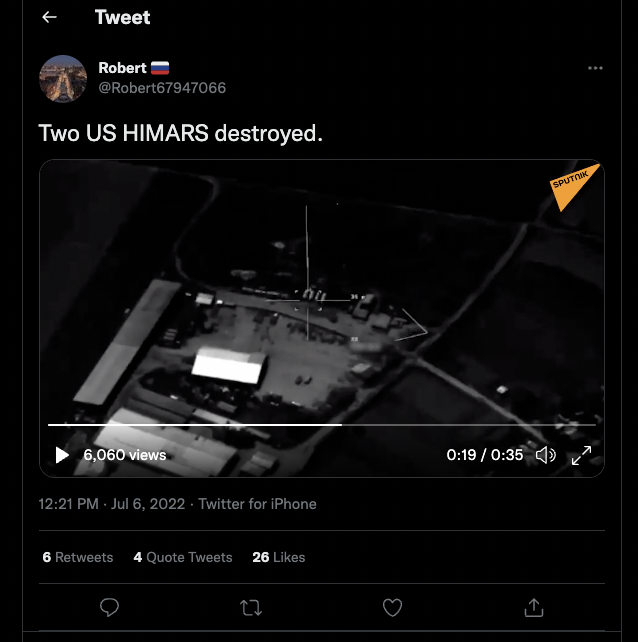 (Source: Twitter screenshot taken on Fri Jul 22 17:53:18 2022 UTC)
All these English-language posts resurfaced shortly after the Russian state-owned news agency RIA Novosti shared this Russian ministry of defense video on its Russian-language Telegram account: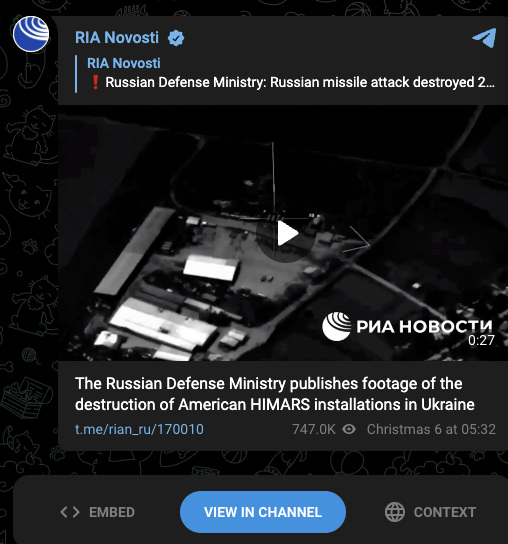 (Source: Telegram screenshot taken on Fri Jul 22 17:56:21 2022 UTC; Lead Stories verified the correctness of the automatic translation except for "Christmas 6" -- the original Russian-language post shows July 6 as the date of publication)
Kyiv refuted the claim immediately: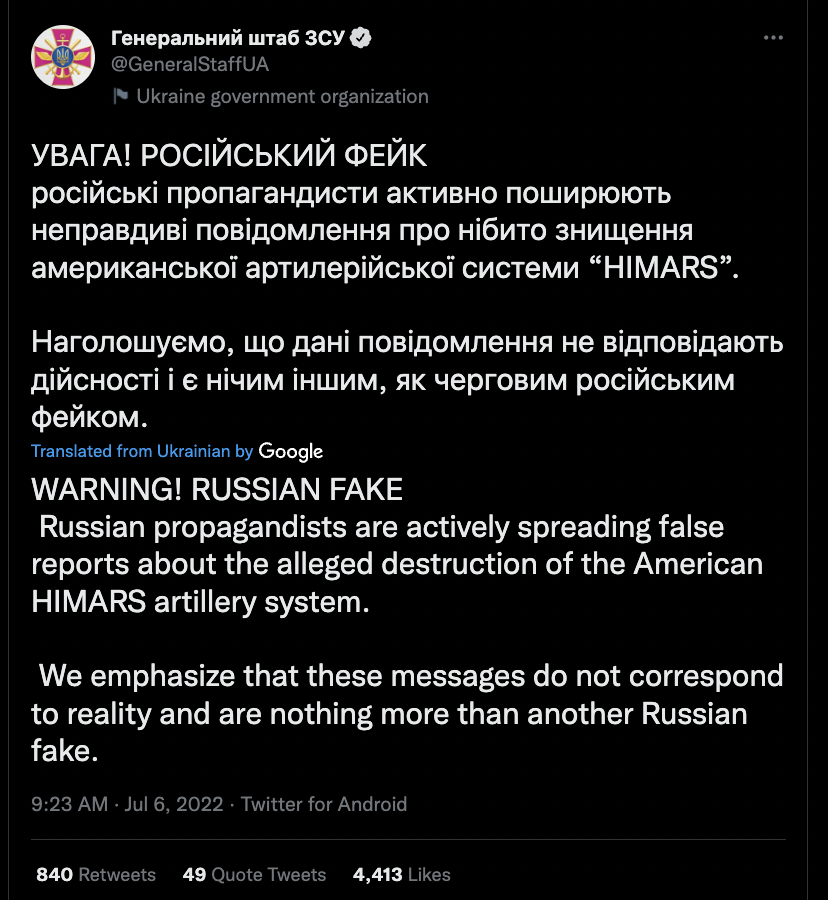 (Source: Twitter screenshot taken on Fri Jul 22 16:22:12 2022 UTC)
The infrared night video appears to show a drone or a military plane firing at a ground target, followed by two flashes that seem to show moments of impact. But what exactly was hit is not quite clear from the released footage. A reverse image search shows no matches prior to July 6, 2022, however, а CNN reporter in Ukraine who happened to be with the Ukrainian military team operating HIMARS said that their initial response was laughter.
HIMARS is a product of the American defense company Lockheed Martin. By July 15, 2022, Ukraine had received 12 HIMARS.

Lead Stories reached out to the Lockheed Martin press office multiple times over the phone and left voicemails. When we get a response, this article will be updated as appropriate.
However, on July 20, 2022, when the Pentagon confirmed that it was about to send four more HIMARS to Ukraine, Chairman of the Joint Chiefs of Staff Army Gen. Mark A. Milley said this during the joint press conference with Secretary of Defense Lloyd J. Austin III:
To date, the HIMARS that we have provided them - and we're not the only country, by the way, other countries are providing long-range fires as well ... To date, those systems have not been eliminated by the Russians and I knock on wood every time I say something like that. And they're being very effective at using them, employing precision weapons against targets.
Other Lead Stories fact checks related to the 2022 Russia-Ukraine conflict can be found here.