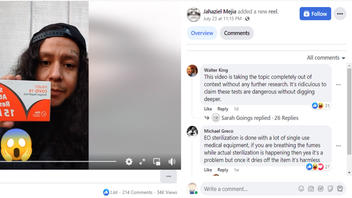 Are disposable COVID-19 testing swabs that have been sterilized using ethylene oxide (EO) gas considered carcinogenic and dangerous when used daily? No, that's not true: Only minuscule amounts of EO remain after processing. Matthew J. Arduino, a senior adviser for the Division of Healthcare Quality Promotion at the Centers for Disease Control and Prevention (CDC) told Lead Stories, "Cancer is usually the result of chronic long-term repeat exposures, not during limited exposure through testing processes."
The claim appeared in a Facebook post and video on July 23, 2022. The video opens:
What's up? Are you taking COVID tests like this every day at your work? I'm going to tell you why you're going to wish you never had done that. Now, you're going to see. I tried telling you before, too. So, it's on you.
This is what the post looked like on Facebook at the time of writing: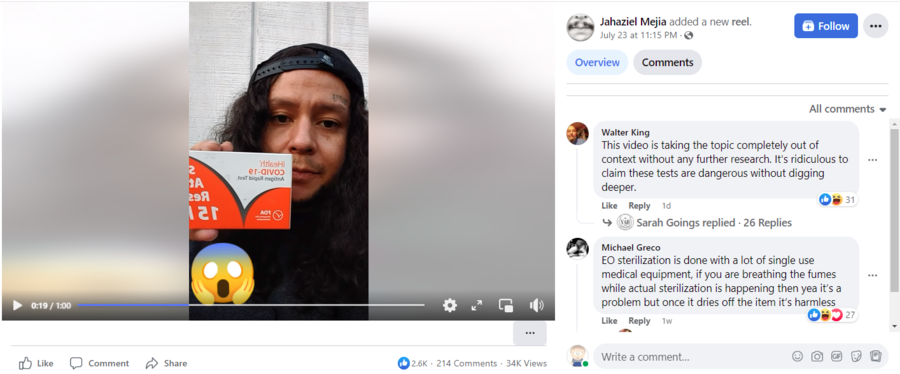 (Source: Facebook screenshot taken on Mon Aug 1 14:30:22 2022 UTC)
The narrator of the video then focuses on some of the writing on the packaging for the swabs used in COVID test kits. It says, "STERILE EO," which means, that before they were sealed, they were sterilized by a process using ethylene oxide or EO:
(Source: Facebook screenshot taken on Mon Aug 1 19:57:04 2022 UTC)
In an August 1, 2022, email to Lead Stories, Arduino said people shouldn't be concerned about medical equipment or nasal swabs sterilized with EO gas:
Products are tested at the end of their sterilization process and must be below the limit set by the international community for the type of medical device being used. What people often forget is that the following fruits produce ethylene oxide naturally: apple, kiwi, banana, peaches, pears, melons, apricots, avocados, peppers, tomatoes, cantaloupe, etc. Cancer is usually the result of chronic long-term repeat exposures, not during limited exposure through testing processes.
Arduino said that once sterilized, there's little EO residue to worry about:
By the time the product reaches the consumer, the amount of residual EO present would be even lower than what was present upon the release of the product from the manufacturer.
Lead Stories also asked Arduino if there were any risks for residual EO on medical supplies that go through the full sterilization process:
Rarely, but there are individuals in the general population who are very sensitive to ethylene oxide and have had allergic type reactions (contact dermatitis, hypersensitivity reactions, and anaphylaxis).
The Food and Drug Administration website says this about EO:
Why Is Ethylene Oxide Used to Sterilize Medical Devices?

... For many medical devices, sterilization with ethylene oxide may be the only method that effectively sterilizes and does not damage the device during the sterilization process. Medical devices made from certain polymers (plastic or resin), metals, or glass, or that have multiple layers of packaging or hard-to-reach places (for example, catheters) are likely to be sterilized with ethylene oxide.

What Devices Are Sterilized with Ethylene Oxide?

Literature shows that about fifty percent1,2,3 of all sterile medical devices in the U.S. are sterilized with ethylene oxide. The types of devices that are sterilized with ethylene oxide range from devices used in general health care practices (for example, wound dressings) to more specialized devices used to treat specific areas of the body (for example, stents).
The OSHA Fact Sheet is clear about safety precautions for people who work with ethylene oxide gas, and the permissible exposure limits are outlined. There is no mention of any risk from residual ethylene oxide on medical supplies that have gone through the full sterilization, evacuation and air wash desorption process.