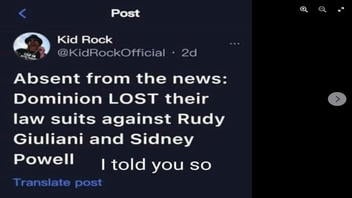 Did Dominion Voting Systems lose its lawsuits against Rudy Giuliani, former New York City mayor and personal attorney for Donald Trump; and Sidney Powell, another Trump attorney? No, that's not true: In an August 22, 2022, email from Dominion, representative Jack Eichner said of the claim, "This is false. The cases against Rudy Giuliani and Sidney Powell are ongoing." At the time of writing, court records showed that both defamation cases remained open.
The recycled claim appeared in a Facebook post on August 22, 2022:
Absent from the news: Dominion LOST their law suits against Rudy Giuliani and Sidney Powell

I told you so
This is what the post looked like on Facebook at the time of writing: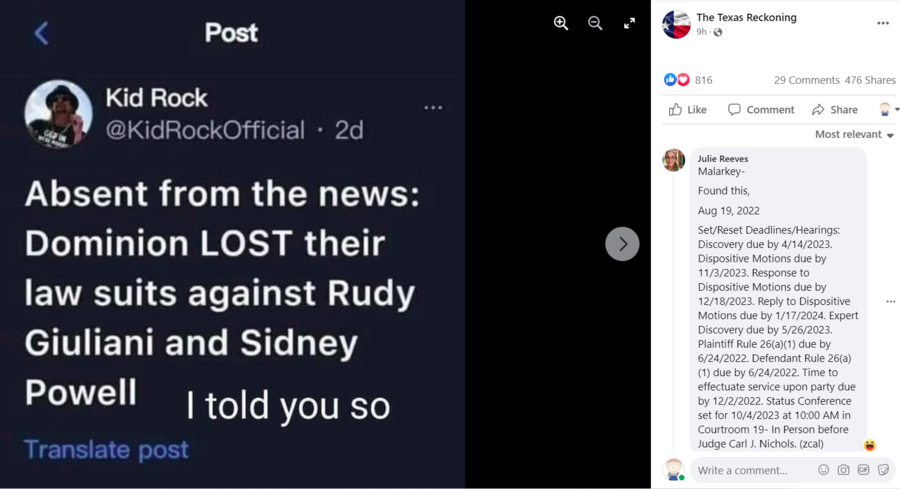 (Source: Facebook screenshot taken on Mon Aug 22 21:04:22 2022 UTC)
Claim first made in 2021
The post, which has been making the rounds in various forms for over a year, did not provide any sourcing to back up its claim. Lead Stories debunked the same claim in two different Facebook posts in June 2021. And then in an August 11, 2021, ruling, the U.S. District Court for the District of Columbia denied a motion to dismiss the lawsuits against Giuliani and Powell.
Lead Stories looked up court documents on PACER (Public Access to Court Electronic Records) to check the status of each case. Attorneys representing Giuliani and Powell have argued for the suits to be dismissed, motions that have been opposed by Dominion.
There had not been a verdict in either case; as of August 22, 2022, both suits were still active.
Both complaints can be read by clicking on links on Dominion's website here.
Separately, the image of the meme, purportedly from musician Kid Rock, appears to have been fabricated. None of the artist's social media accounts go by @KidRockOfficial, just the shorter @KidRock. There is a Twitter account that uses the longer handle but it hasn't had a new post since December 3, 2011, and the Internet Archive shows no record of deleted posts.
The history
On January 8, 2021, Dominion filed a defamation suit against Powell, claiming she caused "unprecedented harm" by arguing the 2020 election was rigged.
Dominion CEO John Poulos said in a statement:
Lies were told about government election officials, elections workers, and Dominion Voting Systems. Those lies have consequences. They have served to diminish the credibility of U.S. elections. They have subjected officials and Dominion employees to harassment and death threats. And they have severely damaged the reputation of our company.

Today is the first step to restore our good name and faith in elections by holding those responsible to account. We intend to pursue justice vigorously to its rightful end.
Roughly two weeks later, Dominion filed a similar suit against Giuliani.