STORY UPDATED: check for updates below.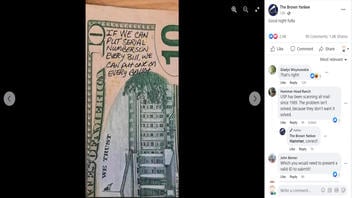 Do election ballots have serial numbers to protect against voter fraud? Yes, that's true, but those numbers are removed during processing to protect the identity of the voter. In an email to Lead Stories, Christopher B. Mann, an associate professor of political science at Skidmore College in New York, said, "Putting serial numbers on ballots is a good idea that has been in use for many years. We can't link those serial numbers to individual voters without violating ballot secrecy." States that don't use serial numbers have other safeguards.
The claim appeared in a Facebook post on August 4, 2022, under the title "Good night folks." It has the following written on a $10 bill:
IF WE CAN PUT SERIAL NUMBERS ON EVERY BILL, WE CAN PUT ONE ON EVERY BALLOT.
This is what the post looked like on Facebook at the time of writing: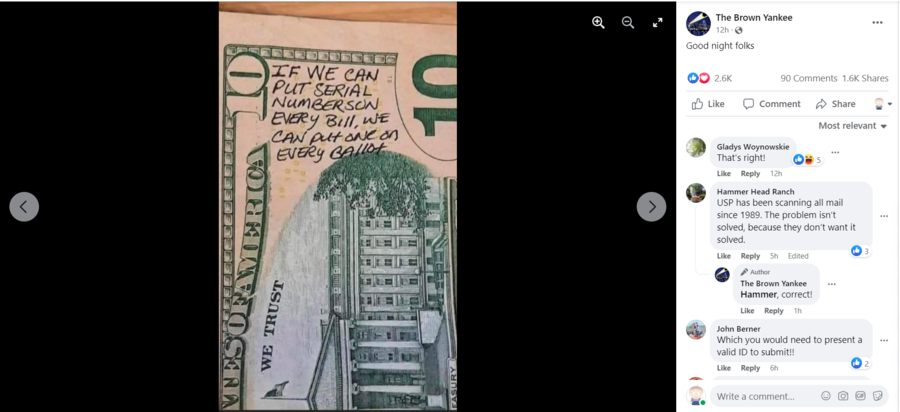 (Source: Facebook screenshot taken on Thu Aug 4 17:29:51 2022 UTC)
Secrecy required
A secret ballot in the United States is guaranteed under Title 29 in the Code of Federal Regulations:
A prime requisite of elections regulated by title IV is that they be held by secret ballot among the members or in appropriate cases by representatives who themselves have been elected by secret ballot among the members. A secret ballot under the Act is 'the expression by ballot, voting machine, or otherwise, but in no event by proxy, of a choice * * * cast in such a manner that the person expressing such choice cannot be identified with the choice expressed.'[47] Secrecy may be assured by the use of voting machines, or, if paper ballots are used, by providing voting booths, partitions, or other physical arrangements permitting privacy for the voter while he is marking his ballot. The ballot must not contain any markings which upon examination would enable one to identify it with the voter. Balloting by mail presents special problems in assuring secrecy. Although no particular method of assuring such secrecy is prescribed, secrecy may be assured by the use of a double envelope system for return of the voted ballots with the necessary voter identification appearing only on the outer envelope.
Numbered, but not connected
Barry C. Burden, a professor of political science at the University of Wisconsin-Madison, told Lead Stories in an August 4, 2022, email that the act of voting in the United States is distinct and special:
Unlike nearly all other transactions such as banking, voting is unique because the choices made by the voter must be kept anonymous to preserve the secret ballot. ... Although ballots remain anonymous, voters are often tracked using a number system. For example, absentee ballot envelopes are often marked with numbers so that election workers can check off which voters have returned ballots. When the ballots are then removed from the envelopes, the links between the voters and the ballots are severed. Likewise, voters who check in to vote at polling places are often assigned numbers to ensure that the right number of ballots are issued throughout the day.
In an August 4, 2022, email, Tracy Wimmer, director of media relations for the Michigan Department of State, described how voting works in there:
Michigan has one of the most secure election systems in the country, and our ballots already have serial numbers in the form of a unique, numbered stub that is at the top of each ballot. While the number associated with each ballot is assigned to a voter when their identity is confirmed, it is removed during processing and before a ballot is tabulated to protect the secrecy of the vote.
Whitney Tempel, the director of communications and policy with the Kansas Secretary of State's office, told Lead Stories in an August 5, 2022, email, that there are no serial numbers on their ballots, but other safeguards are in place:
All ballots in Kansas are required by law to have a unique mark or stamp located on the ballot. This designed symbol on the ballot verifies the ballot is official, provides an extra layer of security, and must be present for ballots to be counted in the tabulating machine. To further enhance security, starting in 2024, ballots will be required by law to have a watermark in addition to the symbol. ... In addition to ballots having a unique mark, every ballot is handled and counted via a chain of custody process.
In his email, Mann said when serials numbers are used, they're not linked to the voter's identity:
Local election officials maintain careful records of ballots issued and ballots returned. For in-person voting, each booklet or package of ballots has a serial number: literally that ballot's order in the booklet or package of ballots. Part of this serial number will also indicate the booklet/package, as well as potentially information about the precinct where the ballot is used. Poll workers must keep track of the number of ballots issued, ballots cast, and ballots spoiled. They keep all spoiled ballots. Most (all?) electronic voting machines scan the ballot for a valid serial number before accepting the ballot. Ballot secrecy is maintained because there is no link between an individual ballot and the person who cast it. Voters are checked in by poll workers using the list of registered voters. Then they are issued a ballot with a serial number by the poll workers. However, the serial number is not recorded on the list of registered voters. A similar process is used for mail ballots, with each ballot having a unique serial number when sent to voters with a few more/different steps to preserve ballot secrecy.
2022-08-05T17:02:14Z

2022-08-05T17:02:14Z

Adds context and details; edits for clarity.