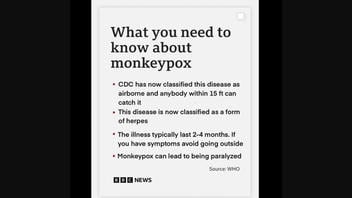 Is monkeypox an airborne disease that causes paralysis? No, that's not true: While its transmission might occur during prolonged face-to-face contact, the particles do not stay in the air for long and thus it cannot be classified as an airborne disease, the Centers for Disease Prevention and Control (CDC) says. Experts interviewed by Lead Stories said that monkeypox has been associated with encephalitis which, in turn, might cause temporary paralysis. However, contracting monkeypox doesn't mean that a person would lose mobility. Two experts evaluated the odds of such an outcome as extremely low.
The claim appeared in a Facebook post on August 3, 2022, under the caption "Paralyzed." It contained an image of text appearing to come from the BBC, citing health officials purportedly warning the public that monkeypox is an airborne disease.
The text began:
CDC has now classified this disease as airborne and anybody within 15 ft can catch it.
It added:
Monkeypox can lead to being paralyzed.
This is what the post looked like on Facebook at the time of writing: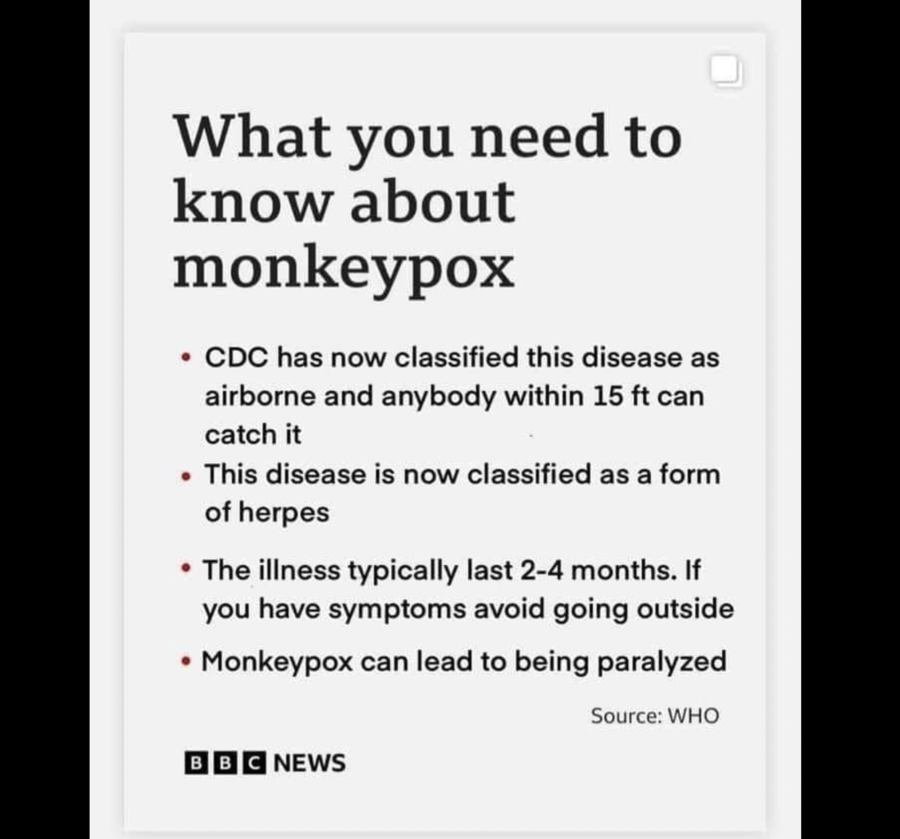 (Source: Facebook screenshot taken on Thu Aug 4 13:01:28 2022 UTC)
The CDC does not mention paralysis as a monkeypox symptom. The most common symptoms of monkeypox are rash, fever and swollen lymph nodes, it says.
Professor Phillip Danielson of the Department of Biological Sciences of the College of Natural Sciences and Mathematics at the University of Denver told Lead Stories via an email on August 4, 2022, that science cannot absolutely exclude the possibility of developing paralysis in monkeypox patients, but that this scenario is very rare:
While paralysis is not considered to be among the standard/common health outcomes of contracting Monkeypox, we cannot say with absolute certainty that Monkeypox can never lead to paralysis. In rare instances, Monkeypox (like its cousin smallpox) may lead to encephalitis which is an inflammation of the brain. This inflammation may in severe cases cause sufficient damage to result in paralysis.

This being said, even if one were to develop encephalitis as a result of Monkeypox, it is not a guarantee that the encephalitis would be sufficiently severe to cause paralysis. Much would depend on the virulence of the infection and the health history of the patient.
Another expert, John J. Dennehy, a professor of biology at Queens College of the City University of New York, told Lead Stories in an August 4, 2022, email that he is "not aware of any monkeypox cases that report paralysis as a symptom."
Health authorities have said that monkeypox is not an airborne disease and does not spread through brief chats or walking by an infected person. It is predominantly transmitted through skin-to-skin contact, body fluids or personal items that have been used by an infected person, such as towels. The CDC mentions prolonged face-to-face contact, too.
Monkeypox virus is a completely different virus than the viruses that cause COVID-19 or measles. It is not known to linger in the air and is not transmitted during short periods of shared airspace. [...]

There are important differences between airborne transmission and transmission via respiratory secretions. Airborne transmission occurs when small virus particles become suspended in the air and can stay there for periods of time. These particles can spread on air currents, or sometimes even infect people who enter a room after the infected person has left. In contrast, monkeypox may be found in droplets like saliva or respiratory secretions that drop out of the air quickly. Long range (e.g., airborne) transmission of monkeypox has not been reported.
The CDC emphasizes that the odds of respiratory transmission of monkeypox are low and that people who sat near infected people on an airplane remained healthy.
One study published in July 2022 in the New England Journal of Medicine concluded that 95 percent of 528 monkeypox cases in 16 countries were suspected to have been transmitted through sexual activity.
The illness lasts two to four weeks, not months as the Facebook post claims.
The BBC, allegedly the source in the Facebook post, has never written an article with these claims. Instead, on August 3, 2022, it published an article about monkeypox with information from the World Health Organization, CDC and the UK Health Security Agency.