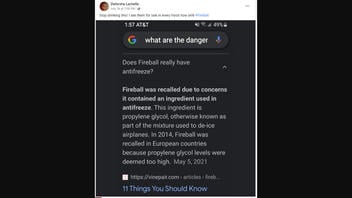 Does Fireball whiskey contain antifreeze or propylene glycol? No, that's not true: It contains neither, according to the company, which states on its website: "All versions of Fireball, both in the U.S. and the rest of the world, are 100% PG (propylene glycol) free."
The claim appeared in a Facebook post on July 24, 2022. Alongside a caption that reads: "Stop drinking this! I see them for sale in every hood now smh #FireBall," the post includes what looked to be a Google search of the question, "Does Fireball really have antifreeze?" The rest of the post reads:
Fireball was recalled due to concerns it contained an ingredient used in antifreeze. This ingredient is propylene glycol, otherwise known as part of the mixture used to de-ice airplanes. In 2014, Fireball was recalled in European countries because propylene glycol levels were deemed too high.
This is what the post looked like on Facebook at the time of writing:
(Source: Facebook screenshot taken on Wed Aug 3 17:25:25 2022 UTC)
The false claim that Fireball contains antifreeze has been circulating online since at least 2014. Fireball addresses the rumor on its website, stating:
Fireball is 100% safe to drink. Fireball does not contain any antifreeze at all, and the suggestion is ridiculous. Sadly, this is the media's way of crafting attention grabbing headlines, but it simply is not true. We would not dream of putting antifreeze in our product.
It also addresses the allegation that its whiskey contains propylene glycol, writing:
All versions of Fireball, both in the U.S. and the rest of the world, are 100% PG (propylene glycol) free. As part of our work on the shelf stability and given the nature of the natural ingredients we use, we updated the shelf stability part of the formula for Fireball some time ago; this updated formula does not use PG. While the former formula was fully compliant and perfectly safe to drink, we, as a company, are continually working to improve all of our products.
In other words, it is true that Fireball used to include propylene glycol, but it does not anymore.
The Facebook post is correct insofar as it states that Fireball was recalled in some European countries in 2014 over its propylene glycol levels. As was widely reported at that time, Finland, Sweden and Norway pulled the drink after Fireball accidentally shipped its North American formula to Europe, which has stricter regulations.
Propylene glycol is "generally recognized as safe," according to the U.S. Food and Drug Administration, and is allowed in alcoholic beverages up to 5 percent. The ingredient can also be found in confections and frostings, frozen dairy products, seasonings, flavorings and other food categories.
Lead Stories reached out to Fireball to ask about the post's claims. We will update this story, as appropriate, if we receive a response.