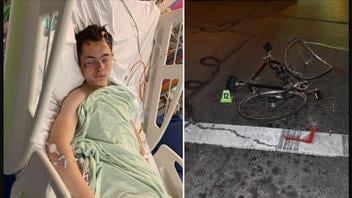 Was a young man who was not carrying any identification hit by a car locally, and is the public's help now needed to identify him? No, that's not true: The teen in the photo was involved in a serious crash with a car on June 8, 2022, while he was riding his bicycle in the port town of Grimsby, in Lincolnshire England. He was hospitalized for a short time and then discharged to recover at home. The post is a ruse. The intention is to trick people in a specific, named local region to be helpful by sharing the post. The original poster turns off the commenting, and then at a later date edits the post to present some type of scam, frequently involving rent-to-own real estate, which may also be targeting people in that named area.
In Late August 2022 posts with this story were appearing in many local groups on Facebook, all featuring these photos and an identical caption, with only the name of the town changed. One example was posted in the "Plainview Buy/Sell/Trade," a Texas based group, on August 26, 2022. The posts caption reads:
Please help!

This young man got hit by a car last night outside of Plainview, we couldn't find any form of identification with him. Please help bump this post so that his friend's or family may find him.
This is how he post appeared at the time of writing: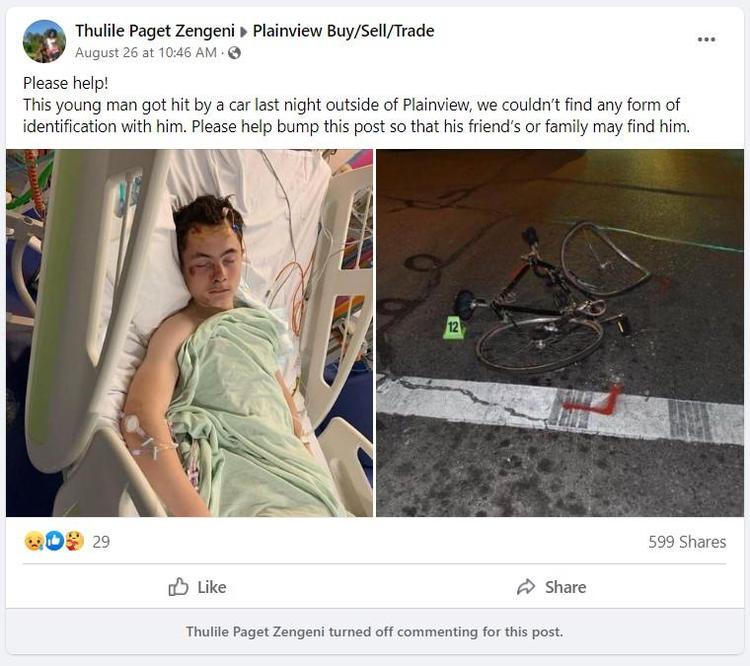 (Image source: Facebook screenshot taken on Wed Aug 31 16:05:44 2022 UTC)
What really happened
A reverse image search shows that the photo of the teen in a hospital bed appeared in an article on grimsbytelegraph.co.uk on June 13, 2022. The article is titled, "Teen 'very lucky' to be home after crash put him in coma with serious head injuries." The article said:
A 13-year-old boy sustained serious injuries and was put into a coma after being involved in a crash while riding his bike in Grimsby.
Remarkably, Bailey 13 is now home and on the mend following the crash last Wednesday, June 8 at the junction of Ellis Way and Victoria Street. It involved a green Mazda car and saw Peaks Parkway closed to traffic for several hours.
Bailey suffered a fractured skull, a broken nose, a bruise to the brain and also suffered with seizures following the incident.
The deception
The image below shows a collection of posts appearing in local groups around the United States: Visalia and Tulare in California; Montgomery, Alabama; Charlotte, North Carolina; and New Hampshire. They all have the same captioning claiming that this young man with no identification was hit by a car just outside of town, the name of which is inserted into each caption. The post asks people to "Please help bump this post so that his friend's or family may find him."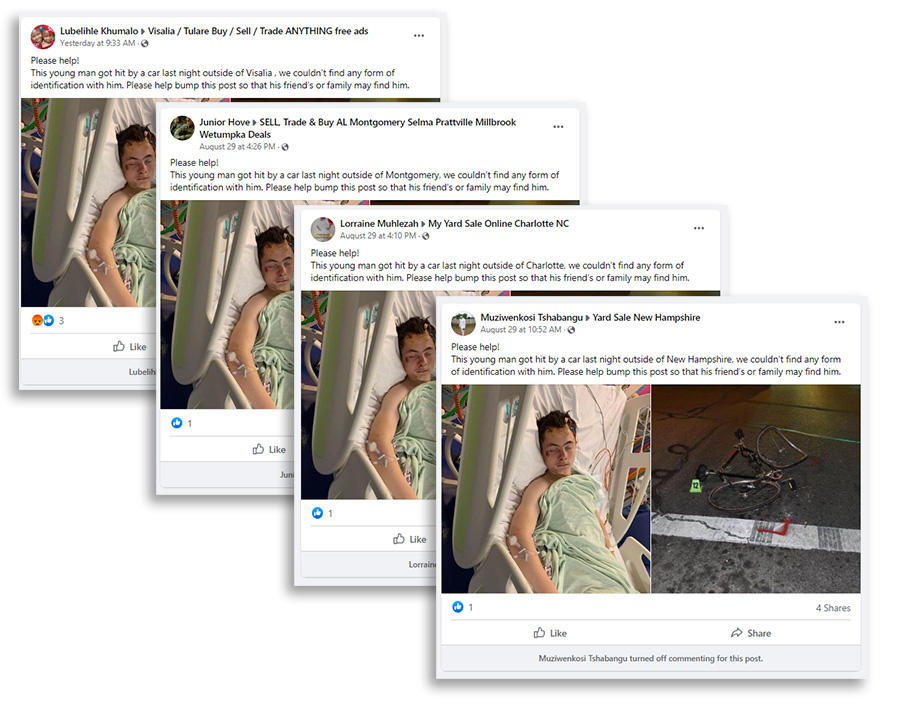 (Image source: Lead Stories composite image of Facebook screenshots taken on Wed Aug 31 16:05:44 2022 UTC)
Lead Stories has debunked several variations of this deceptive post design appearing in local groups on Facebook. One version involves a story of a dangerous man on the loose another a story of a fugitive who attacked a woman with a knife. Not all of the stories feature criminals. Some posts have stories about missing grandmothers with dementia, missing kids, rattlesnake sightings, found dogs, and even noxious weeds. Regardless of the narrative presented to entice people to helpfully share the post, what happens next is consistent.
The original poster turns off the commenting for the post and after the post is shared, it is edited to feature an entirely different topic. The "edit history" for a Facebook post can be accessed from the "..." menu which appears in the upper right hand corner of a post. Frequently these posts become bogus real estate ads. Just as the identical ruse narratives appear all across the country, the same collection of house photos appear in the rent-to-own ads with only the home's location changed. Pictured below are two examples of edited posts that originally had the same "young man got hit by a car" story and photos. Now, one post in the Collingwood Buy and Sell Group, for Ontario, Canada, was edited to say:
👌Easy $200 Aspiration Debt Card
Join and Connect Bank
👌Get $200 INSTANTLY When You use Virtual card to withdraw
✅ Set up a wallet
✅ Get $200 when you join the Program
https://bit.ly/aspiration-financial
💪Just Guess how much I made from Aspiration App today?😊
Another edited post in the Kentucky-based group "Campbellsville Classifieds" now reads:
FOR RENT TO OWN!
ISO: A family to Rent to Own this 3 bed and 2bath house For $640/ month. https://rto-homes0.godaddysites.com/
Newly renovated home, ready move in. Stainless steel appliances, newer floors, updated bathrooms and kitchen. No deposit required, all pets are allowed, section 8 accepted! Click here >> https://rto-homes0.godaddysites.com/ I will be notified and I will contact you to set up an appointment.
#BOOMchallenge #smallbusinesschallenge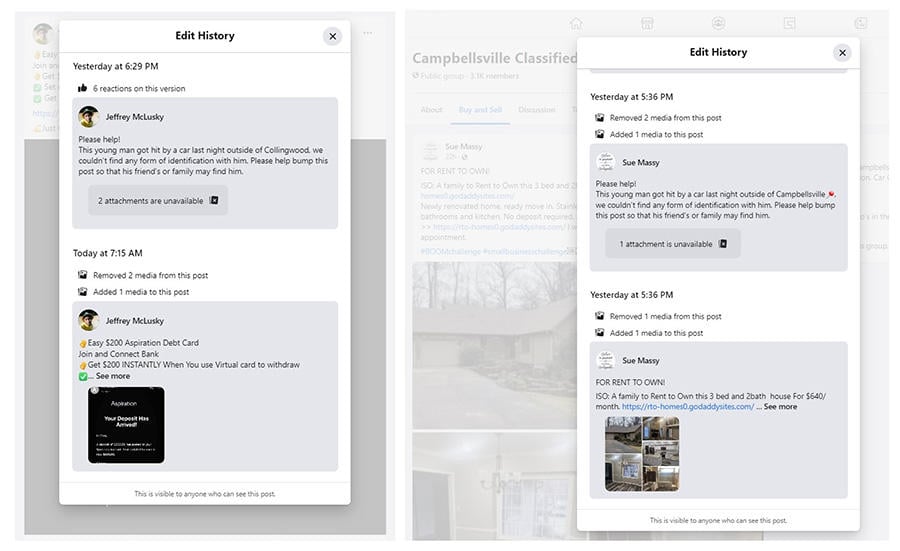 (Image source: Lead Stories composite image of Facebook screenshots taken on Wed Aug 31 16:05:44 2022 UTC)