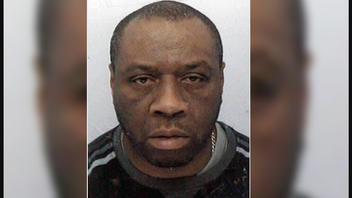 Did "Mr K Brendon" kill his wife's cat and go missing from his home, causing the police to issue a public warning to be on the lookout for this "very dangerous" man? No, that's not true: The post is designed to trick people to urgently share it from a local online group where it was posted. Commenting is turned off to prevent others from exposing that it is a scam. The original post is bait, to trick members in a local group to share it. The post is then edited to become a misleading locally targeted real estate ad. Often the same photos are used to represent a home for sale in many towns, the same copy and paste personal stories about why the house must be sold are used by the many profiles seeding these morphing and deceptive posts into local groups.
The "K Brendon" pictured in the post is Benedict Onyemaechi, who disappeared from his home in Southgate in north London in 2016. His photo appeared in news stories relaying a police warning that went out with a Ministry of Justice order issued on January 20, 2016. The order recalled Onyemaechi under Section 42(3) of the Mental Health Act to seek urgent medical assessment. The warning stated that Onyemaechi "is thought to be unmedicated and a risk to the public." He was found on January 25, 2016, and taken to a secure medical facility.
This Facebook post is designed to alarm people and cause them to share the post. The photo surfaced on Facebook in 2022 with an alarming story and differing locations specific to the groups where the deceptive posts are placed. One example of the post was placed in the Facebook group Columbiana, Wilsonville, and Harpersville (Alabama) Online Yard Sale on June 28, 2022. It opens:
‼️warning, dangerous mentally ill man on the loose in Columbiana‼️
The public is being warned of Mr K Brendon, he was reported missing last week from his home. He is mentally ill and is very dangerous, he walks around with a pocket knife, he used it to kill his wife's cat a day before he went missing, if anyone sees him please report to the authorities. Warn others.
This is how the post appeared at the time of writing: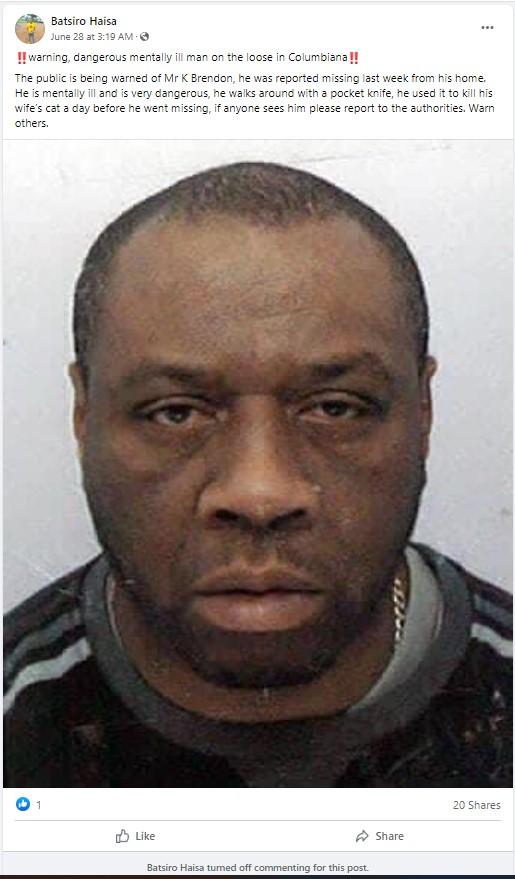 (Image source Facebook screenshot taken on Tue Jul 05 14:02:09 2022 UTC)
The man pictured in the photo is not "Mr K Brendon," but the aforementioned Benedict Onyemaechi.
Lead Stories was able to locate many similar posts with nearly identical text and far-ranging locations. The posts naming a specific location were typically placed in yard sale-type groups so they would resonate with group members who live nearby. In a few cases, different photos were used to represent the fictional "dangerous man." When we looked at the other posts placed in the group by the profiles that had posted the Mr K Brendon warning, we saw the previous group posts by that person were real estate ads. When the edit history of one of those real estate ads is opened, it is possible to see the original deleted post text, (but not the original image) that was replaced by the real estate ad. These original posts are attention-grabbing, concerning or alarming, and are designed to get people in the group to share the post, which will then be edited to become an ad meant to look local, but using information that's repeated in town after town.
In the center of the Lead Stories composite image below (this image will open larger in a new window) are three similar posts in yard sale groups warning of a mentally ill man on the loose in Winnipeg, Manitoba, Canada; in Livingston (state or province unknown) and in Newtown, Connecticut. The person making all these posts turned off commenting. The edit history panel on the left of the image shows one of the "Mr K Brendon" warnings. The post has already been transformed into a real estate post with a link to a rent-to-own website.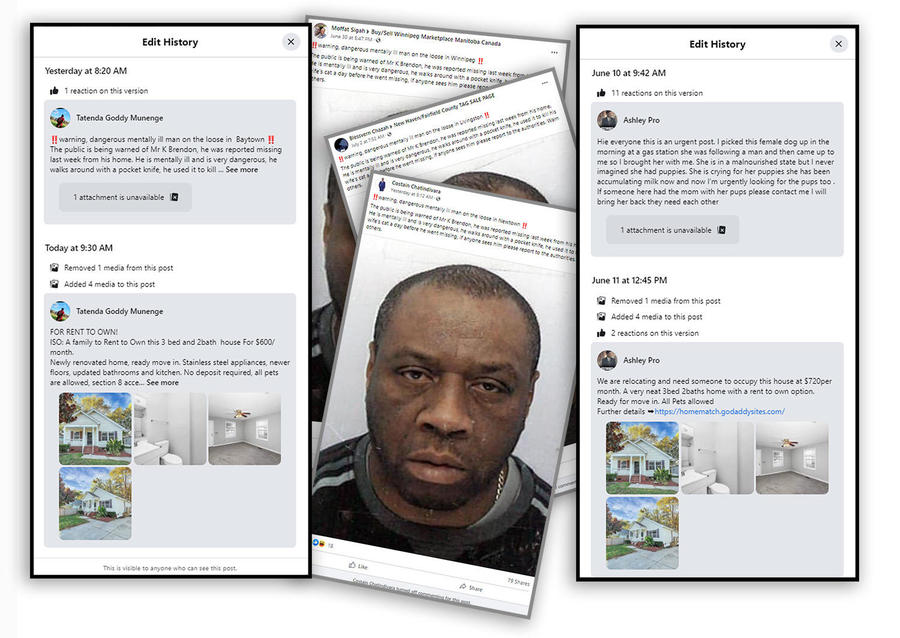 (Image source: Lead Stories composite image using Facebook screenshots taken on Tue Jul 05 15:53:09 2022 UTC)
A Pattern: Emotional Content Leads to Real Estate Ads
The edit history panel above on the right-hand side is from a post made by a different profile. It features different real estate wording, but the same photos. But, the original text deleted from that post contains a sad story of a found female dog:
Hie everyone this is an urgent post. I picked this female dog up in the morning at a gas station she was following a man and then came up to me so I brought her with me. She is in a malnourished state but I never imagined she had puppies. She is crying for her puppies she has been accumulating milk now and now I'm urgently looking for the pups too . If someone here had the mom with her pups please contact me I will bring her back they need each other
Below is a composite image featuring two different identical stories of found dogs that were posted by several profiles.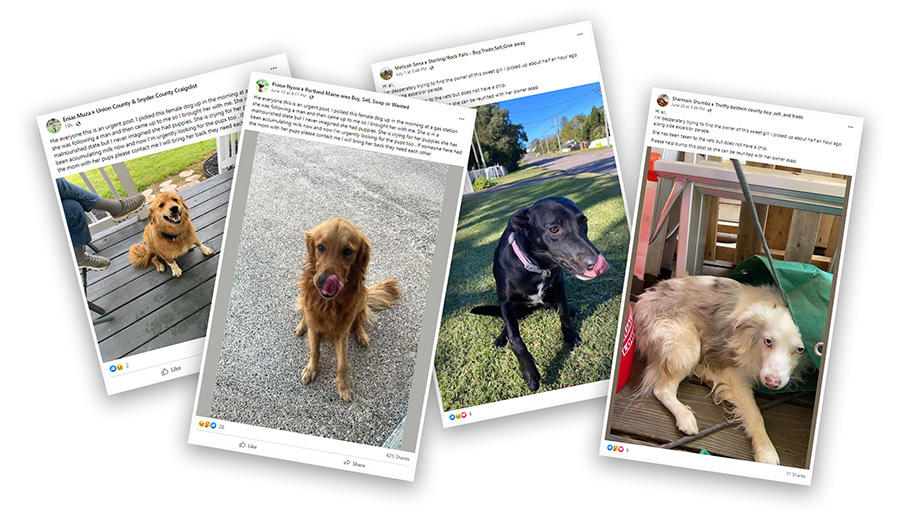 (Image source: Lead Stories composite image using Facebook screenshots taken on Tue Jul 05 17:06:40 2022 UTC)
Additionally, Lead Stories found these deleted captions in the edit history of other real estate ads:
Hi all,
I'm desperately trying to find the owner of this sweet girl I picked up about half an hour ago along side excelsior parade.
She has been taken to the vets but does not have a chip.
Please help bump this post so she can be reunited with her owner asap
Western Diamondback Rattlesnake - Check your potted plants. This was in Rapid City
An example of a fake real estate ad reads:
FOR RENT TO OWN!

ISO: A family to Rent to Own this 3 bed and 2bath house For $600/ month.

Newly renovated home, ready move in. Stainless steel appliances, newer floors, updated bathrooms and kitchen. No deposit required, all pets are allowed, section 8 accepted!

https://homematch7.godaddysites.com/

I will be notified and I will contact you to set up an appointment.
There is not just one website associated with the fake real estate ads. Many are registered and hosted through GoDaddy. Several of the linked websites have already been taken down by GoDaddy. Some of the edited posts also include the hashtag
#boomchallenge
. That hashtag also appears in phishing scam posts featuring baby diaper and grocery giveaways.
Below is a composite image of posts warning of the rattlesnake seen in a potted plant in a number of different towns. Included in this image are posts that were about rattlesnakes when shared and then edited to be a real estate ad seeking renters for a remarkably inexpensive house. The captions written by the person sharing the original rattlesnake post no longer make sense now that they are paired with photos of a house for sale.
This is too much. I'm almost afraid to go outside. I have potted plants.
(Image source: Lead Stories composite image using Facebook screenshots taken on Tue Jul 05 17:23:50 2022 UTC)