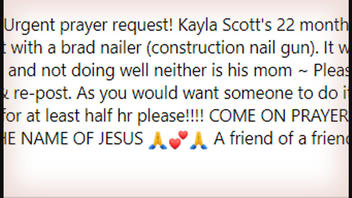 Did a 22-month-old baby accidentally shoot himself in the chest with a nail gun and is this child in critical condition? No, that's not true: This copy/paste chain letter dates back to 2010, and there is no evidence that this specific prayer request was ever based on a real incident. Some copies of the message have slightly different details and the name of the mother has been changed or the name of a person forwarding the message added as if they were a close acquaintance of the family, but the structure of the message is the same.
The viral prayer request has circulated on social media since 2010. Snopes.com published an article about it on August 10, 2010. This article has been updated several times over the years to add details about additional variations. Most recently, the message was posted on Facebook on August 1, 2022. The text reads:
PRAYERS NEEDED :Urgent prayer request! Kayla Scott's 22 month old son accidentally shot himself in the chest with a brad nailer (construction nail gun). It went off in his heart ~ He is now in critical condition and not doing well neither is his mom ~ Please start a prayer chain for this baby Please copy & re-post. As you would want someone to do it for you, thanx guys I wanna see this as your status for at least half hr please!!!! COME ON PRAYER
A WARRIORS IN THE NAME OF JESUS 🙏💕🙏 A friend of a friend baby, 🙏🏻🙏🏻🙏🏻
This is how the post appeared at the time of writing: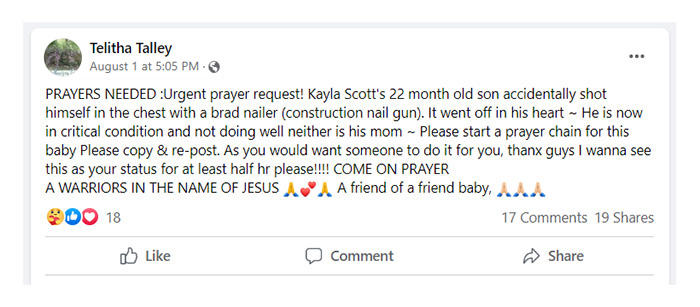 (Image source: Facebook screenshot taken on Wed Aug 03 14:15:58 2022 UTC)
Many copies of the original forward-date from mid-October in 2010. Examples of the text circulating at that time (here and here) were almost identical to the text circulating now:
PRAYERS NEEDED!! URGENT PRAYER REQUEST!!! PLEASE RE-POST!! KAYLA SCOTT'S 22 MONTH OLD SON SHOT HIMSELF IN THE CHEST WITH A BRAD NAILER~ IT WENT IN HIS HEART~ HE IS NOW IN CRITICAL CONDITION AND NOT DOING WELL ~ NEITHER IS HIS MOM ~PLEASE START A PRAYER CHAIN FOR THIS BABY~ PLEASE COPY &... REPOST AS YOU WOULD WANT SOMEONE TO DO IT FOR YOU!

The claim has been debunked several times over the years. In August 2016 truthorfiction.com and thatsnonsense.com published articles that highlighted that after circulating for that length of time the nature of the claim had evolved from simply unverified to outdated as well. News Channel 3 in Kalamazoo, Michigan ran a segment about the prayer request on April 29, 2019. By that point it was considered a hoax.