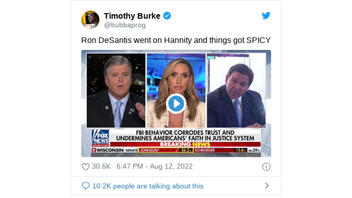 Did Gov. Ron DeSantis argue with Sean Hannity about the FBI's role in the search of Donald Trump's Mar-A-Lago home? No, that's not true: Video purporting to show the Florida governor defending the FBI search in a FOX News segment with Hannity and Trump daughter-in-law Lara Trump is altered. Video of DeSantis arguing with a reporter at a news conference about another search in December 2020 was edited into a Hannity clipto make it appear he was making the argument on Hannity's show.
The claim originated in a tweet (archived here) posted by Timothy Burke on August 12, 2022, under the title "Ron DeSantis went on Hannity and things got SPICY". It opened:
Sean Hannity: When this raid happened -- and it was a raid.
Gov. DeSantis: It's not a raid, I mean, with all due respect.

Lara Trump: It, of course, was a raid.

DeSantis: It was not a raid. They were serving valid process in accordance with the laws and the constitution of the United States and the state of Florida. They did it with integrity and they did it with honor. And to say it's a raid is disinformation. And you guys need to (interrupted by Hannity.)

Hannity: Why was this raid conducted. Americans deserve answers tonight.

DeSantis: Excuse me, excuse me, excuse me
This is what the post looked like on Twitter at the time of writing:
(Source: Twitter screenshot taken on Sat Aug 13 19:10:34 2022 UTC)
The video continued:
Lara Trump: It is ridiculous for anybody to call it anything other than that. I don't know what you call a bunch of people unannounced breaking into your home like this and taking whatever they want for themselves. That's exactly the definition right there.
Gov. DeSantis: You guys need to look at facts and stop trying to feed narratives. I understand why you do it but it's not supported by facts and so you should be better than that.

Sean Hannity: You don't raid the president's home before dawn with dozens of agents for a few documents that may or may not belong to the National Archives.

DeSantis: Sir, excuse me, excuse me. No, excuse me. I'm not going to let you get away with it. These people did their jobs. They've been smeared as the Gestapo for doing their jobs. They did a search warrant.

Hannity: Well, call me a skeptic. I don't buy that for one second.

DeSantis: What you just said is editorializing

Trump: The fact that the FBI -- I think that this is something else that's very upsetting to the American people -- has been focusing their time and resources on this.

DeSantis: What were they supposed to do? Just ignore it? Of course not. They went. They followed protocol.

Hannity: I don't think they have a thing and if they did it would have been leaked by now. Ron DeSantis, thank you. Lara Trump, as always, thank you. More Hannity coming up right after this.
Although many viewers may quickly recognize that the video is faked, FOX host Sean Hannity took to Twitter to express his displeasure that the fake video was spreading on Twitter.
WARNING IF YOU SEE THIS ON TWITTER IT IS EDITED FAKE NEWS. This never happened!! They spliced in comments the Governor made years ago. Twitter needs to step in and remove this immediately!! https://t.co/hKRa7JuvyO

-- Sean Hannity (@seanhannity) August 13, 2022
The altered video apparently was intended to make the point that DeSantis defended an earlier search warrant execution from critics who called it a raid, while he and many other Republicans attacked the FBI's execution of a legal search warrant on Trump's home as a "raid." The search that DeSantis defended happened at the home of former Florida coronavirus data scientist Rebekah Jones in December 2020. Video of DeSantis discussing that at a news conference was shared on Twitter shortly after the governor attacked the FBI's search of Trump's Florida home:
Every reporter in Florida should show this to Ron DeSantis today pic.twitter.com/kP014YSFxV

-- Adam Parkhomenko (@AdamParkhomenko) August 12, 2022
A talented editor turned that DeSantis video into a fake guest appearance on Hannity's show. This may be considered fair game in politics and on social media as satire, but the fakery is not disclosed and may not be obvious to many viewers.