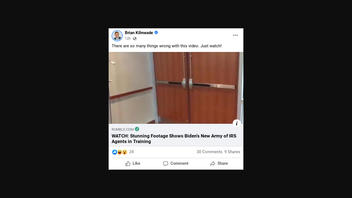 Does this video show footage of new IRS agents in training? No, that's not true: The footage is from a university event held in 2017 for accounting students that allowed them to perform a mock investigation with IRS Criminal Investigation unit agents for a day.
The claim appeared in a Facebook post on August 17, 2022. The post included a link to a video featuring people in vests that read "IRS-CID POLICE" and participating in what looked like practice for law enforcement duties. The title of the video read:
WATCH: Stunning Footage Shows Biden's New Army of IRS Agents in Training
The caption of the post read, "There are so many things wrong with this video. Just watch!"
This is what the post looked like on Facebook at the time of writing: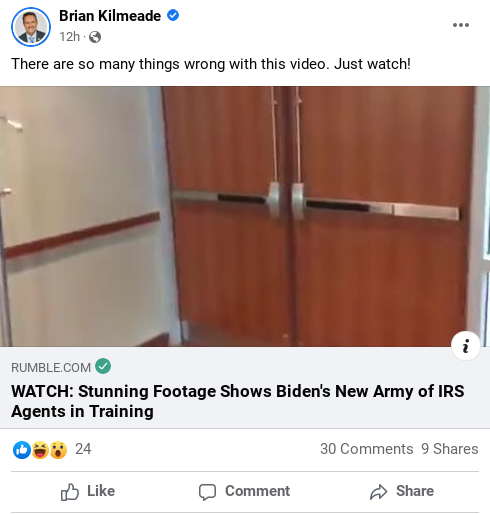 (Source: Facebook screenshot taken on Thu Aug 18 14:53:33 2022 UTC)
The footage is actually from an event called the Adrian Project, which was hosted by the IRS Criminal Investigation Newark Field Office and held at Stockton University in Galloway, New Jersey, in 2017 (archived here). The IRS describes its Adrian Project -- a daylong, mock investigation program for students -- as follows:
For years, IRS Criminal Investigation field offices have brought the Adrian Project to college and university campuses nationwide. How does it work? Classes participate in a day-long simulation of a mock criminal investigation. The goal is to provide students with a firsthand look at what it's like for IRS special agents to carry out an investigation, tracking illicit money from the crime to the criminal.

Students are 'sworn in' as special agents in the morning and wear IRS protective vests, use handcuffs, toy guns and radios to communicate with their counterpart agents on the case. The students sharpen their forensic accounting skills and are introduced to interviewing suspects, conducting surveillance and document analysis. The day ends when the students solve the crime and arrest the mock offender.

The Adrian Project provides students a glimpse into the career life of an IRS special agent and what a criminal investigation entails.
The press release from Stockton about the 2017 Adrian Project event noted that 24 accounting students participated.
The original footage can be found in a slightly longer video posted on October 27, 2017, to Stockton's YouTube page. There are also several images from the event on Stockton's Flickr page.
In an email sent to Lead Stories on August 18, 2022, Mark Melhorn, associate director of news and media relations at Stockton, confirmed that the video was taken during by the university at "an educational workshop in 2017":
The workshop was open to Stockton University students interested in learning more about alternative careers in finance and accounting.
Lead Stories also reached out to the IRS Criminal Investigation Newark Field Office about the claim and will update this story with any response.
There are videos of the Adrian Project being hosted at other campuses such as Dixie State University (press release here), and Purdue University (press release here).
The IRS Criminal Investigation unit has been the subject of other fact checks published by Lead Stories. Those can be found here.