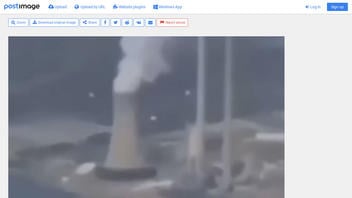 Does a Facebook video show three UFOs surrounding a nuclear plant? No, that's not true: The footage shows a coal-fired power plant in West Virginia, and the white orbs allegedly flying in the sky above have been created by a special effects video artist.
The claim appeared in a video posted on Facebook on August 9, 2022, under the title: "Three ufo's surround nuclear plant."
The caption repeated the same words:
Three ufo's surround nuclear plant.🛸🛸🛸
This is what the post looked like on Facebook at the time of writing: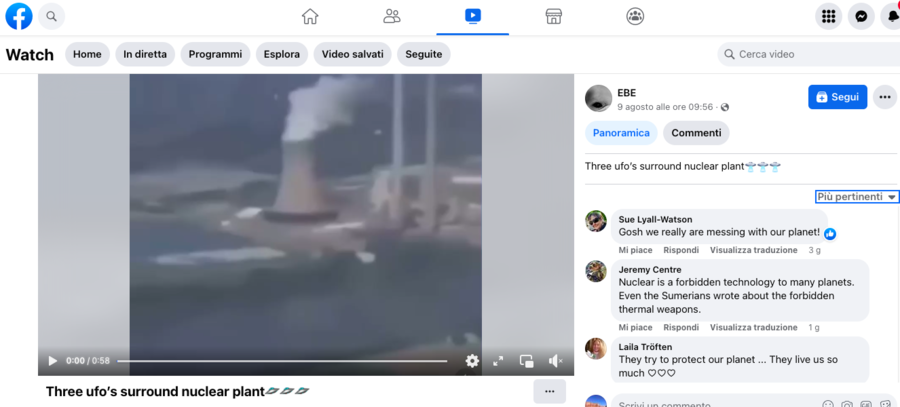 (Source: Facebook screenshot taken on Mon Aug 15 17:56:14 2022 UTC)
The blurry footage shows a power plant and three white spheres hovering near the wider of three tall smokestacks. The objects visible in the sky are actually four -- one disappears behind the smoke -- and are shown repeatedly, zooming in. The quality of the images is poor and does not allow a clear view.
The earliest version of the video that Lead Stories could identify was posted on YouTube in 2009 by user BjornBardon (archived here). Subsequently, the same footage has appeared in several other videos claiming UFO sightings throughout the years in different languages, from Russian to Japanese. Examples can be found here, here and here.
A YouTube search revealed that the original video was in fact created by visual effect artist Vincent MacTiernan, whose username on YouTube is pixelking. His YouTube profile shows a video compilation of his earlier work, under the title "My Visual FX Reel," archived here. At the 1:29 mark the video shows the footage of the power plant with what look like flying white orbs. In the caption, he says he created the video with the purported UFOs that was later shared by others online.
The caption reads:
My visual FX reel. 3Min 58sec, And YES the UFO stuff in it was done by me and posted by BjornBardon.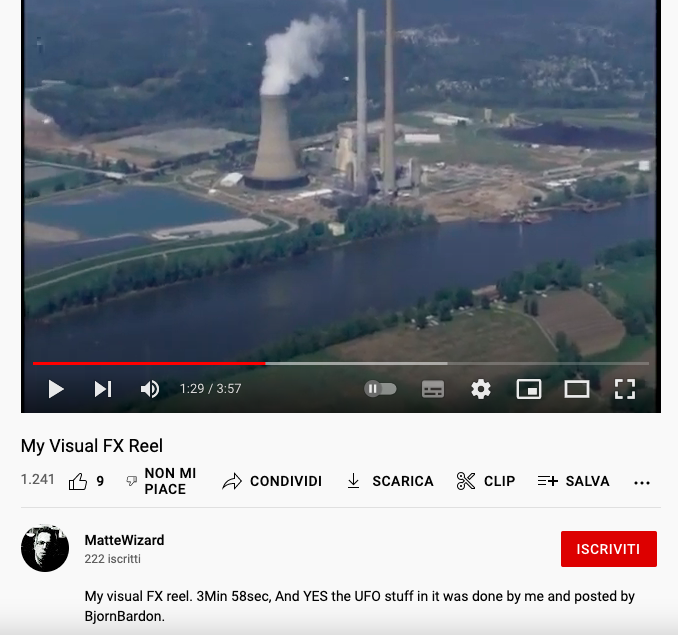 (Source: YouTube screenshot taken on Mon Aug 15 14:00:24 UTC)
The facility shown in the footage is not a nuclear plant. A Google reverse image search shows that it is a major coal-fired power plant, called Mountaineer Power Plant, owned by American Electric Power, and located in Letart, outside New Haven, in West Virginia. Images available online -- here, here and here (Figure 2) -- show the same structure, with three tall smokestacks near the water and a distinctive circular brownish structure at the base of the wider one.
Lead Stories has previously fact-checked stories on false UFO sightings that can be found here.