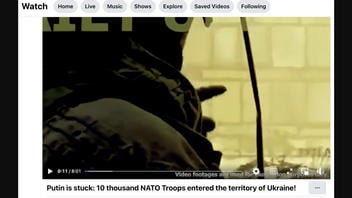 Did NATO send "10 thousand" troops to Ukraine? No, that's not true: There are no credible reports about that. Moreover, the social media posts that made this claim did not contain a single verifiable detail about the purported event.
The story appeared in a Facebook post on August 25, 2022. The caption says:
Putin is stuck: 10 thousand NATO Troops entered the territory of Ukraine!
An eight-minute video made up of obscure footage of uniformed people and military equipment was attached to the post. The clip opened:
It has been six months since the start of the decoupling between Russia and Ukraine.
This is what the video looked like on Facebook at the time of writing: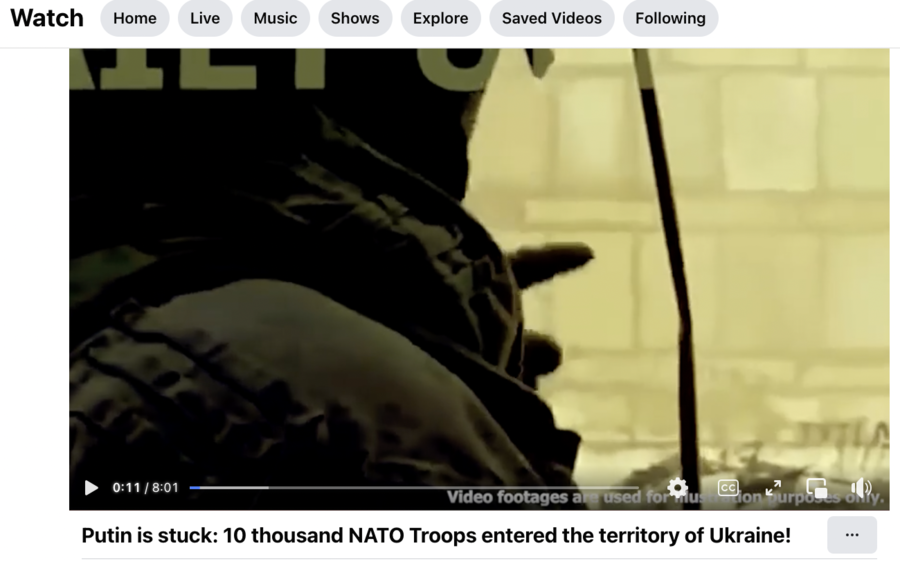 (Source: Facebook screenshot taken on Fri Aug 26 14:47:01 2022 UTC)
The clip was added to a playlist titled "HOT WAR NEWS," a collection of videos with the Ukrainian flag on its cover picture, annotated as "Update The Lastest News About The War In Ukraine And Russia."
The same claim had already appeared on YouTube on August 24, 2022, which is Ukraine's independence day.
Between August 24, 2022, and August 26, 2022, there were no reports about any NATO activities involving "10 thousand" troops:

(Source: Google screenshot taken on Friday Aug 26 14:29:52 2022 UTC)
Unlike the caption, the video in question didn't discuss "10 thousand NATO Troops" either. The only direct reference to NATO could be found at the 6:09 mark, but that was only a poorly paraphrased citation from a June 2, 2022, NATO secretary's statement confirming the Alliance's general support of Kyiv:
NATO Secretary General Jens Stoltenberg announced that NATO will continue to support Ukraine. NATO Secretary General Jens Stoltenberg, who said that Russian President Vladimir Putin was mistaken in thinking that he can bring the Ukrainian people to their knees and dictate their terms, said, 'The coming winter will be very difficult. We see that the war is protracted. We must continue to support Ukraine because of this will [be] a logistical struggle.'
According to the NATO website, the organization put on high alert over 40,000 troops in the eastern parts of the Alliance in response to Russia's aggression against Ukraine, but those troops are stationed outside Ukraine: Ukraine is not a NATO country. The organization emphasizes that it supports Kyiv differently:
NATO is helping to coordinate Ukraine's requests for assistance and is supporting Allies in the delivery of humanitarian and non-lethal aid.

Individual NATO member countries are sending weapons, ammunition and many types of light and heavy military equipment, including anti-tank and anti-air systems, howitzers and drones.
Lead Stories has fact-checked other controversial claims related to the 2022 Russian-Ukrainian conflict. Those materials can be found here.