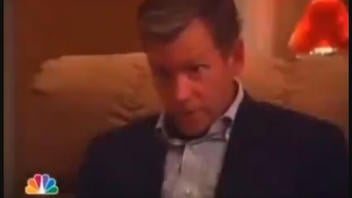 Was President Joe Biden caught in a child predator sting by NBC "Dateline" host Chris Hansen and a decoy pretending to be a 13-year-old girl? No, that's not true: This video mashup uses clips from two unrelated videos that were filmed more than a decade apart to fabricate a dialogue. Some of the footage is from a 2007 "Dateline" segment of a "To Catch A Predator" sting in Bowling Green, Kentucky, with host Hansen. The other footage, which does include then-former Vice President Joe Biden, was drawn from an interview with CNN's Chris Cuomo that aired on July 5, 2019, after the first Democratic debate in the 2020 presidential campaign. In one part of the mashup, audio from the "Dateline" segment plays over the footage of the CNN interview.
The episode of "To Catch a Predator" aired on December 28, 2007. The first Democratic presidential primary debate took place on June 26 and 27, 2019, with the Biden interview airing a few days later. A mashup of short clips from these two unrelated videos was posted on Facebook on August 4, 2022. It was titled:
Joe Biden back at it again with the shenanigans 😂 #fyp #datelinenbc
This is how the video appeared at the time of writing: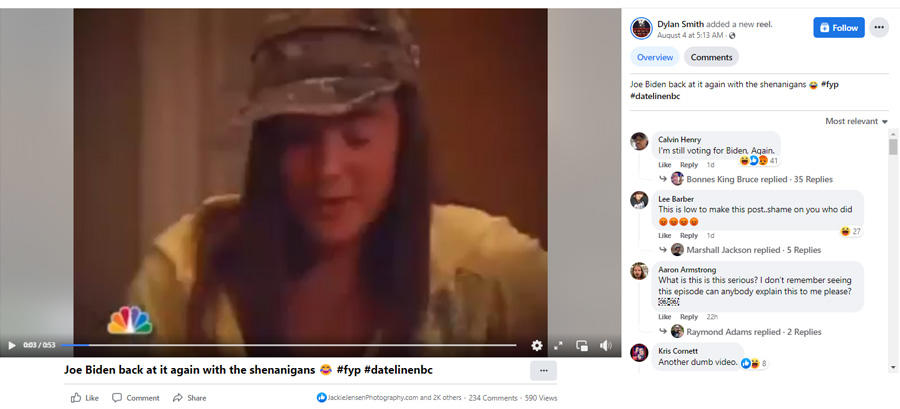 (Image source: Facebook screenshot taken on Mon Aug 08 17:00:22 2022 UTC)
The person appearing in the screenshot image above is a 19-year-old actress "Casey" who was the decoy in this sting operation, playing the part of a 13-year-old during the filming of the "Dateline" NBC program. The "To Catch A Predator" sting featured in the "Dateline" episode was a joint undertaking between Kentucky law enforcement and an advocacy group called Perverted Justice, and it took place in a Bowling Green, Kentucky, home from October 18 - 21 2007. This resulted in the arrests of seven men who had traveled to the home to meet a person they believed was a 12- or 13-year-old child.
The mashup video presents short unrelated clips spliced together to create the illusion of a conversation. The mashup video begins with this exchange:
Casey: Yeah, I'm pretty excited. You're excited?

Biden: I'm looking forward to this man.

Casey: What do you want to do?

Biden: Show me something. Come here, man.
A summary of the Dateline episode, titled, "Potential predators go south in Kentucky -- Things went south for the parade of men who showed up at the undercover 'Predator' house thinking they would meet a young girl home alone," was posted as a text article on nbcnews.com on December 28, 2007. Various taped segments of the episode have been reposted by other accounts on YouTube, but NBC does not have the episode posted there in entirety. Lead stories will identify several examples of source material used in this production.
At 0:42 seconds into the mashup video, "To Catch A Predator" host Hansen asks, "so you brought condoms?" which appears at 4:15 minutes in this YouTube video segment (pictured below right) that features the arrest of Lorne Armstrong, identified by Kentucky authorities and by "Dateline" as one of the men arrested in the sting.
In describing part of the encounter with another one of the arrested men, Dustin McPhetridge, (below left) in a voiceover the narrator says:
But instead of taking responsibility, he tries to blame it all on the decoy.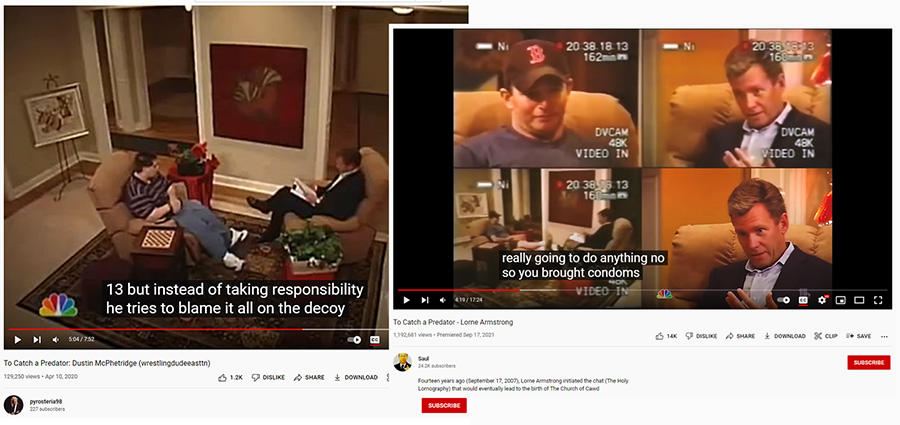 (Image source: Lead Stories composite of YouTube screenshots taken on Mon Aug 08 20:05:27 2022 UTC)
This voiceover can be heard in the context of the McPhetridge segment of "To Catch a Predator" at the 4:59 minute mark of this copy posted on youtube. That voiceover audio clip is used about 0:22 seconds into the mashup video and just before Biden says:
I was prepared for them to come after me, but I wasn't prepared for the person coming at me the way she came at... she knew Beau. She knows me... I don't... anyway...
The original clip of Biden saying these words was taken from the CNN interview which can be seen at the 0:30 second mark of the bottom video embedded below:
Biden says he wasn't prepared for Kamala Harris to confront him on issues of race during the first Democratic debate: "I was prepared for them to come after me, but I wasn't prepared for the person coming at me the way she came at me. She knew Beau (Biden) and she knows me" pic.twitter.com/LYNIB82IMc

-- CNN (@CNN) July 5, 2019