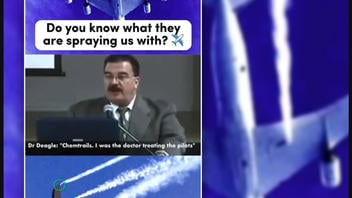 Did a "whistleblower" physician provide evidence of chemtrails being sprayed from military airplanes? No, that's not true: While Dr. Bill Deagle called himself a "whistleblower on the inside," nothing ever came of his outlandish claims and he never presented any evidence to back them. Experts from several fields agree that there is no secret large-scale atmospheric program spraying "chemtrails." Contrails, the white trails created by passing jet aircraft, are composed primarily of water vapor and a small amount of engine emissions and are not harmful to human health.
Deagle's original four-hour lecture at the Granada Forum in Los Angeles took place on December 7, 2006. A 1½-minute clip taken from that lecture was posted on Instagram on August 16, 2022. It was captioned:
woke_breed
CHEM-TRAILS #WHISTLEBLOWER SPEAKS OUT ABOUT PLANES SPRAYING AEROSOL CHEMICALS AND WHY. NOT A CONSPIRACY 😳👀 #CHEMTRAILS #NOTMYCLOUDSComment your thoughts below 💭⬇️ Subscribe to my telegram channel ⬇️https://t.me/woke_breed Link in bio⬆️ Also me: @wokebreed @woke_breed
#conspiracy #conscious #consciousness #light #newworldorder #illuminati #truth #nwo #wakeup #agenda #truthseeker #government #woke #wokebreed @wokebreed #ancient #pineal #ancientpineal @ancientpineal

Copyright Disclaimer under section 107 of the Copyright Act of 1976, allowance is made for 'fair use' for purposes such as criticism, comment, news reporting, teaching, scholarship , education and research.
This is how the post appeared at the time of writing: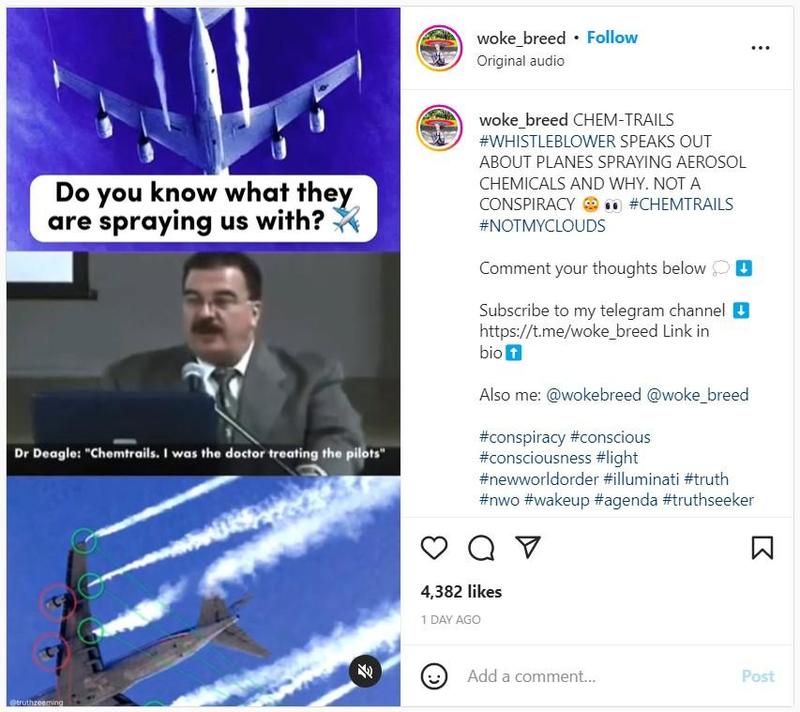 (Source: Instagram screenshot taken on Thu Aug 18 21:35:28 2022 UTC)
Below is the transcript of the 1½-minute video clip of Deagle speaking:
Chemtrails. And chemtrails, by the way barium salts are in chemtrails, they are 10,000 times more toxic to your nervous system than lead. They contain mycobacteria viruses, Pseudomonas [inaudible] bacteria, human plasma. Wonder what human plasma is doing in chemtrails? And this is not by conjecture, I did a lot of research before I'd ever say this -- but these chemtrails are nasty. And there's three reasons for chemtrails.
The first is they -- and I talked to my NSA buddies at Fort Carson, Peterson Air Force Base and Buckley where I was actually their doctor taking care of the pilots flying and spraying the chemtrails so I know it's real. If anybody says it's not real, they're full of it. OK, because I'm a whistleblower on the inside is not open for discussion. And my NSA buddies told me, 95 percent of them told me, they were up there trying to spray to reflect the sun out to stop global warming. So most of them are dumb enough to believe that garbage.

OK? And also in the chemtrails and there's a link directly that Jeff Rense has found out and I'm going to have Dr. Stan on here and Dr. [inaudible] on and about a week on my radio show. And I've done some investigations and there's very solid evidence now that Morgellons is caused by a silicone-based nanomachine life form that does not originate on planet Earth. Is that not interesting? This is a silicon-based life form that is intelligent like bees or ants and it fights back.
On November 22, 2016, a survey of atmospheric scientists titled, "Quantifying expert consensus against the existence of a secret, large-scale atmospheric spraying program" (SLAP) was published by Environmental Research Letters. This survey was offered "to establish a scientific record" to address a data void encountered by people looking into chemtrail questions. At that point, there was only the September 2000 Aircraft Contrail Fact Sheet developed by the Environmental Protection Agency, the Federal Aviation Administration, NASA and the National Oceanic and Atmospheric Administration "in response to public inquiries regarding aircraft contrails." The 2016 survey concluded:
We therefore offer the first peer-reviewed expert response on SLAP data, from both atmospheric scientists with expertize in condensation trails and geochemists working on atmospheric deposition of dust and pollution. Results show that 76 out of 77 (98.7%) of scientists that took part in this study said there was no evidence of a SLAP, and that the data cited as evidence could be explained through other factors, such as typical contrail formation and poor data sampling instructions presented on SLAP websites.
A research team at Harvard would like to launch a project to learn about solar geoengineering. The project is called the Stratospheric Controlled Perturbation Experiment (SCoPEx). This experiment would use a stratospheric balloon to release a small amount of calcium carbonate dust into the atmosphere with the balloon, then measuring the changes. The platform test was set to happen from Sweden in June 2021, but was called off and indefinitely postponed by the SCoPEx advisory committee. There is no evidence, as claimed by Deagle, that research with a similar interest in geoengineering was carried out with airplanes from Colorado Air Force bases spraying toxic chemicals, viruses, bacteria and "silicone-based nanomachine life forms."
The photos used to bracket the video clip (above) do not show "chemtrail" spraying. The photo on the bottom has been flipped and marked. It is featured in another Lead Stories article debunking photos mislabeled as chemtrail spraying equipment. It is not "chemtrails." Instead it shows a 1974 NASA photo of a B-747 in flight during a Vortex study. The upper photo is featured in an article on the website contrailscience.com reviewing many photos that show specialized equipment. For this photo on the top, the contrailscience.com caption explains:
It's an E-6B 'Tacamo'. This photo shows it dumping fuel (photo from tacamo.org). The E-6B is used by the United States Strategic Command as an airborne communication center. You can see the navy logo on the right wing. The E-6B is a modified version of the Boeing 707-320, and the fuel vents have been moved from the wing tips to between the fuselage and the engines in order to separate it from the communication equipment in the wing tips.
The full video of Deagle's December 7, 2006, Granada Forum presentation is posted on Bitchute. He covers many different conspiracy topics in this rambling four-part address that contains a sales pitch describing many of the supplements available through his company nutrimedical.com. The last part of the presentation turns to religious prophecy. The Bitchute video's caption gives an idea of the wide array of topics covered:
This is the most important and comprehensive video you will ever see on the new world order. Dr. Deagle is a highly intelligent whistle-blower with info that you need to know about nutrition, extraterrestrials, new world order, moon base, mars colony, deep underground military bases, super soldiers, gmo, illuminati, 4th dimensional workings, 911, avian flu, the electronic cage, meeting the challenges of wellness in a toxic world and even modified attack baboons!
Set of four talks on one DVD. - Granada Forum, LA, Dec 7, 2006
The California-based Granada Forum is known for connections with sovereign citizens, militias and conspiracy theories. A November 27, 1995, Los Angeles Times article said, "The Granada Forum is a little slippery to define." The now-defunct Granada Forum website (archived here) describes itself this way:
The Granada Forum is a research center for all types of subject matters that cannot be talked about in the mainstream media. It is presented on the first Thursday of every month at 7:45 pm, doors open at 6:30. It is located at 5657 Lindley Ave Tarzana, Ca., at St. Innocent's Church.
We bring in people from all over the world to speak on such things as health, paranormal, new world order and much more. In the past, some of our guests have included Jordan Maxwell, William Henry, David Icke, Captain Joyce Riley, David Horowitz. The lectures are for sale on our site in the online store.
The archived page of the website promoting the December 7, 2006, PowerPoint presentation of Dr. William Deagle promises:
He is a captivating speaker with firsthand experience inside underground cities. He also has information on chemtrails, earthchanges and the Avian Flu.
Deagle, originally from Nova Scotia, was licensed to practice medicine in Colorado in 1994. In March 2004 an investigation regarding pain medication prescriptions and the death of a patient resulted in the suspension of his license. This was then reinstated with conditions of oversight that he found intolerable, and in July 2004 he closed down his practice and moved back to Nova Scotia. Deagle's license to practice medicine was formally revoked by the Colorado State Board of Medical Examiners on August 15, 2007.