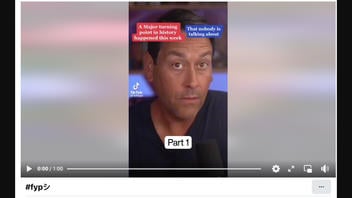 Are Russia and China creating a "new global reserve currency" based on "rare earth minerals" as videos on social media claim? No, that's not true: The original source of the story, Russian President Vladimir Putin, brought up the idea of a reserve currency based on a basket of currencies of BRICS countries -- Brazil, Russia, India, China and South Africa -- not Russia and China alone.
An economist interviewed by Lead Stories cast doubts on the viability and "groundbreaking" nature of this project. According to him, currencies become reserve currencies only when a country's economy is such that other states decide to keep a portion of their reserves in that country's currency, not when a country or a group of countries decides to create a reserve currency. Additionally, the economist emphasized that it's unlikely that China will be interested in pegging its own currency to gold because it has other, more advanced ways to demonstrate the renminbi's value.
The claim appeared in a TikTok video shared on Facebook on August 6, 2022. The caption was limited to a TikTok hashtag that stands for "For You Page" (#fypシ) showing the creator's intention that the video make it to the app's landing page, compiled based on users' preferences.
The video opened:
Putin and China just did the unthinkable, and the West is in big trouble. The alliance between Russia and China is awesome. I mean awesome in a dramatic shift of the entire world economic order kind of way. ...
Russia joined forces with China to create their own new reserve currency. Officially. Yes, it's happening, guys. This means that the new reserve currency, won't be the U.S. dollar. This new currency will be based on rare earth minerals guys. I've been saying this for a while, and that's why I'm personally investing in them, OK? Russia and China are moving their currency to gold, silver, uranium, nickel, copper, real tangible things, guys. This means that Russia and China are tying their country's fortunes to minerals that they bring out of the ground and then sell to the rest of the world. Just look at how Russia started stockpiling gold over the last 20 years.
This is what the video looked like on Facebook at the time of writing: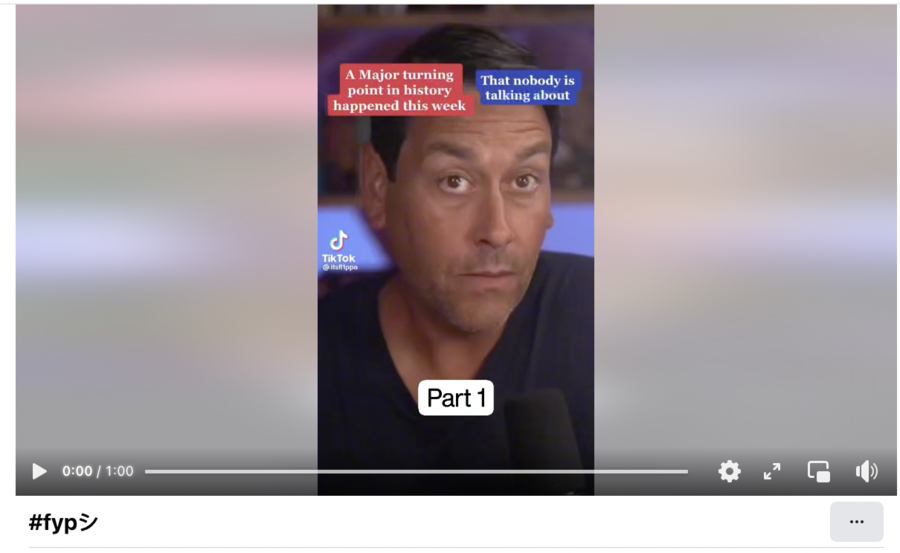 (Source: Facebook screenshot taken on Thu Aug 18 21:15:09 2022 UTC)
Similar TikTok videos were posted on Facebook here and here as well.
These clips echoed another video that appeared on Rumble, an alternative video hosting platform, on July 29, 2022. It also claimed that Russia and China are going to launch a new reserve currency and that (at the 6:20 mark) "it looks like it will be based on commodities, especially precious metals like gold and silver."
However, these statements contradict the person who made the announcement: Putin. On June 22, 2022, when he disclosed the plan to create a new reserve currency at the BRICS Forum hosted online from Beijing, he addressed all participants, not only China: "We are ready to openly work with all fair partners." Moreover, Putin never said that the proposed currency would be "based on rare earth minerals" or "gold and silver." RT, a Russian government-owned media company, reported that he said this instead:
'The issue of creating an international reserve currency based on a basket of currencies of our countries is being worked out.'
The person who coined the term BRICS, Goldman Sachs economist Jim O'Neill, promoted the idea that BRICS countries would become a leading economic power by 2050.
The rumors that Russia and China are joining forces to create a new gold-backed reserve currency are not new. In March 2018, a similar claim was made by News Punch. As of August 18, 2022, this hasn't happened in any form. News Punch warns its readers that its information "may include inaccuracies."
Governments need a reserve currency to be able to pay for the items priced in reserve currencies (for example, oil), make investments and pay their debts. Reserve currencies includes the euro, British pound, Swiss franc, Canadian and Australian dollars, Japanese yen and Chinese renminbi. However, according to the International Monetary Fund, most of the world's reserves are currently being held in U.S. dollars: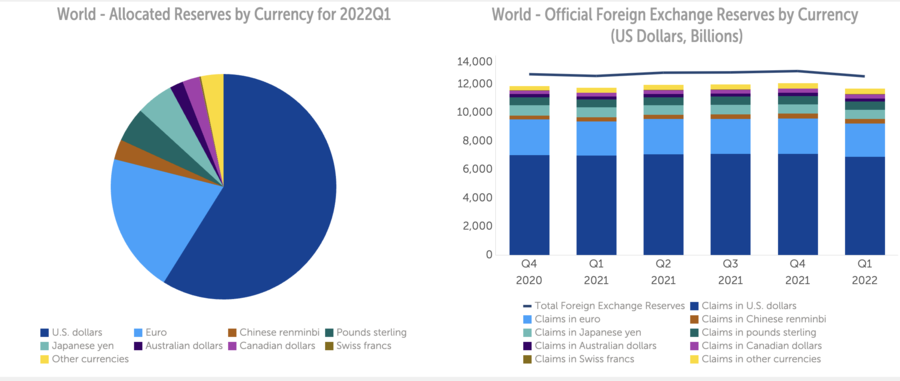 (Source: Data.imf.org screenshot taken on Fri August 19 Screen 20:37:29 2022 UTC)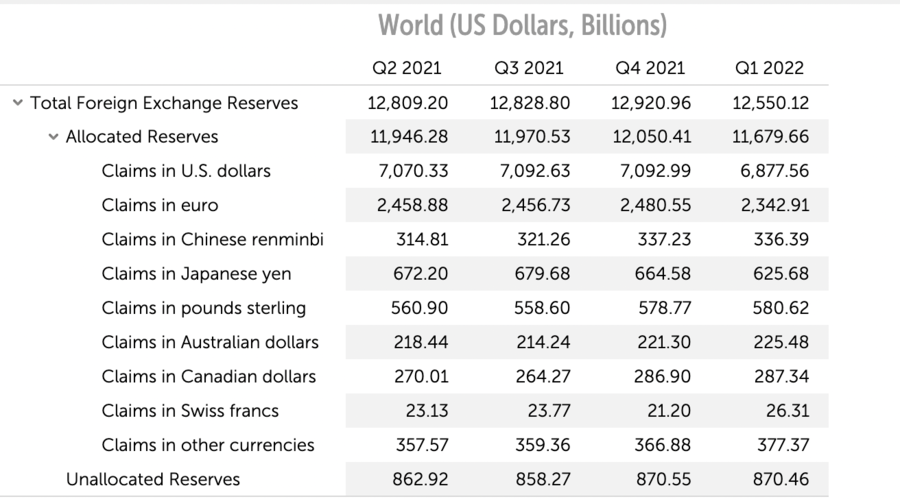 (Source: Data.imf.org screenshot taken on Fri August 19 Screen 20:37:50 2022 UTC)
Konstantin Sonin, an economist and professor at the University of Chicago Harris School of Public Policy (he was vice president at the Higher School of Economics in Moscow before being forced to resign in late 2014 after making critical statements toward the Russian government), told Lead Stories via email on August 19, 2022:
A very brief answer is 'do not pay much attention to this.' Reserve currencies are not created by fiat or by an international agreement. Currencies become 'reserve currencies' because there is a big and strong economy with a stable political system (that guarantees no defaults on debt and no deliberate inflation to erase the debt away.) After World War II, the US produced about 50% of industrial production world-wide and this made the dollar the reserve currency. (So, the Bretton Woods did not create a reserve currency but merely acknowledged the fact).

China's economy is big and the political system is relatively stable - though much less stable than that of the US. So, it is to be expected that more and more Central Banks, banks, and people around the world will keep fractions of their reserves in renminbi.

Russia has a small economy and an unstable political system. It has no chance to participate in any kind of impactful international economic arrangement.

It is a long story re:gold, but countries have pegged their currencies to gold when they had no other ways to demonstrate a credible commitment to not inflate their debts/spending. Most developed countries and China are well past this stage, so for them it would be going backwards, to less efficient systems, if they decide to peg their currencies to gold.