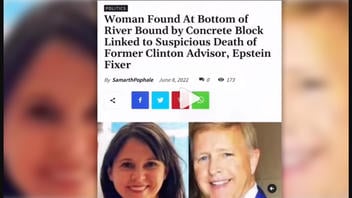 Was a woman found dead in the Arkansas River linked to the "suspicious death" of former Clinton advisor Mark Middleton? No, that's not true: A report in radaronline.com quoted an anonymous source -- purportedly an associate of Middleton's -- to link Ashley Haynes and Middleton. The alleged link first appeared in a radaronline.com article, and nowhere else, on May 27, 2022. This was weeks after Middleton's death on May 7, 2022, and months after Haynes' death on January 12, 2022. Subsequent reporting from other outlets cited the unverified information from Radaronline as a source.
Both Haynes and Middleton died of suicide. Both incidents did include a common element -- electrical extension cords -- but that element, and the account of "an anonymous business associate" appear to be the only things linking the two. No documentary evidence or credible on-the-record person has made such a connection. Radaronline confuses the timeline by counting Haynes' death as "the second" even though she died months earlier
The radaronline.com article introduced a mysterious narrative about a "financial meeting" between Haynes and Middleton, citing an anonymous business associate of Middleton months after Haynes' death. Soon after, many other outlets such as heavy.com, newspunch.com, The People's Voice, ibtimes.sg, waynedupree.com, naturalnews.com, sarahwestall.com, anonymouswire.com and citizens.news published articles citing radaronline.com and the anonymous business associate of Middleton. On June 7, 2022, the publishedreporter.com ran their version titled, "Woman Found At Bottom Of River Bound By Concrete Block Linked To Suspicious Death Of Former Clinton Advisor, Epstein Fixer" and on June 8, 2022, finnoexpert.com copied that article. On August 14, 2022, a screenshot of the finnoexpert.com article was posted to Instagram in the format of a fake reel -- there is no video or sound, just a still screenshot of the headline. The caption reads:
On January 14th 2022 the body of Ashley Haynes was found at the bottom of the Arkansas river. Her body was bound to the river floor by an electrical cord and a concrete cinder block. Ashley was a close associate of both the Clintons and the Epsteins. She was killed a week after she went public to the media about an 'under ground sex ring' that both families run. Ashley was reported missing a few days after she went paddle boarding on the Arkansas river in early January. Ashley has suffered from depression through out the course of her life and the police have ruled her death a suicide. However I find it hard to believe that she killed herself via drowning. The manner in which she was found is similar to the 'concrete boots' method that mobsters and hit men use to dispose of bodies.
Based off of what she knew and who she was close to I believe it's safe to say that she was murdered.
Souces: Heavy.com
Citizens.news
Radaronline
This is how the post appeared on Instagram at the time of writing: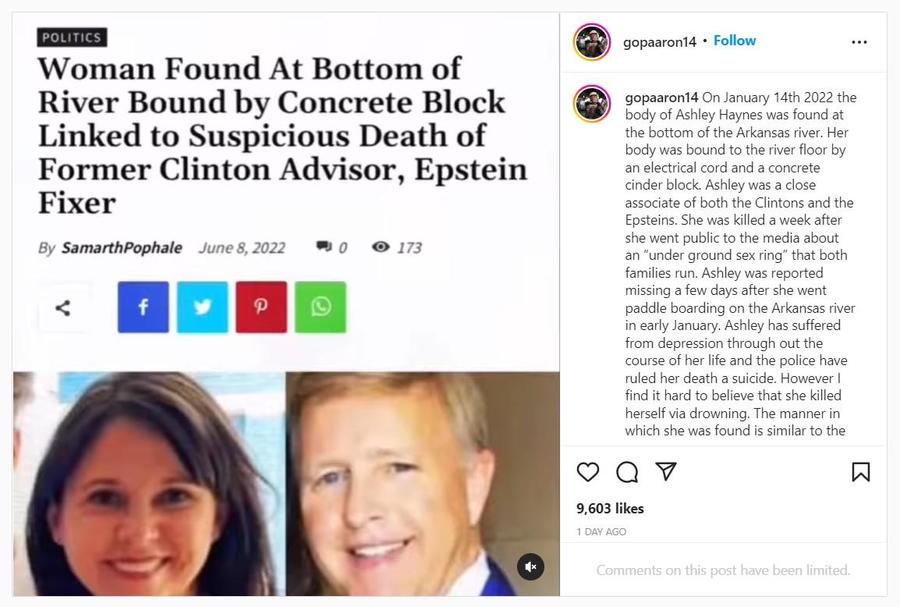 (Image source: Instagram screenshot taken on Tue Aug 16 19:06:14 2022 UTC)
The caption states that Haynes was killed a week after she went public to the media about an "under ground sex ring" that both families run. This is false. There is no evidence that Haynes "went public" to the media about anything. If she had, that information would be in the public domain. It isn't. The May 28, 2022, headline of newspunch.com reads:
ANOTHER Clinton Associate, Who Vowed to Expose Elite Pedophile Ring, Found Dead
There is no evidence that Ashley Haynes was in any way associated with the Clintons. According to her obituary, she was a wife and mother, a yoga instructor, model, volunteer and a recreational paddleboarder. Her family reported her missing on January 12, 2022. She was last seen on her paddleboard in the Arkansas River wearing a wetsuit. Her paddle and paddleboard were found. On January 14, 2022, the Maumelle, Arkansas, police ended the active search. Days later, an article from Little Rock News station KTHV11 reported her body was found:
There appears to be no signs of foul play and the Maumelle Police Department will await results from the Arkansas State Crime Lab.
In a June 7, 2022, article titled "'Foul Play?' Chilling Death Scene Photos Of Woman Linked To Dead Bill Clinton Advisor Spark Calls For New Inquiry" radaronline.com asked a pathologist, Dr. Cyril Wecht, to comment on the "documents and shocking crime scene photographs" pertaining to Haynes' death:
Dr. Wecht tells Radar it is common for people bent on committing suicide by drowning to weigh themselves down with a heavy object to prevent the body's natural reflex to surface. ...

'There is nothing here that I can dig into that is even suggestive of any kind of foul play. It certainly is possible, and I cannot rule it out, and I am not ruling it out, as far as third-party involvement or someone doing this to her,' he said. 'That is something that has to be looked into by the police.'
Lead Stories spoke with Capt. Dustin Ivey at the Maumelle Police Department about the status of the investigation into Haynes' death. He was involved with the search and investigation in January. Ivey said the case is closed, ruled a suicide and there is no further investigation. Lead Stories received a copy of the Maumelle Police Department report, which confirms that a large concrete block was in "a bag strapped to her leg with a green extension cord" and she was found "in approximately 10 feet of water." The incident report is marked:
Status: No Crime Involved
Lead Stories has reached out to the Arkansas State Medical Examiner and will update the article if appropriate.
If you're thinking about suicide, the 988 Suicide & Crisis Lifeline provides 24/7 service in both English and Spanish via a toll-free hotline with the number 9-8-8.