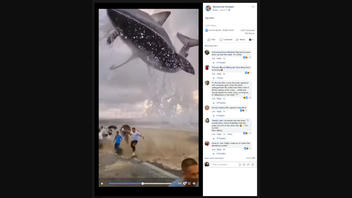 Does this video show a big shark breaching from a body of water onto a fleeing crowd of people? No, that's not true: This video has been digitally manipulated, combining two unrelated videos to create a single false scene. The Florida Program for Shark research director also confirmed for Lead Stories that this video falsely depicts a giant shark - appearing to be about 50 feet long- breaching onto land from a body of water. The modern record-long shark is less than half that large, measured at 20 feet long.
The video appeared in a Facebook reel on August 2, 2022. The caption reads:
Big shark
This is what the post looked like on Facebook at the time of writing: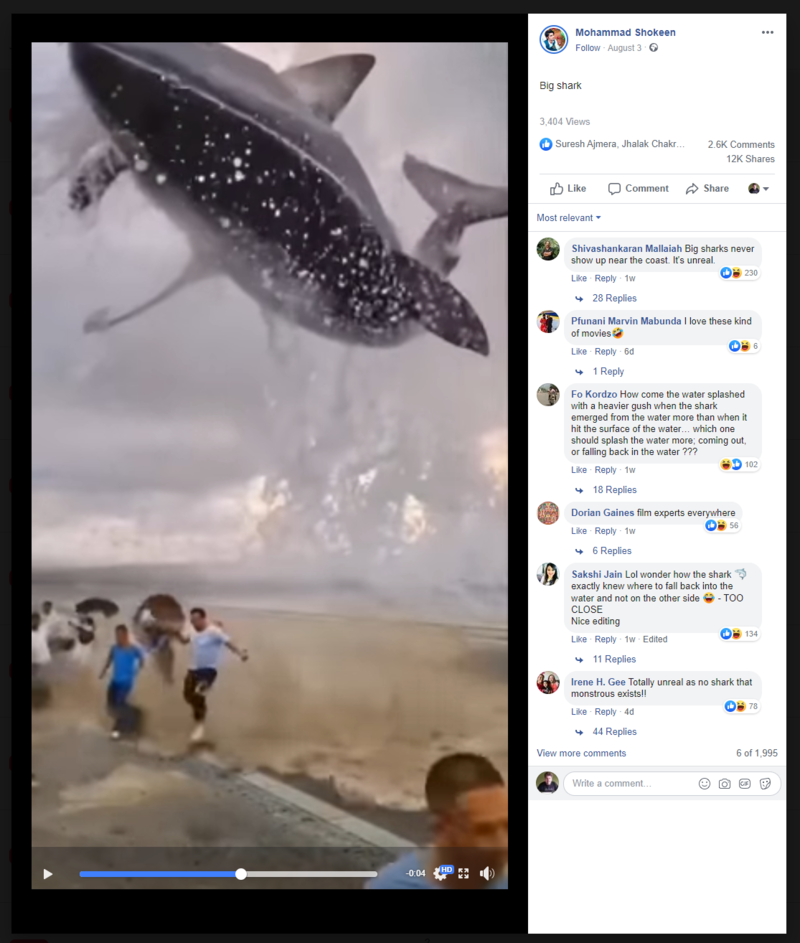 (Source: Facebook screenshot taken on Wed Aug 17 19:17:49 2022 UTC)
This video purportedly shows a giant shark leaping out of a body of water with what looks like a large black plastic bag in its mouth onto a shore, causing a crowd of people to run away as it continues to fly out. Many social media users who commented on the video already deemed this video to be digitally edited.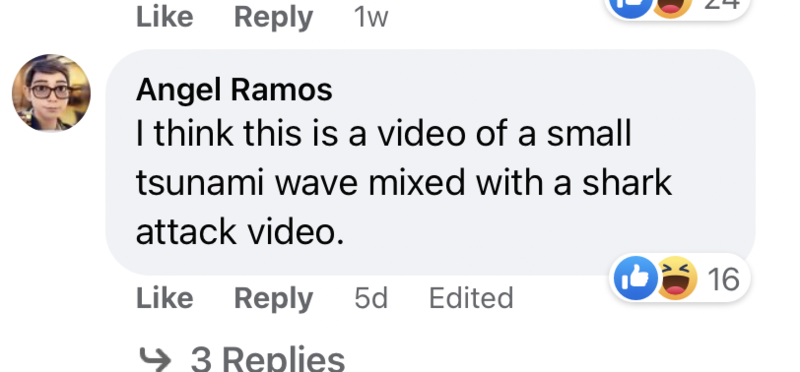 A Google search using the keywords "Shark Breaching Water" revealed a July 19, 2022, YouTube video titled, "Great White Shark Jumps 15 FEET Out of the Water! | Shark Week," where at the 1:06 mark the exact portion of the video in the post that displays a shark breaching in a body of water can be seen. The Shark Week video shows a shark catching a decoy seal, with the shark then landing back in the water. Shark Week is an annual Discovery Channel event during which shark documentaries and films take over prime time and fill multiple other slots.
Regarding the portion of the video where people are seen running away, Lead Stories located an article titled, "Tourists flee as massive waves slam onto shore in eastern China," published on October 21, 2020, on New Zealand-based Stuff. That article links to the same video scene shown in the post, down to the matching wave pattern on the wall in the video. A clearer view of the same scene can also be seen in this October 20, 2020, YouTube video titled, "Qiantang tidal bore in east China wows visitors."
Lead Stories reached out to California State University, Long Beach, marine biology professor Christopher Lowe concerning a shark's physical makeup and agility. In an August 17, 2022, email, he responded that sharks could not grow as large as the one seen in the video, and sharks cannot breach so high in the air that they surface onto land.