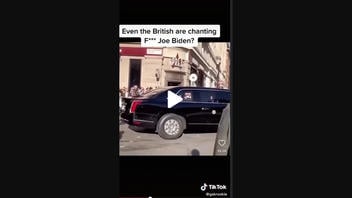 Did a crowd in central London chant "F*** Joe Biden" when the U.S. president's motorcade got stuck in traffic on the way to the funeral of Queen Elizabeth II? No, that's not true: The original video from September 19, 2022, the day of the funeral, was overdubbed with audio from another place and time.
The claim appeared in a TikTok video (archived here) published on September 20, 2022 under the title "Even the British? #britain #joe #joebiden #biden #president #queen #queenelizabeth #london #uk #democrat #republican #liberal #motorcade #wow #LikeAMonarch."
It opened with text on screen saying:
Even the British are chanting F*** Joe Biden?
This is what the video looked like on TikTok at the time of writing: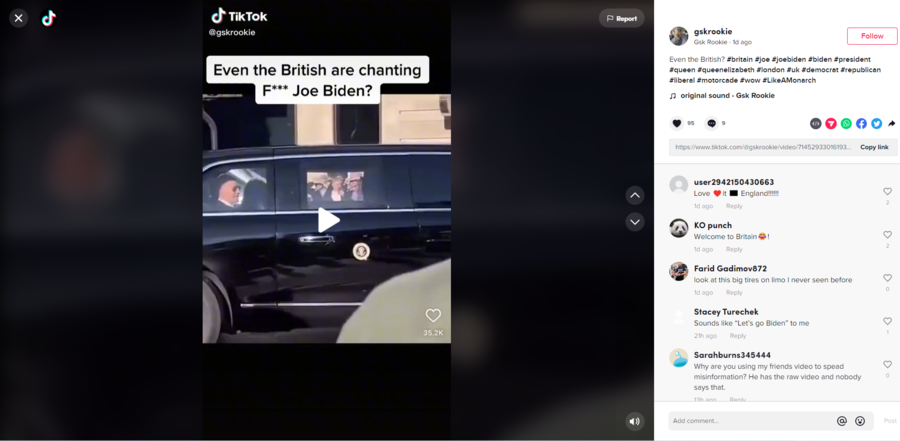 (Source: TikTok screenshot taken on Wed Sep 21 14:59:49 2022 UTC)
"Let's Go, Brandon"
The TikTok video with altered audio does not include "F***Joe Biden," but it does feature the anti-Biden chant "Let's Go, Brandon."
That chant became synonymous with "F*** Joe Biden" after NBC reporter Kellie Stavast's interview with NASCAR driver Brandon Brown at the Talladega Motor Speedway in October of 2021. During the segment, Stavast told Brown the crowd was chanting "Let's go, Brandon," when it was actually saying "F*** Joe Biden." "Let's Go, Brandon," quickly became a double-meaning catchphrase for many conservatives who are critical of the president.
Original video
The original video (archived here) of the presidential limousine slowing in traffic was posted on September 19, 2022 on Twitter by Joe Armitage, a U.K. political analyst and associate director at Global Counsel. The Armitage video includes a shout or two when a few people in the crowd recognize Biden, but no chanting as police escort the U.S. president's limousine through London's streets:
American President comes to a standstill in London traffic near Marble Arch. Might as well have taken the bus. pic.twitter.com/lJ2nNE5kC9

-- Joe Armitage (@joe_armitage) September 19, 2022
Biden's traffic misfortune was widely reported at the time.