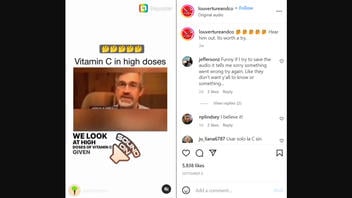 Can high-dose intravenous treatments of vitamin C kill cancer cells and act as an alternative to chemotherapy? No, that's not entirely true: Though preliminary evidence suggests that treatment by intravenous vitamin C (IVC), or ascorbic acid, may boost the effectiveness of cancer treatments like chemotherapy and radiation therapy and reduce their side effects, there is not enough scientific evidence to conclude that IVC alone could "kill cancer cells" and "cure cancer." IVC should be "regarded as an investigational drug and used only in a clinical setting" until more information about its safety and efficacy in the treatment of cancer has been determined, experts conclude.
The claim about intravenous vitamin C appeared in an Instagram post on September 6, 2022, featuring an unnamed man describing IVC as an alternative to chemotherapy. Here is an excerpt:
Instead of treating cancer with chemotherapy, you can give intravenous vitamin C -- 30, 60, 100,000 milligrams a day, directly into the bloodstream -- and that will kill cancer cells. Vitamin C at that high dose is selectively toxic to cancer cells and that's exactly what chemotherapy is. But with vitamin C, there's no damage to healthy cells. And people don't get nauseous. They don't lose their hair. All they do is get better.
This is what the video looked like at the time of writing: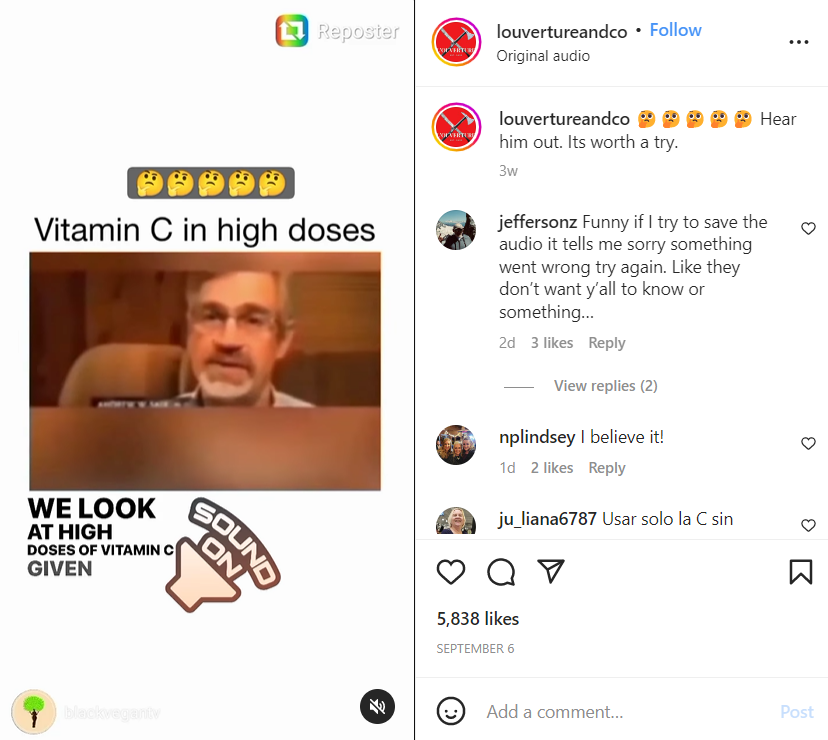 (Source: Instagram screenshot taken on Tues Sept 27 19:13:03 2022 UTC)
Vitamin C has been touted as a possible cancer preventative for decades since it has been associated with a lower risk of multiple cancers. Still, evidence is preliminary and limited in determining whether vitamin C, given intravenously or orally, can treat cancer and should be used as an alternative to chemotherapy.
"The role of vitamin C in cancer prevention is not definitive," wrote the Memorial Sloan Kettering Cancer Center, a cancer research and treatment institution in New York City.
As of this writing, there are no large, controlled clinical trials that have proven vitamin C alone can treat or cure cancer. Until large-scale studies have been conducted, it's premature to determine what role vitamin C may play in the treatment of cancer, wrote the Mayo Clinic.
By and large, the available scientific information is inconclusive. A look through recent data shows why.
In 2006, a team of researchers found that early clinical studies of high-dose vitamin C given both orally and intravenously "may improve symptoms and prolong life in patients with terminal cancer." The findings, however, did not provide "definitive proof" that vitamin C alone was responsible for the favorable outcomes.
Rather, the findings suggested that further evaluation was needed. The studied cases only "increase the clinical plausibility of the notion that vitamin C administered intravenously might have effects on cancer under certain circumstances," the researchers wrote.
Similarly, a 2015 study published in Science reported that vitamin C could curb the growth of and kill some tumor cells in mouse studies.
Researchers writing in the Journal of Experimental and Clinical Cancer Research in 2021 concluded that "mounting evidence indicates that vitamin C has the potential to be a potent anti-cancer agent when administered intravenously and in high doses."
However, a 2022 review published in Frontiers in Nutrition that evaluated over 3,560 articles to test the quality of the research about the role of vitamin C in treating cancer. After analyzing 57 of those meta-analyses, the researchers concluded that vitamin C was related to a lower risk of multiple cancers, but that limitations in the quality of the analyzed data hindered these findings. Many of the studies, for example, were observational.
In late 2022, the National Cancer Institute (NCI) listed on its website at least eight clinical trials testing ascorbic acid in certain types of cancer, including lymphoma, pancreatic cancer, non-small cell lung cancer, bladder cancers, multiple myeloma, myeloid malignancies and colon cancers. Though IVC is not yet proven safe or effective to treat or cure cancer, the NCI wrote that there is a continued interest in its use by the medical community:
Vitamin C as a cancer therapy has had a controversial past. What has been intriguing are small clinical trials that suggest some responses, but with no clear rationale for why cancers should respond to vitamin C or a path forward for explaining which patients are most likely to respond. Now a growing number of preclinical studies are showing how high-dose vitamin C might benefit cancer patients. ...

Since the mechanisms of action of vitamin C are becoming better defined, we can propose vitamin C combinations in a more rational, hypothesis-driven manner. In addition, given the current high financial cost of new cancer drugs, it seems rational to improve the effectiveness of current therapies by studying their clinical interactions with vitamin C. In our view, the implementation of this treatment paradigm could provide benefit to many cancer patients.
In short, though vitamin C shows promise as a cancer preventative and treatment alongside other therapies, existing data is inconclusive and more scientific evidence is required.

Additional Lead Stories fact checks related to cancer can be found here.