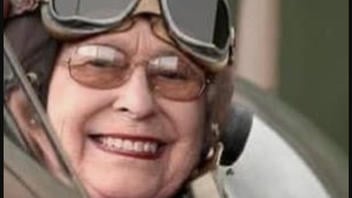 Was Queen Elizabeth II photographed in the cockpit of a World-War-II-era Spitfire fighter plane? No, that's not true: An image on social media that allegedly shows the late British monarch in a Spitfire is derived from two separate photos: an image of Spitfire pilot Charlie Brown that was part of an advertisement for Herring Shoes and a photo of Queen Elizabeth watching the horse races at Newbury Racecourse in England on April 17, 2015.
The airplane in the photo with flight instructor and Spitfire pilot Charlie Brown comes from a collection of photos in an advertisement for Herring Shoes, a British retailer and manufacturer. The smiling face of Queen Elizabeth II comes from a UK Press photo by Mark Cuthbert taken on April 17, 2015 at the Newbury Racecourse in the English county of Berkshire.

The altered image appeared in an article in the satire publication dailysquib.co.uk on June 27, 2017. The image resurfaced on social media on September 8, 2022, the date of the queen's death. One example was posted on Facebook, where Stallion 51 Flight Operations published it on September 12, 2022. The image was captioned:
Even the Queen of England loved WWII fighters! Stallion 51 thanks Queen Elizabeth for her years of dedicated service. Far winds.
This is how the post appeared at the time of writing: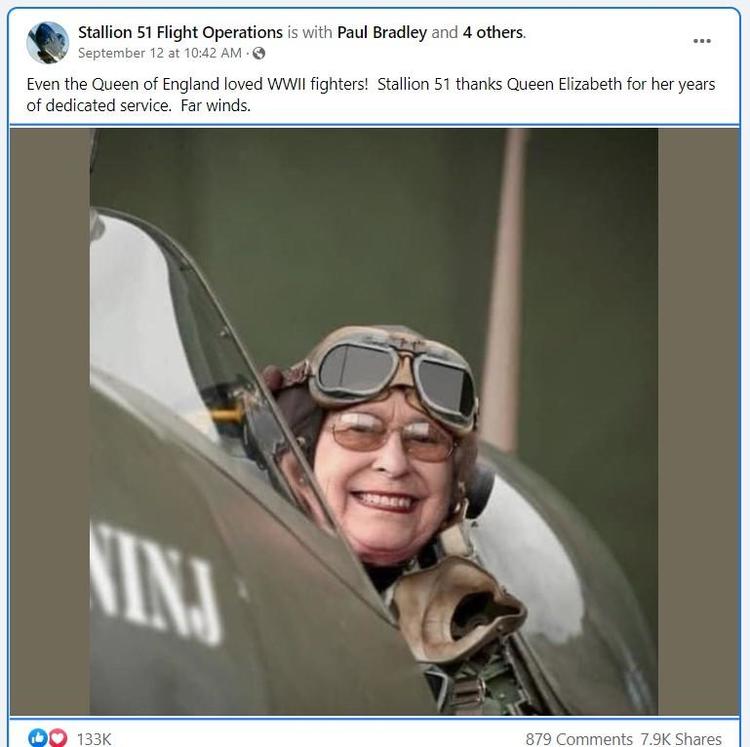 (Source: Facebook screenshot taken on Mon Sep 19 15:37:13 2022 UTC)
The fake photo in the Facebook post seems to have originated in a satirical June 27, 2017 article in dailysquib.co.uk titled "Queen Celebrates Royal Income Boost by Flying Her Favourite Spitfire Around Balmoral."

The two photos that were digitally combined to create the fabricated image appear below:

(Sources: herringshoes.co.uk and dailymail.co.uk screenshots taken on Mon Sep 19 16:12:58 2022 UTC)
On the left is an image from a photo shoot for Herringshoes.co.uk. The campaign "Look who's wearing Herring Shoes ..." describes the pilot and plane this way:
Charlie Brown
Spitfire Pilot
Shoes: Herring Burgh brogue boots in Mahogany Calf
Charlie has been flying for over 30 years and has been flying Spitfires since 1990. He is an A1 Flying Instructor at the Central Flying School Cranwell.

The Spitfire pictured is a rare WW2 Mk.Vb Fighter built at Castle Bromwich in 1942. It served with 315 & 317 (Polish) Squadrons before sustaining damage on February 13th 1943. It was acquired by the Historic Aircraft Collection (HAC) in 1993 and restored to its original specification and flies in the colours of 317 Squadron. Spitfire BM597 can be found in Hangar 4 at the Imperial War Museum, Duxford.
The image on the right was featured in an April 17, 2015 Daily Mail article titled "One has (almost) won! Nerves get the better of the Queen as her horse gallops home to a second place finish at the Newbury races" The photo appears in a Getty Images collection captioned:
Newbury Races
NEWBURY, ENGLAND - APRIL 17: Queen Elizabeth II watches her horse "Ring of Truth" in Race 2 at the Dubai Duty Free Spring Trials Meeting at Newbury Racecourse on April 17, 2015 in Newbury, England. (Photo by Mark Cuthbert/UK Press via Getty Images)


Additional Lead Stories fact checks of claims about the late Queen Elizabeth II can be found here.