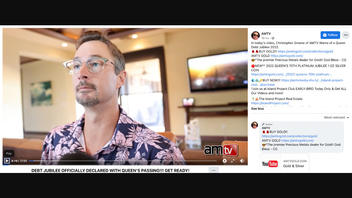 Was a debt jubilee, the cancellation of a broad range of debts from the public record, "officially declared" after Queen Elizabeth II's death? No, that's not true: At the time of writing, no such announcement has been made. The man who posted the rumor online was promoting his online store selling precious metals.
The claim appeared in a Facebook post under the title "DEBT JUBILEE OFFICIALLY DECLARED WITH QUEEN'S PASSING!!! GET READY!" It was published on September 8, 2022, the day of Queen Elizabeth II's death when her son became King Charles III. The caption said:
In today's video, Christopher Greene of AMTV Warns of a Queen Debt Jubilee 2022.

BUY GOLD!
Here is what this post on Facebook looked like at the time of writing: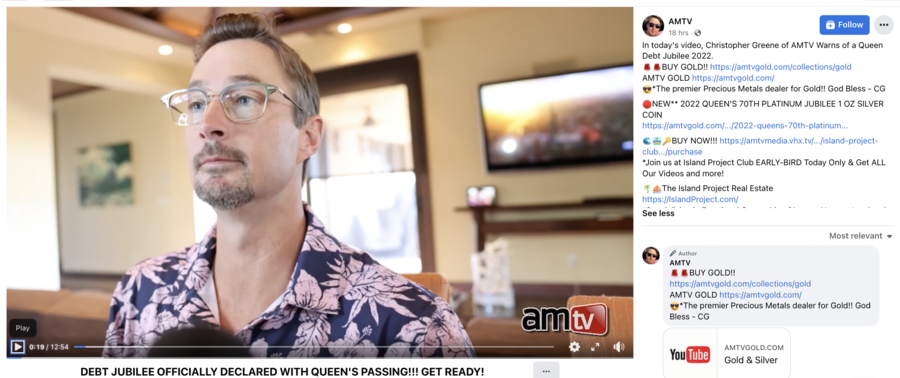 (Source: Facebook screenshot taken on Fri Sep 9 15:42:44 2022 UTC)
The rest of the caption contained multiple links. Many of them lead to the same website that sells collectible coins, gold and silver. The site is owned by the same person who hosted the attached video.
The clip opens with a 16-second music intro, followed by the host murmuring a melody:
Ding-dong, dnhhm-mm-hmm! Ding-dong, hm-mm-hm! Hey, everybody, Christopher Greene here. September 8, 2022. Breaking news: The Queen has tragically passed out in the U.K.
At the 01:02 mark, the man says:
What I wanna talk about is how symbolic this event is because I believe it kicks off - ladies and gentlemen - the debt jubilee, the debt jubilee. So let me shrink my head here. Trust the plan, October 1 is the big day. Of course, the Pope of Vatican had just transferred all assets, over $5 billion+ out of the Catholic Church into its own centralized banks preparing for what I believe is imminent economic financial collapse. Vladimir Putin, of course, is warning of an imminent freeze and Europe as European nations along with Germany are buying a lot of Russian oil preparing for the cut off, and the tragic events that I believe will unfold in the coming days, weeks and months.
At the 2:15 mark, the host starts discussing Elizabeth II's Platinum Jubilee, an event that had nothing to do with debt cancellation. Instead, back in February 2022, it marked the queen's 70th anniversary of becoming a monarch and was celebrated throughout June 2022.

Then, the man switches to discussing inflation (4:37) and the possibility of a "nuke event in Europe" (5:21), implying a connection either to the Platinum Jubilee or to the queen's death.
However, contrary to the video's title, the host does not provide any verifiable details about the purported "declaration" of what the video's text terms "a Queen Debt Jubilee 2022."
A search of official sources shows no sign of such a debt cancellation. The official Twitter account of the British Royal Family did not post anything remotely similar. The website of the U.K. government returns no results: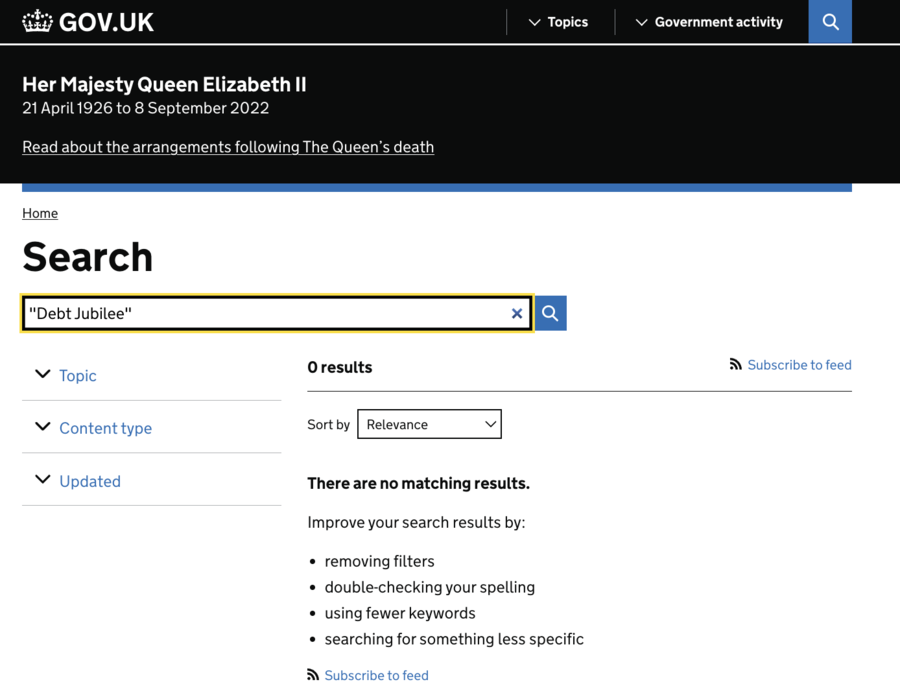 (Source: Gov.uk screenshot taken on Fri Sep 9 17:03:12 2022 UTC)
An Internet search shows that the only source of the rumor is the Facebook video in question shared multiple times on different platforms (including Twitter, YouTube and the alternative video hosting service Bitchute):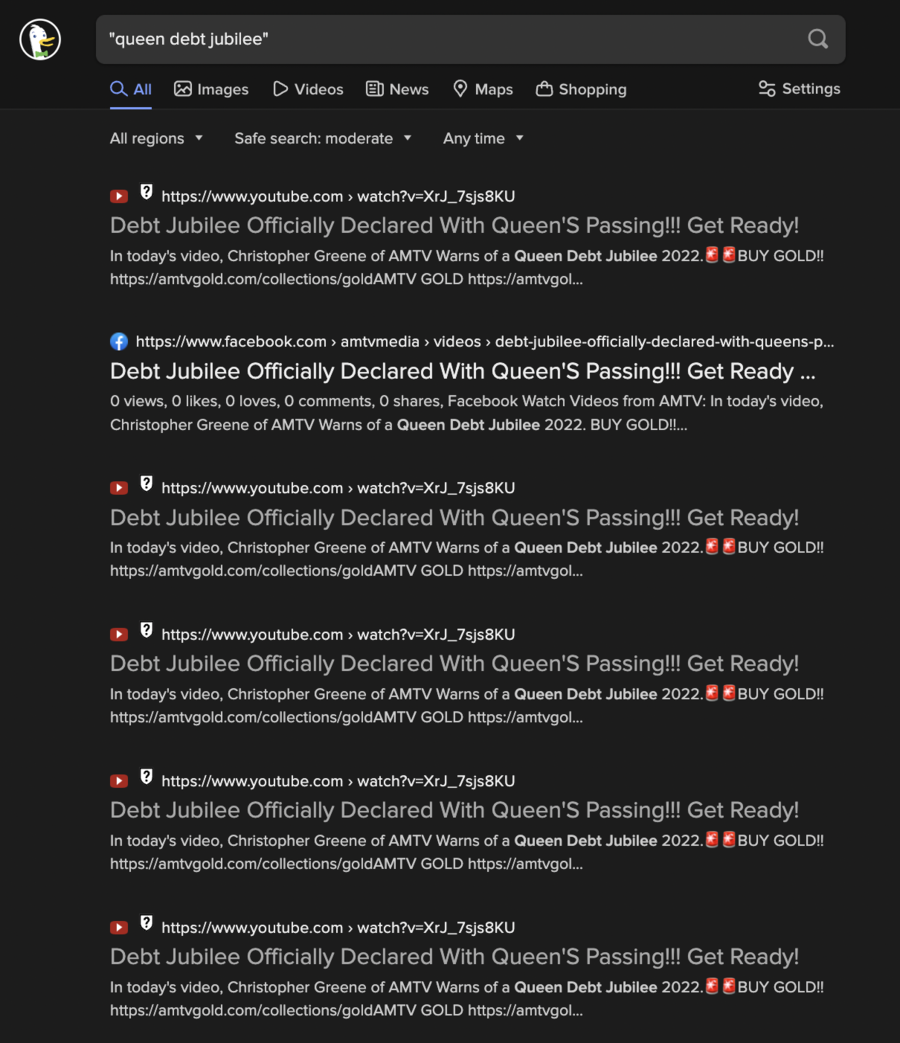 (Source: Duckduckgo screenshot taken on Fri Sep 9 19:35:10 2022 UTC)
At the time of writing, there also were no news reports, corroborating the occurrence of the purported event:

(Source: Google screenshot taken on Fri Sep 9 19:55:55 2022 UTC)