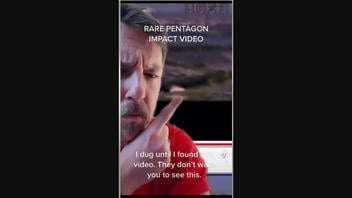 Does a "rare Pentagon impact video" show that something other than a commercial plane hit the building on September 11, 2001? No, that's not true: The video shown has been digitally edited to show an object crashing into the building. It is a stock footage video of the Pentagon that is easily found on the internet. The 9/11 Commission Report extensively documented how hijacked American Airlines Flight 77 crashed into the Pentagon.
The claim was implied in a video on Facebook on August 23, 2022. It opened:
RARE PENTAGON IMPACT VIDEO
This is what the post looked like on Facebook at the time of writing: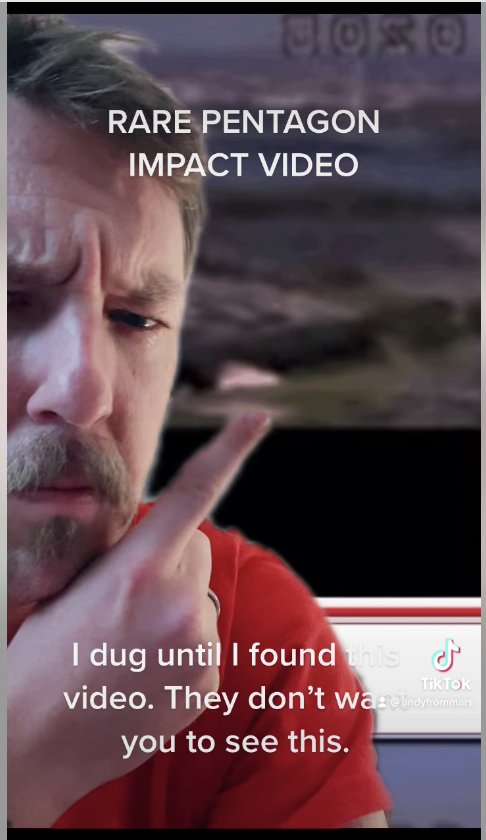 (Source: Facebook screenshot taken on Wed Sep 7 21:36:23 2022 UTC)
Originally posted on TikTok, the 51-second video shows film of an object flying into the Pentagon, implying it's a missile. This video is digitally altered. The aerial footage of the Pentagon is not rare, is available on the internet and does not show an object hitting the building.
At the 0:33 mark, the narrator claims, "I dug until I found this video. They don't want you to see this." A video is playing behind the person. They point to what appears to be a white streak with fire going into the Pentagon.
At 0:41 the voice in the video says, "Is that a commercial flight?" and at 0:46 the voice says, "Wake up."
The video of the Pentagon is easily found on multiple stock footage libraries and agency websites here, and here. These videos are of higher quality than the one shown in the social media post. Here is the video on the Vimeo website:
(Source: Vimeo website Wed Sep 7 20:11:12 2022 UTC)
The Shutterstock website notes that the video is of, "Washington DC Circa 1990s," but the date of the recording has not been confirmed by Lead Stories.
A YouTube video posted in 2018 shows the altered video with the white object hitting the Pentagon next to the stock video. The comparison correctly notes how the fake copy has been through color alteration and re-cropping, but retains the identical camera motion, angle, numeric overlay in the upper left and even video noise. Addition of the streaking projectile is not a complicated undertaking on video editing software.
Abundant public documentation, witnesses on the scene and independent flight monitoring records establish that a missile did not hit the Pentagon. It was hit by the hijacked commercial plane American Airlines Flight 77. The 9/11 Commission Report described "The Hijacking of American 77" on September 11, 2001. From page 10:
At 9:37:46, American Airlines Flight 77 crashed into the Pentagon, traveling at approximately 530 miles per hour. All on board, as well as many civilian and military personnel in the building, were killed.
Lead Stories has written about several claims concerning the 9/11 attacks. You can see those stories here.