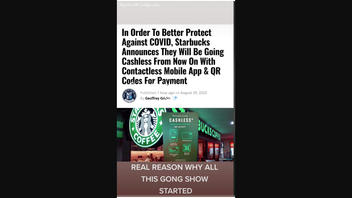 Is Starbucks "going cashless" regarding payment options for customers as of August 2022? No, that's not true: The article seen in this particular post that includes comments made by the Starbucks CEO fails to disclose that the cashless option was concerning the 2020 pandemic -- not a permanent change to cashless payments at all Starbucks stores. Starbucks also debunked this claim in recent tweets and told Lead Stories that they have "no plans to go cashless" in their U.K., U.S. or Canada stores.
The claim appeared in a TikTok video on August 29, 2022. The 15-second video opened with a screenshot of an article and on-screen text that read:
REAL REASON WHY ALL THIS GONG SHOW STARTED
This is what the post looked like on Tik Tok at the time of writing: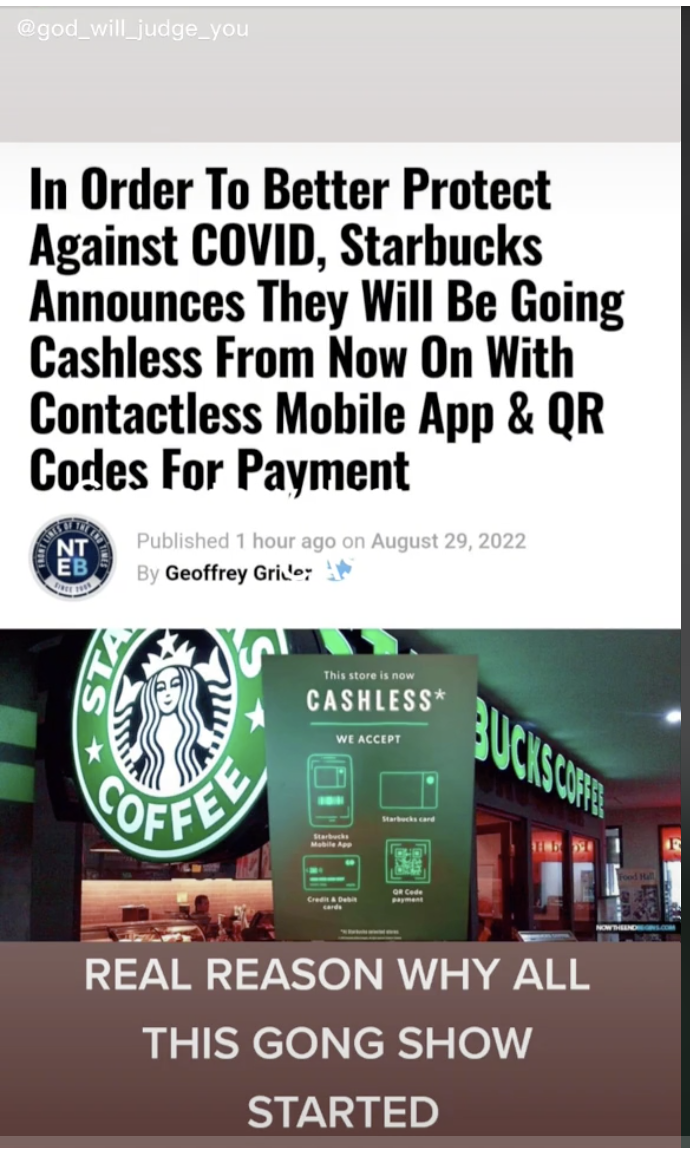 (Source: Tik Tok screenshot taken on Thur Sept 1 18:00:52 2022 UTC)
The post featured a screenshot of an article headline from the website Now The End Begins -- which is a website that Lead Stories was unable to identify as a credible news source and is self-described as a website that "stands firm against the rising tide of darkness to preach the glorious Gospel of Jesus Christ to a lost and dying world."
The headline of the article reads,"In Order To Better Protect Against COVID, Starbucks Announces They Will Be Going Cashless From Now On With Contactless Mobile App & QR Codes For Payment." The article, published on August 29, 2022, mentions a partial quote from Starbucks CEO Kevin Johnson that is incorrectly cited as being made during the week the article was published.
The letter with the quote, archived here, is titled, "Starbucks ceo: The third place, needed now more than ever before," It was initially published on May 4, 2020, in response to the beginning of the COVID-19 pandemic. Johnson specifically stated that Starbucks would have "more cashless options," not a company-wide move to only cashless options.
In a September 1, 2022, email to Lead Stories, Sam Jefferies, a Starbucks crisis communications spokesperson, addressed the claim in this post as being false:
Starbucks has no plans to go cashless across our U.K., U.S. or Canada stores and we want to shut down any inaccuracies or further speculation on this matter.
The verified Starbucks U.K. Twitter account published an August 30, 2022 tweet stating that the claim that the company is going cashless is false as it has no plans to go cashless across its U.K. stores and will continue to offer cash payment options.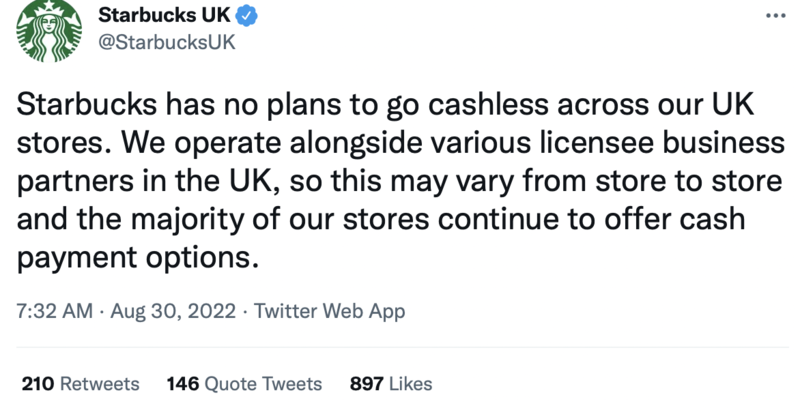 An August 29, 2022 tweet by the verified Starbucks Care Twitter account also confirmed that a cashless mandate would not be implemented in the U.S. and Canada as the company still accepts cash.