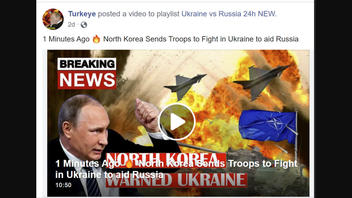 Is North Korea sending troops to Ukraine to help the Kremlin's war efforts? No, that's not true: At the time of writing, Moscow appeared to be considering the idea of North Korean workers, not soldiers, working on reconstruction in Ukraine's Russian-occupied regions, severely damaged during months of fighting between Russia and Ukraine. Previous reports about an alleged agreement to ship "100,000 soldiers" from North Korea to Ukraine, published in August 2022, heavily relied on the words of an analyst cited by one of the Russian state-run TV channels and did not contain any references to official government documents or any other concrete pieces of evidence.
The claim reappeared in a Facebook video (archived here) published on September 8, 2022. The caption said:
1 Minutes Ago North Korea Sends Troops to Fight in Ukraine to aid Russia
The clip opened:
North Korea began sending hundreds of workers to Russian-controlled regions of Ukraine in exchange for shipments of industrial equipment and energy supplies. The country is also ready to send 100,000 soldiers to help Russia as part of military assistance for boosting its invasion of Ukraine.
Here is what the Facebook post looked like at the time of writing: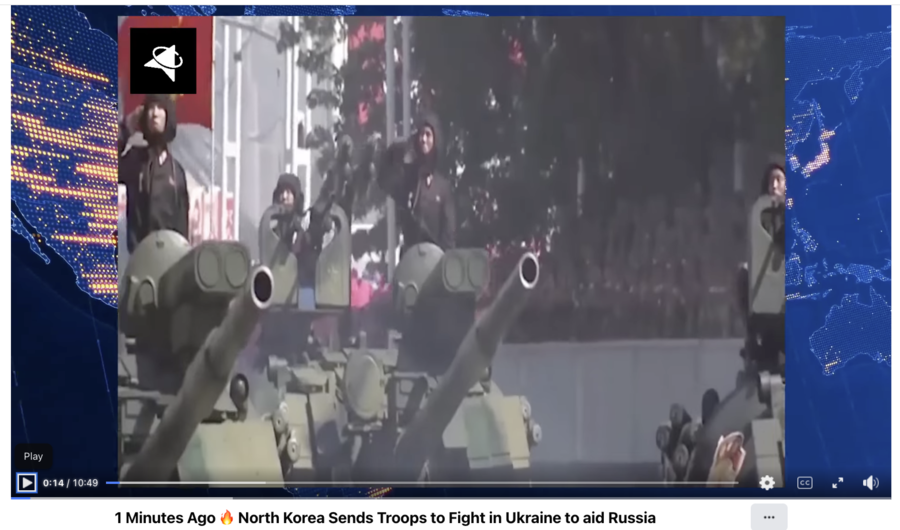 (Source: Facebook screenshot taken on Mon Sep 12 14:58:30 2022 UTC)
Contrary to the caption, the Facebook video predominantly focuses on civilian specialists, not soldiers. Nonetheless, at times, it conflates the two.
At the 00:14 mark, viewers briefly see tanks, as a robotic-sounding male voice claims that North Korea "is ready to send 100,000 soldiers to help Russia." However, the Moscow-city-government-owned TV-Tsentr aired the same footage (the North Korean flag is obscured in the Facebook video) in a 2018 report about a military parade in Pyongyang, the North Korean capital.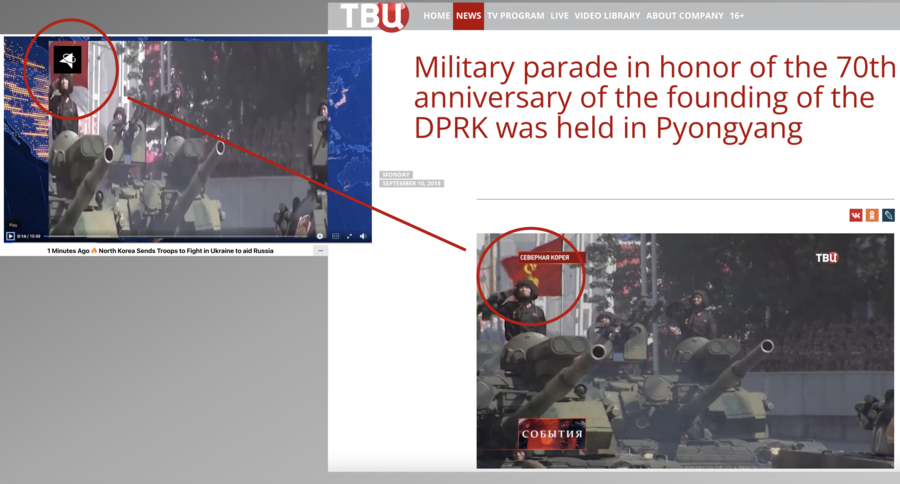 (Sources: Facebook screenshot taken on Mon Sep 12 14:58:30 2022 UTC; Tvc.ru screenshot taken on Mon Sep 12 14:28:30 2022 UTC; composite image by Lead Stories.)
The claim about the "100,000 soldiers" Pyongyang allegedly plans to send to Ukraine is not new. The New York Post was one of the first English-language sources to mention it. That article, published on August 5, 2022, quoted a Russian military analyst, Igor Korotchenko, who made this claim on Russian state television.
The "news" was republished by several other American outlets, including Insider.
However, no further media reports with verifiable details have confirmed this claim. On September 5, 2022, a New York Times article said that the collaboration between North Korea and Russia includes Moscow buying artillery from Pyongyang, not asking for more combat manpower.
As of September 12, 2022, there have been only indications of ongoing talks about the possibility of North Korea sending workers, not troops, to rebuild eastern regions of Ukraine presently occupied by Russia.
In early September 2022, Deputy Minister of Construction Nikita Stasishin told the state-run TASS news agency that an intergovernmental commission on cooperation in economic, trade, scientific and technical matters would decide the matter.
Russian Deputy Prime Minister Marat Khusnullin and the pro-Russian head of the self-proclaimed Donetsk People's Republic, Denis Pushilin, mentioned such cooperation in August and July 2022, respectively.
At the time of writing, however, it was unclear whether any concrete decision on the matter had been made.
Lead Stories has fact-checked other claims related to the 2022 Russian-Ukrainian conflict. Those articles can be found here.