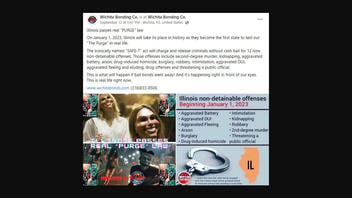 Did Illinois pass a real "PURGE" law? No, that's not true: A recently enacted law does not allow all crimes to be legal for one night, the plot of the Hollywood horror flick "The Purge." The state did pass a law that would eliminate cash bail for certain crimes, but judges have the final say over whether or not defendants can be released from prison before trial without bail.
This claim appeared as a post (archived here) on Facebook on September 12, 2022. It opened:
Illinois passes real "PURGE" law
On January 1, 2023, Illinois will take its place in history as they become the first state to test out "The Purge" in real life.
This is what the post looked like on Facebook at the time of writing: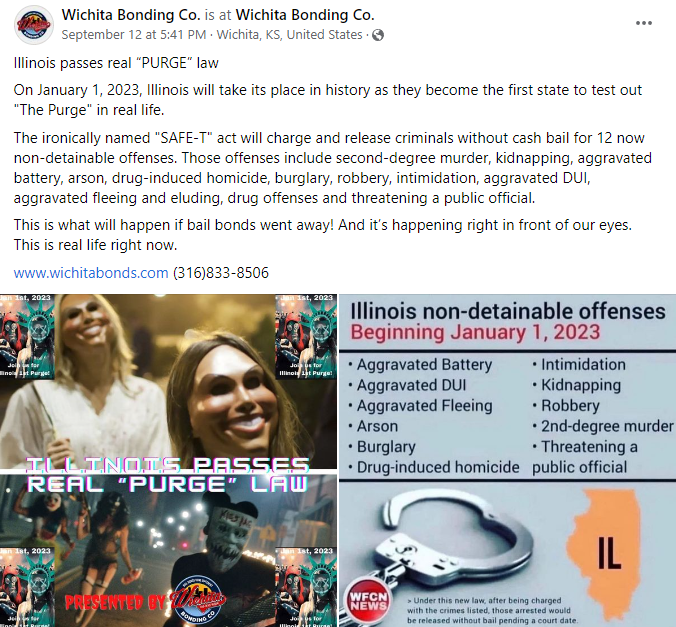 (Source: Facebook screenshot taken on Thu Sep 15 19:13:19 2022 UTC)
The post on Facebook features stills from the 2013 movie "The Purge," unrelated to the new law, and makes two claims about crimes that supposedly will have no cash bail once the law goes into effect.
Illinois Governor J.B. Pritzker signed the SAFE-T (Safety, Accountability, Fairness and Equity) Act in February 2021, and will take effect on January 1, 2023. The no-cash-bail policy, included in the Pretrial Fairness Act, makes up part of the SAFE-T law.
SAFE-T's intent was to prevent the detention of people who had no serious prior criminal convictions and who did not pose a threat to a community, but could not afford bail.

Critics of the law have nicknamed it "The Purge," based on the aforementioned movie, in which all crimes were legal for one night a year. All crimes are not legal for one night under the Illinois law.
The law eliminates a pre-trial cash bail for some cases, but a judge makes the final determination about whether or not to impose bail on a defendant. Under Sec. 110-5A (p. 342) of the SAFE-T Act, the decision is based, among other criteria, on the criminal charges and if the justice believes a person is a threat to the community or may flee the jurisdiction.

Pretrial release can be denied for the crimes listed in the graphic posted on Facebook. Section 110-4 (p.339) describes when a person may be denied pretrial release based on the type of crime they are accused of committing:
Sec. 110-4. Pretrial release.
(a) All persons charged with an offense shall be eligible for pretrial release before conviction. Pretrial release may only be denied when a person is charged with an offense listed in Section 110-6.1 or when the defendant has a high likelihood of willful flight, and after the court has held a hearing under Section 110-6.1.

Under Section 110-6.1 (p. 370), "pretrial release" can be denied for a defendant who is charged with a forcible felony, among other criteria. Forcible felonies include the crimes listed in the Facebook post's image:
Sec. 2-8. "Forcible felony". "Forcible felony" means treason, first degree murder, second degree murder, predatory criminal sexual assault of a child, aggravated criminal sexual assault, criminal sexual assault, robbery, burglary, residential burglary, aggravated arson, arson, aggravated kidnaping, kidnaping, aggravated battery resulting in great bodily harm or permanent disability or disfigurement and any other felony which involves the use or threat of physical force or violence against any individual.
Illinois' Cook County Public Defender's Office shared with Lead Stories an online list of false claims that have been made about the law. FACT AND FICTION: ILLINOIS' HISTORIC PRETRIAL FAIRNESS ACT notes that, in every case, a judge has the discretion to impose bail if he or she believes the accused is a threat to the community or a flight risk:

(Source: Cook County Public Defender website screenshot taken on Thu Sep 15 19:53:19 2022 UTC)
Lead Stories previously has debunked other claims about criminal justice in the U.S.