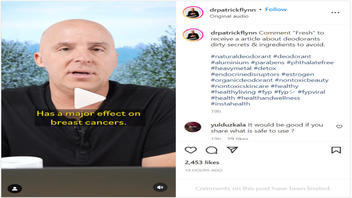 Do aluminum-based antiperspirants cause or exacerbate breast cancers? No, that's not true: No connection has been established between these types of antiperspirants and breast cancer. According to the Cleveland Clinic, "No scientific evidence has been discovered that links the use of these deodorants and antiperspirants to the development of breast cancer."
The claim appeared in an Instagram post and video published by chiropractor Patrick Flynn on October 13, 2022. It opened:
Comment 'Fresh' to receive a article about deodorants dirty secrets & ingredients to avoid.



#naturaldeodorant

#deodorant

#aluminium

#parabens

#phthalatefree

#heavymetal

#detox

#endocrinedisruptors

#estrogen

#organicdeodorant

#nontoxicbeauty

#nontoxicskincare

#healthy

#healthyliving

#fyp

#fypシ

#fypviral

#health

#healthandwellness

#instahealth
This is what the Instagram post looked like at the time of writing: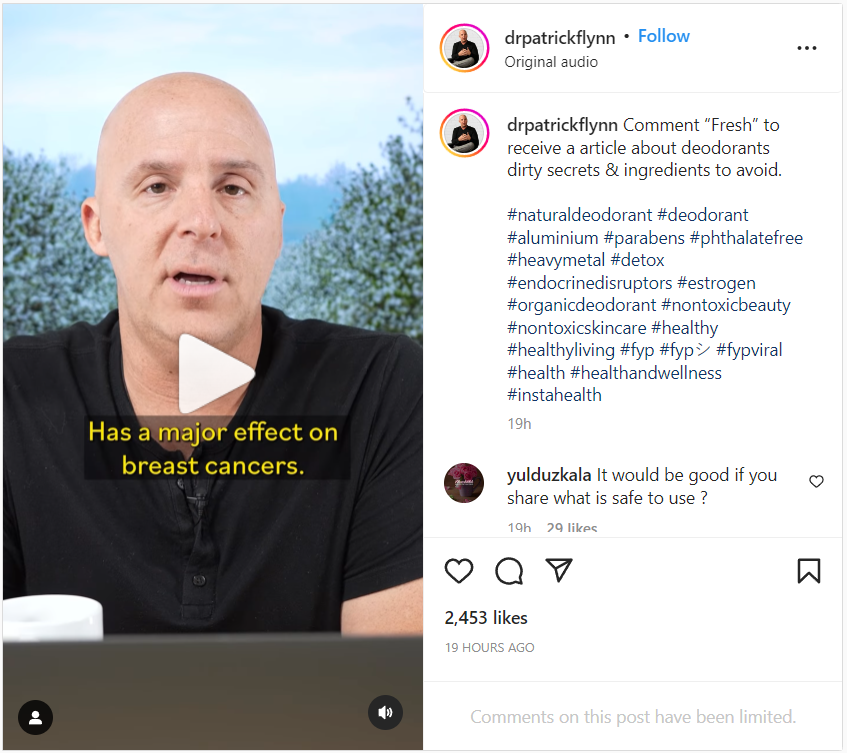 (Source: Instagram screenshot taken on Fri Oct 14 15:20:55 2022 UTC)
The video
The video features Patrick Flynn, a doctor of chiropractic, an author and the founder of The Wellness Way, which markets itself as "a network of Health Restoration Clinics that think and act differently to solve the health challenges others can't."
At the top of the video, Flynn is asked, "Hey doc, is aluminum deodorant concerning to you?" He responds:
Very concerning. Plugs the pores, cause[s] a lot of problems, very toxic. I recommend nobody ever use an aluminum-based -- it's actually antiperspirant -- and so, do not do that. It's very damaging, has a major effect on breast cancers. There's enough research showing that it's very bad. And actually, what it does to the underarm and what it can do to the breast tissue and lymph nodes, I'm thoroughly against it in every single way.
The National Cancer Institute said there's no proof of anything to worry about:
Because underarm antiperspirants or deodorants are applied near the breast and contain potentially harmful ingredients, several scientists and others have suggested a possible connection between their use and breast cancer. However, no scientific evidence links the use of these products to the development of breast cancer.
The Mayo Clinic agrees:
No conclusive evidence links the use of underarm antiperspirants or deodorants with breast cancer. Some reports have suggested that these products contain harmful substances such as aluminum compounds and parabens that can be absorbed through the skin or enter the body through nicks caused by shaving, but the evidence to date suggests these products don't cause cancer.
In a December 6, 2021, article on the Cleveland Clinic website, radiation oncologist Dr. Chirag Shah acknowledged that "there's been quite a bit of discussion about deodorants and antiperspirants and their relationship to breast cancer" in recent years. He added:
Part of the reason this theory emerged is because we used to tell patients that they couldn't use aluminum-containing antiperspirant during radiation, because there were concerns that the aluminum would increase the skin irritation that can result from radiation cancer treatment.
The American Cancer Society website had this to say about it:
There are no strong epidemiologic studies in the medical literature that link breast cancer risk and antiperspirant use, and very little scientific evidence to support this claim.

In fact, a carefully designed epidemiologic study of this issue published in 2002 compared 813 women with breast cancer and 793 women without the disease. The researchers found no link between breast cancer risk and antiperspirant use, deodorant use, or underarm shaving.
The study referenced in the American Cancer Society resource can be found here.
Other, bigger cancer risks
Shah from the Cleveland Clinic suggested in the same article that deodorants and antiperspirants aren't where the focus should be:
I think there are other things we should probably be more concerned about when it comes to breast cancer risk. Age, the use of hormone replacement therapy and family history are some of the biggest risk factors for breast cancer, and those are more important, in my opinion.