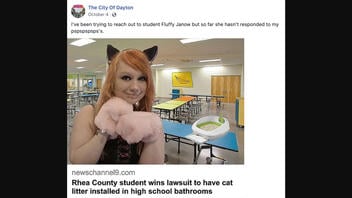 Did a student called Fluffy Janow win a "lawsuit to have cat litter installed in high school bathrooms" in Rhea County, Tennesee? No, that's not true. A satire account on Facebook published the claim following a meeting of Tennessee legislators that addressed cat litter boxes in school bathrooms. The post was not intended to be taken seriously. The Tennessee court system has no record of such a lawsuit.
The story originated from an October 4, 2022, post on Facebook by an account called The City Of Dayton. The account describes itself as "Rhea County's first and best parody account offering satire and humor that is sure to go over your head if you're the victim type."
The post shows what appears to be a screenshot from the news website for WTVC News Channel 9, the ABC affiliate for the Chattanooga, Tennessee area. The thumbnail picture features a girl wearing elements of a cat costume in a classroom setting, with a cat litter box visible in the background. The photo's caption reads:
Rhea County student wins lawsuit to have cat litter installed in high school bathrooms
In a comment for the post, the The City Of Dayton account added:
I've been trying to reach out to student Fluffy Janow but so far she hasn't responded to my pspspspsps's
Here is what the post looked like at the time of writing: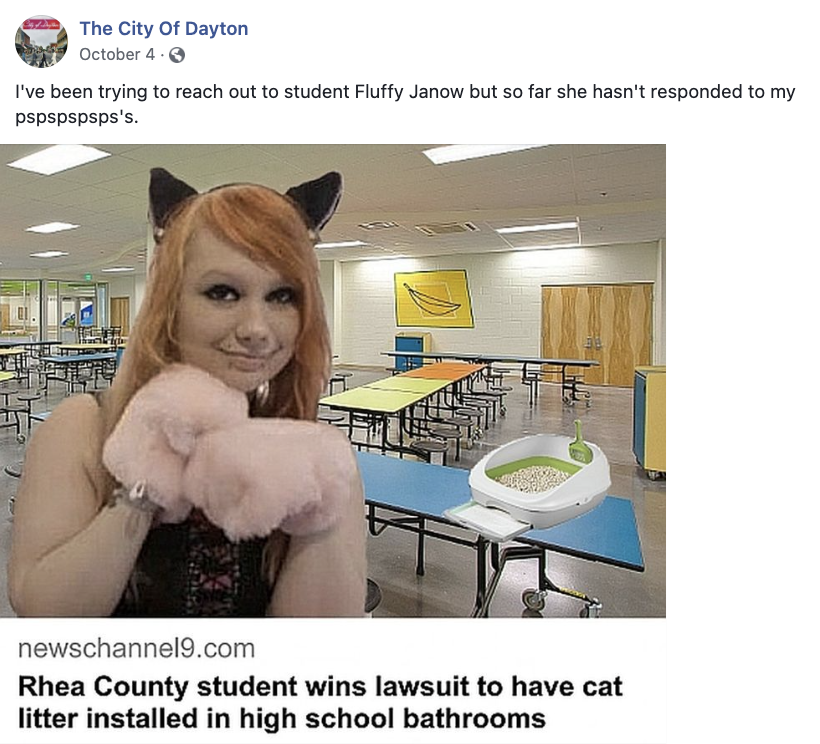 (Source: Facebook screenshot taken on Fri Oct 14 14:58:12 2022 UTC)
The post appeared after a discussion about furries, or individuals who identify with animals or animal characters, at a September 27, 2022, meeting of the Tennessee General Assembly's Government Operations Joint Subcommittee on Education.

Responding to a remark that the Tennessee Public Charter School Commission does not allow children who identify as furries to "parade into class," State Senator Janice Bowling (R - Tullahoma) commented that she had heard that schools "in my rural districts" are "providing litter boxes for the cats," which is "very disruptive for the learning process ... "
The woman featured in the post's thumbnail, however, does not attend high school in Tennessee.

A reverse image search shows that she is a Norwegian from Oslo whose passion for cat costumes inspired several reports in English-language media back in 2016 (for example, here and here). Moreover, one of the videos that is still available online shows the exact same image of the woman as in the Facebook post but with a different background: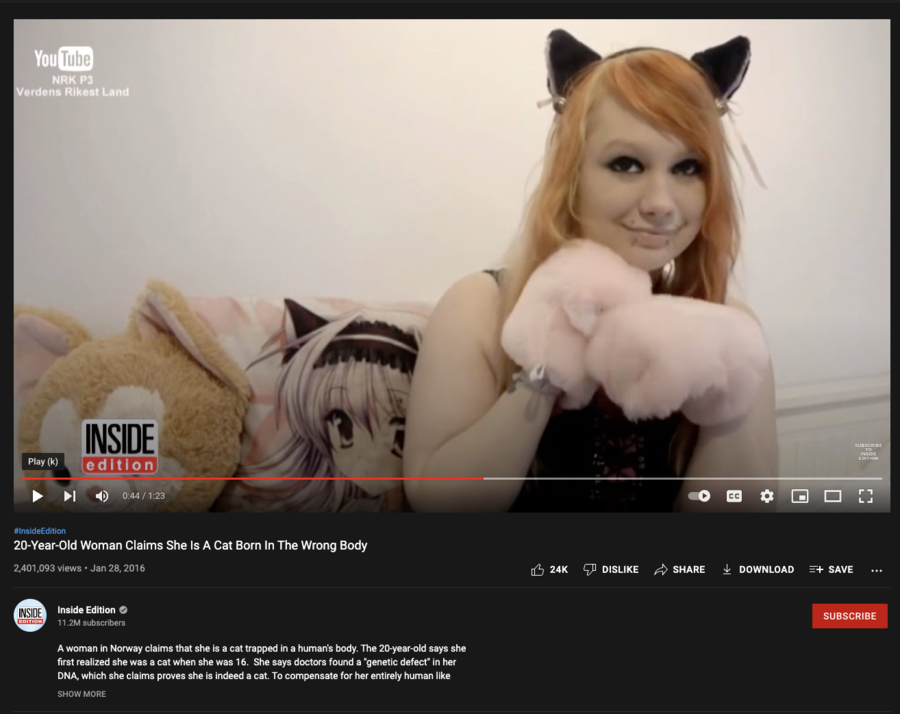 (Source: YouTube screenshot taken on Fri Oct 14 18:42:48 UTC 2022)
A search of the Tennessee State Courts database revealed no lawsuits involving a "Fluffy Janow." The Public Access to Court Electronic Records also did not show such a lawsuit at the federal level.
At the time of writing, the purported report also does not appear on the website of News Channel 9, credited on Facebook as the source of the image.

(Source: Newschannel9.com screenshot taken on Fri Oct 14 15:17:14 2022 UTC)
Moreover, there is no indication that such a news article has ever been published: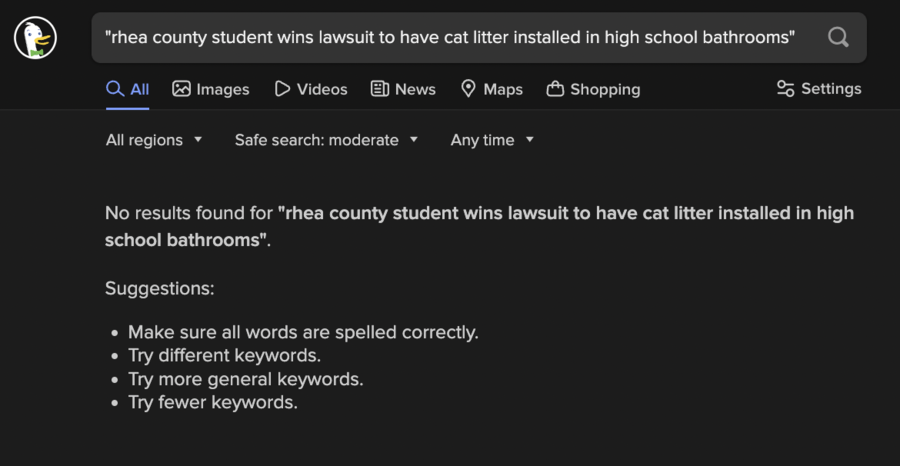 (Source: Duckduckgo screenshot taken on Fri Oct 14 16:35:21 2022 UTC)
In May 2022, Lead Stories debunked a nearly identical claim about school students in North Carolina. Additional claims on social media have involved Michigan and New York, among other states.

An October 14, 2022 NBC News investigation found that no K-12 school in the United States has provided a litter box for children who identify as cats.