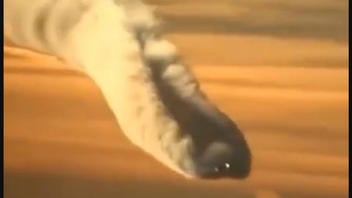 Do a video of a plane's contrails and websites about geoengineering prove that climate control spraying is taking place? No, that's not true: There is no large-scale atmospheric spraying taking place. The plane's contrails are made almost entirely of water vapor. The webpages shown, from Wikipedia and Harvard's Solar Geoengineering Research Program, are real websites that review proposed scientific means of reducing global warming, but these methods have not been put into practice.
According to the start of the audio intro of the video posted on bitchute.com on October 2, 2022, this video was originally made by RitchieFromBoston four years ago, on September 26, 2018. A copy of the video was posted on Facebook by the page Mai le46 on October 2, 2022. This page does not produce original content but uploads content from other channels. It was captioned with the identical words and spacing as RitchieFromBoston's bitchute.com version:
I Showed This 5 Yrs Ago And Now Its Happening.Ask Florida Yt Banned This 5yrs Ago
This is how the post appeared on Facebook at the time of writing: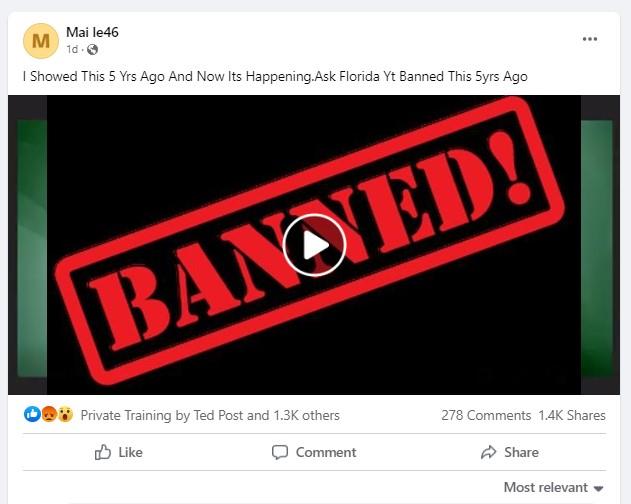 (Image source: Facebook screenshot taken on Tue Oct 04 15:12:08 2022 UTC)
The focus of this fact check is the first three minutes of this video, regarding "chemtrails" and geoengineering. The video opens with a clip filmed by a pilot who goes by the handle LouB747 on YouTube and Instagram. The video, originally uploaded to YouTube on June 19, 2017, shows the effect caused by the wake vortex from the wingtips of a 787 passenger plane rolling the contrails behind the jet engines. It was titled and captioned:
RARE Contrails | Early morning 787 Dreamliner
Crossing traffic 1000 feet below as seen from a 747. This was over the east coast of Russia.
LouB747's video shows contrails. The Environmental Protection Agency published an Aircraft Contrails Factsheet in September 2000 with the collaboration of NASA, the National Oceanac and Atmospheric Association (NOAA) and the Federal Aviation Administration (FAA). The fact sheet explains how different atmospheric humidity conditions can cause contrails that are short-lived or that evolve and spread.
Contrails are line-shaped clouds or 'condensation trails,' composed of ice particles, that are visible behind jet aircraft engines, typically at cruise altitudes in the upper atmosphere. Contrails have been a normal effect of jet aviation since its earliest days. Depending on the temperature and the amount of moisture in the air at the aircraft altitude, contrails evaporate quickly (if the humidity is low) or persist and grow (if the humidity is high). Jet engine exhaust provides only a small portion of the water that forms ice in persistent contrails. Persistent contrails are mainly composed of water naturally present along the aircraft flight path.
RitchieFromBoston narrates over LouB747's clip, saying:
What you are looking at right now is an aerial video taken from one plane of another plane. That is, clearly as you can see, even though the predictive programming is causing you still not to believe it -- is spraying the atmosphere. For what reason? For what purpose? What is their ultimate goal? Their ultimate goal is, and has been achieved, is to control the weather. Well, why would they want to control the weather? They want to control the weather because if they can control the weather they can completely, totally, 100 percent control the world, me, you, and everyone we have ever known or met. Period. Don't believe it? Of course you don't. But here's even more proof!
RitchieFromBoston claims that links were sent specifically to him by "a couple of members of Anonymous." He then shows a Wikipedia page for Stratospheric Particle Injection for Climate Engineering (SPICE). The page as it appears in that 2018 video exists in the revision archive, but has now been merged with a page on Stratospheric aerosol injection.
The 2018 page on SPICE does not contain any information about spraying the atmosphere from a plane. It discusses the SPICE research project that was funded by the government of the United Kingdom. The project investigated the feasibility of the geoengineering technology for the purpose of solar radiation management, but this was never tested in the field. The illustrations feature a tethered balloon, not jet planes.
The current Wikipedia entry (archived here) on stratospheric aerosol injection does mention aircraft, but the page is about hypothetical methods proposed to reduce global warming, not methods currently employed. Under the "Outdoors Research" heading, one test that actually took place is mentioned, "... a Russian team tested aerosol formation in the lower troposphere using helicopters." It links to an October 1, 2009, study published in Russian Meteorology and Hydrology
The next screen shows the homepage of Harvard's Solar Geoengineering Research Program. In 2018 RitchieFromBoston claimed that they were "rolling this out" -- but that is not true. They haven't. Harvard's Stratospheric Controlled Perturbation Experiment (SCoPEx) has an independent Advisory Committee. There was a proposed "platform test" of the high-altitude balloon from The Esrange Space Center in northern Sweden that was intended only to test the balloon that might one day be used as a delivery system. On March 31, 2021, the advisory committee published an update stating that all test flights would be suspended until "societal engagement" could occur.
This was reported in The New York Times on April 2, 2021:
A test flight for researching ways to cool Earth by blocking sunlight will not take place as planned in Sweden this June, following objections from environmentalists, scientists and Indigenous groups there.

The Swedish Space Corporation said this week it had canceled plans for the flight, in which it would have launched a high-altitude balloon, on behalf of researchers, from its facility in the Arctic. It would have been the first flight of a long-planned experiment called Scopex, a project led by scientists at Harvard University.
Lead Stories has debunked claims about "chemtrails" in the past, that they were sprayed by military planes, that sundogs are caused by metallic particles and that there are many photos of chemtrail spraying equipment.