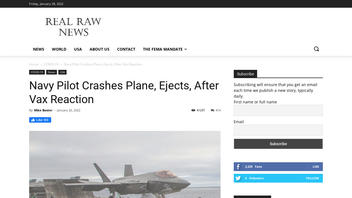 Did a U.S. Navy pilot have to eject themselves from an aircraft before a crash caused by their reaction to a COVID-19 vaccine booster? No, that's not true: Although a Navy pilot was involved in an incident with a fighter jet that caused them to eject themselves from the aircraft, a Navy spokesperson told Lead Stories that the cause of the crash was still under investigation at the time of writing. There is no publicly available evidence of a COVID vaccine reaction and the article was published on a website that describes itself as a purveyor of fictitious parody.
The claim originated in an article (archived here) published on January 26, 2022, by Real Raw News. The headline read:
Navy Pilot Crashes Plane, Ejects, After Vax Reaction
Users on social media saw this title, description and thumbnail:
Throughout the Plandemic Real Raw News has written about incidents of vaccinated pilots either falling ill or outright dropping dead midflight, catastrophic events that endanger not only the pilots but also the millions of passengers entrusting their safety to the airlines. This issue, obscured by the FAA in matters involving civilian pilots, and the DoD [...]
The Navy reported that on January 24, 2022, a Navy pilot did have to eject themselves from a fighter jet as a safety precaution after that aircraft experienced a "landing mishap" during a carrier landing on the USS Carl Vinson. The pilot was in stable condition and there were seven sailors injured in total. However, reports of the crash did not attribute the accident to a reaction to a COVID-19 vaccine.
In an email to Lead Stories on January 28, 2022, Hayley Sims, a public affairs officer for the Navy said:
The cause of the crash is under investigation.
Lead Stories also reached out to the Centers for Disease Control and Prevention for information about whether a COVID vaccine booster affected the pilot and will update this story with any response.
Real Raw News has a long history of publishing false claims in mock news stories, many of them about convictions and executions of various public figures at Naval Station Guantanamo Bay in Cuba. For example, the site reported former Secretary of State Hillary Clinton was hanged (she wasn't); former White House Chief of Staff John Podesta was executed (he wasn't); and that "the military" convicted former Attorney General William Barr on charges of treason (it didn't).
The website for Real Raw News includes a disclaimer that warns readers not to take its content too seriously. Specifically, it says:
Information on this website is for informational and educational and entertainment purposes. This website contains humor, parody, and satire. We have included this disclaimer for our protection, on the advice on legal counsel.

(Source: RealRawNews.com screenshot taken Tue Aug 3 16:39:48 UTC 2021)
Lead Stories has covered claims published by Real Raw News in the past. Previous Lead Stories debunks of Real Raw News items is collected here.