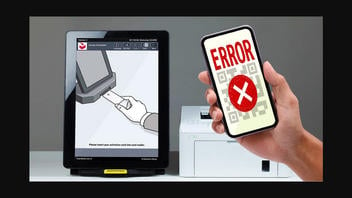 Does the presence of "QR code signature mismatch" error codes reported in some Dominion voting machines in Tennessee invalidate Georgia election results? No, that's not true: Experts with whom Lead Stories spoke said there is no connection between error codes found in Tennessee voting machines and Georgia election results, and that such error codes are generic indicators election administrators use to fix commonplace issues.
The claim originated in a podcast episode shared on the online video platform Rumble on October 2, 2022 (archived here). A subsequent article ("Bombshell Dominion 'Error Code' Uncovered in 97% of Georgia Counties"), posted on October 4, 2022, to the self-publishing website Substack (archived here), further detailed the claim. In the Substack article, the author suggested that authentic and now-resolved code errors that occurred during the October 2021 Williamson County election in Tennessee also occurred in Georgia, suggesting that state election results were fraudulent.
The article's headline and subheading read:
Bombshell Dominion 'Error Code' Uncovered in 97% of Georgia Counties

Open records requests reveal 64 of 66 Georgia counties have the same unsolved 'Tennessee Error' that caused seven scanners to miscount hundreds of ballots.
This is a screengrab of the webpage at the time of this writing: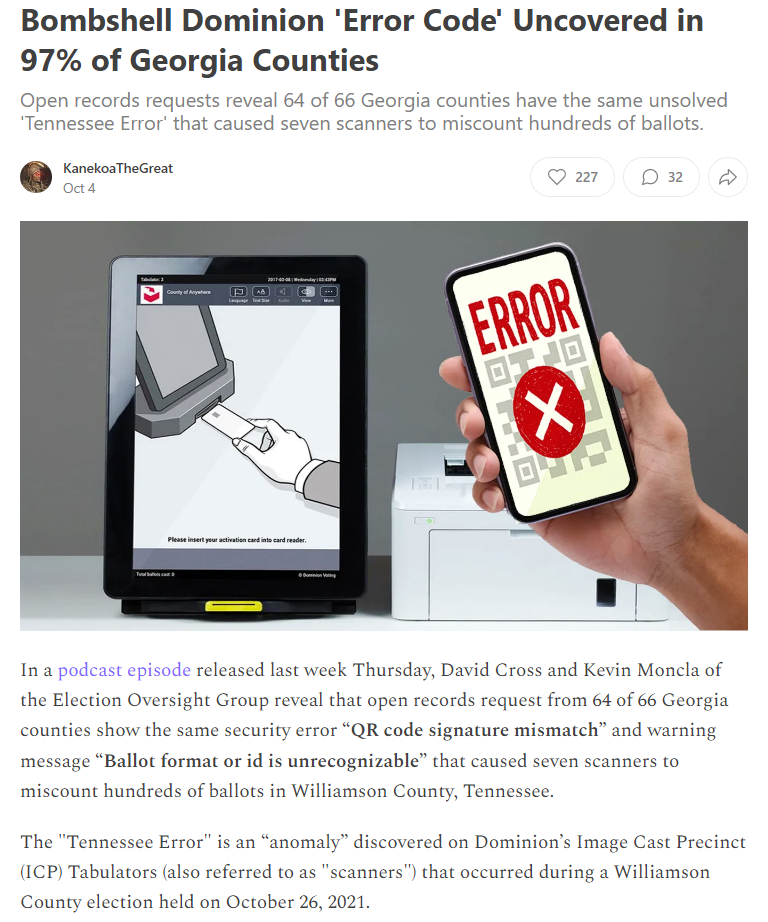 (Source: Substack screenshot taken on Fri Oct 7 at 15:24:38 2022 UTC)
The claim is based on an investigation launched in November 2021 by the Tennessee secretary of state to resolve an anomaly observed in Dominion ballot tabulators used in Williamson County, Tennessee, during a municipal election held on October 26, 2021. Poll reports at the time indicated that seven of the 18 tabulators used during the election did not match the number of ballots scanned.
Though the blog author refers to an authentic investigation, they distorted findings published by the Election Assistance Commission (EAC), an independent federal agency that licenses election hardware and provides training, research and assistance to election administrators.
False Claim: Error Code Concerns Addressed in the EAC Report Were "Unsolved"
While it is true that error codes were reported in ballot-marking devices in October 2021 across some Tennessee counties, election authorities confirm that all ballots were counted and that the issue has since been resolved. Furthermore, election administration professionals told Lead Stories these error codes are "generic," can populate for a number of reasons and do not suggest a system-wide failure.
In a phone interview conducted on October 7, 2022, a Dominion spokesperson told Lead Stories:
There is no such thing as the 'Tennessee Error.' Other Tennessee jurisdictions using Dominion's system have not had this issue. No other jurisdiction anywhere has reported this issue and the U.S. Election Assistance Commission's (EAC) investigation and final report confirms this fact.

The identified issue occurred in one county in Tennessee during a local election and it did not impact the accuracy of election results as the EAC report notes.

The issue was that some valid ballots were being flagged as provisional ballots and sorted for election official review when they didn't need to be flagged and set aside. Again, this did not affect the accuracy of the final tally. A hand count recount of the voter-verified paper ballots confirmed this fact.

'QR mismatch' is a generic log message and is not the reason why the ballots in the local election were flagged for review. Ballot mismatch is a generic log message that appears whenever a ballot is not initially read by a scanner and is returned to a voter.

In the event that any voting system scanners were actually malfunctioning and not counting ballots, the issue would show up in post-election auditing, specifically through any hand counts. There are no instances of this occurring in Georgia following the May primary election.
The Substack article claimed that concerns expressed by the QR code error were left unsolved and unresolved:
In essence, the EAC and Dominion admit they do not know the cause of the problem, and there is no explanation or definition of the 'erroneous code', nor how it got there after the software was certified by the EAC.
That claim is contradicted by a report published by the EAC in March 2022, in which the agency explained exactly what the erroneous code was and what it did. It does note that the first tests were indeed inconclusive:
The direct cause of the anomaly was inconclusive. Based on the investigation, it's reasonable to conclude that the anomaly is related to the imported D-Suite 5.5 election definition used on the D-Suite 5.5-B system.
The root cause of the error code issue was further described:
On February 11, 2022, Dominion submitted a Root Cause Analysis (RCA) to the EAC. The report indicates that erroneous code is present in the EAC certified D-Suite 5.5-B and D-Suite 5.5-C systems. The RCA report states that when the anomaly occurs, it's due to a misread of the QR code. If the QR code misread affects a certain part of the QR code, the ICP scanner mistakenly interprets a bit in the code that marks the ballot as provisional. Once that misread happens, the provisional flag is not properly reset after that ballot's voting session. The result is that every ballot scanned and tabulated by the machine after that misread is marked as provisional and thus, not included in the tabulator's close poll report totals.
A press release that accompanied the EAC report further noted: "This coding fix has been thoroughly evaluated by the EAC's Testing and Certification Division and voting system test lab and deemed a satisfactory resolution to this issue."
There is currently no open investigation into the matter, the Georgia secretary of state confirmed to Lead Stories.
False Claim: The QR Code Error Invalidates Election Tallies
Voters in Georgia use what is known as a ballot marking device (BMD), a type of machine used to mark a ballot in place of a pen. After a ballot is marked, it is fed into a tabulator that tallies votes. If a ballot is inserted improperly or if the tabulator is unable to read the recorded responses, the machine will generate an error code. A poll worker will then either reinsert the ballot properly or count it by hand.
QR error codes in Dominion voting machines happen for a variety of reasons. In the event that a ballot is flagged by a QR code error, experts told Lead Stories that poll workers are trained to then rescan the ballot or count it by hand. The EAC notes that QR error codes did not affect the voting outcome, as subsequent tabulation provided the correct tally and that was confirmed via a hand count of the paper ballots.
"In Georgia in 2020, all of the ballots were counted by hand, we know what the election result is and it doesn't depend on computers at all," John Sebes, chief technology officer of the nonpartisan technical organization OSET Institute, told Lead Stories in a phone interview on October 6, 2022.
"If there is any connection between people's concern about this technical issue and the validity of past election results in Georgia, then that really needs to be very quickly dismissed. We know the Georgia 2020 election results. Period."
The Substack author incorrectly implied that the so-called "Tennessee Error" could have caused ballots in some Georgia counties to have gone uncounted, meaning that election results were not credible.
In a phone interview on October 6, 2022, Lead Stories spoke with Mike Hassinger of the Georgia secretary of state's office. Hassinger confirmed that the same error codes were also recorded across many of Georgia's 159 counties, but that these readings can be produced for a number of reasons.
"When we see QR code signature mismatched, that could mean anything from a faulty printed ballot to a ballot that was inserted into the scanner and held on to too long by the voter, or they just didn't get a good scan," Hassinger said. "It just means that the machine didn't get a good read on the first scan."