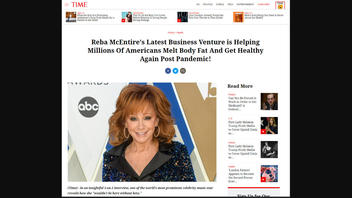 Have celebrities such as Oprah Winfrey and country music singer Reba McEntire recently launched their own keto weight loss line of products on live TV? No, that's not true: This is false advertising and follows a formula that is used again and again, featuring spoofed websites that mimic trusted outlets and bounce users to unknown and untraceable affiliate links.
There have been several ads circulating online featuring false endorsements from Winfrey, McEntire and others. One example is an undated article (archived here) at lfyek.uk.com, titled, "Reba McEntire's Latest Business Venture is Helping Millions Of Americans Melt Body Fat And Get Healthy Again Post Pandemic!" It opened:
Gifted singer, musician and business genius, Reba McEntire, made headlines after revealing her new keto weight loss line on Live TV last week. Her product is competing with the biggest weight loss companies in the world. Reba went on to say:

'When I started this whole thing back in 2021, it really was just a passion project to see if I could find something to help speed up weight loss and improve health quicker than the stuff currently on the market. On top of that, it was a way for me to give back to my lifelong followers and those suffering from similar weight loss issues like me.'
This is what the spoofed article looked like at the time of writing: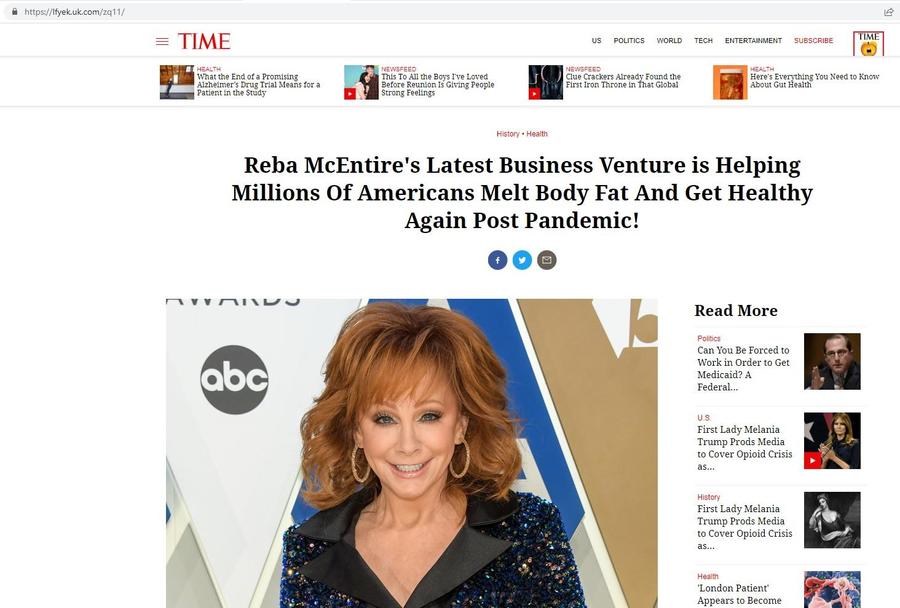 (Image source: lfyek.uk.com screenshot taken on Tue Oct 11 14:38:02 2022 UTC)
The false endorsement continues:
'After being given so much, I figured there was no better time to make BioLyfe Keto available to everyone, as it has already helped millions of people melt huge amounts of body fat, and it can help millions more. If I have to step away from television to keep this moving forward, I will.'
In December 2021, Lead Stories debunked a similar claim for a CBD gummy pain relief product that also was not affiliated with Reba McEntire in any way. On August 8, 2022, snopes.com published an article about false endorsements coming from Facebook pages and websites.
On August 3, 2022, the verified Twitter account @reba published a thread (archived here) that addressed in general terms some of the scams that have been using her name. The only places where any official Reba products are found are from her website, Dillards and Justin Boots. McEntire does not have a line of weight loss products. In the second of three tweets in the thread it says:
Also, be aware of targeted scam advertising that says I am selling products like CBD gummies. They are also fake.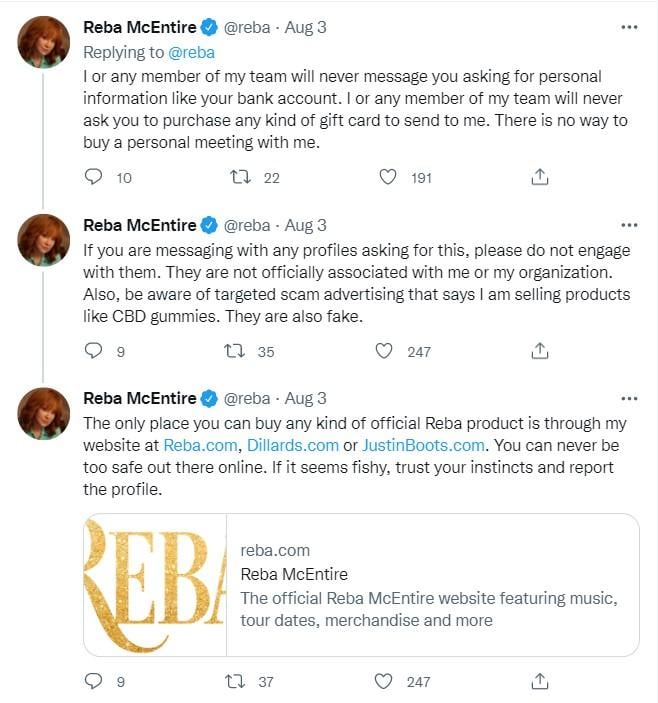 (Image source: Twitter screenshot taken on Tue Oct 11 15:09:37 2022 UTC)
This advertorial follows the same format as many other diet and CBD supplement products promoted with fake endorsements from celebrities. The spoofed TIME Magazine website even includes a "subscribe" button, fake article teasers in the sidebar and TIME's terms of use in small print at the bottom of the page. Clicking on any of these, or on any of the hyperlinked text in the article that mentions "BioLyfe Keto" will take the user to another website, try.keto-gmygummies.com (archived here).
On this website there is no mention of the "BioLyfe Keto" brand from the spoofed TIME website. The product offered is "NUCENTIX KETO-GMY BHB GUMMIES." The brand NUCENTIX is not written in text anywhere on the website, which makes it unsearchable.
This try.keto-gmygummies.com website has a prominent banner stating that the company has an A+ rating with the BBB. The Better Business Bureau website does not have any records for a company called KETO-GMY BHB GUMMIES. While the company Nucentix Nutrition is not BBB accredited, it does have an A+ rating, which the BBB notes is not calculated using customer reviews and "are not a guarantee of a business's reliability or performance."
At the time of writing the company's listing has seven customer reviews and six customer complaints. Several of the customers report identical problems. They thought they were getting a reduced price trial offer but were charged much more than they expected without being able to review the charges at checkout.
A search for "gummies" on the LeadStories.com website returns several debunks of other false claims and deceptive practices associated with similar products.