STORY UPDATED: check for updates below.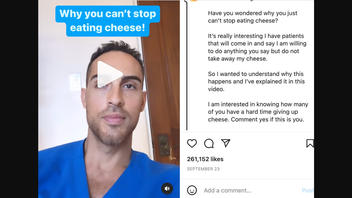 Is cheese addictive because eating it produces casomorphin, a highly addictive opiate that has a similar effect on the brain as do "drugs, alcohol and sex"? No, that's not true: Though cheese can bind to neural cells in the same way that some drugs do, including opiates, experts with whom Lead Stories spoke said there is no definitive evidence that cheese is addictive. A spokesperson for the National Institute on Drug Abuse tells Lead Stories, "Cheese is not addictive."
The claim appeared in a video shared to Instagram on September 23, 2022, in which a self-described naturopath stated that when eaten, cheese produces a highly addictive opiate called casomorphin that works just like "drugs, alcohol, and sex." The post read:
Why cheese can be addicting!

It's really interesting I have patients that will come in and say I am willing to do anything you say but do not take away my cheese.

So I wanted to understand why this happens and I've explained it in this video.
This is what the post looked like at the time of publication: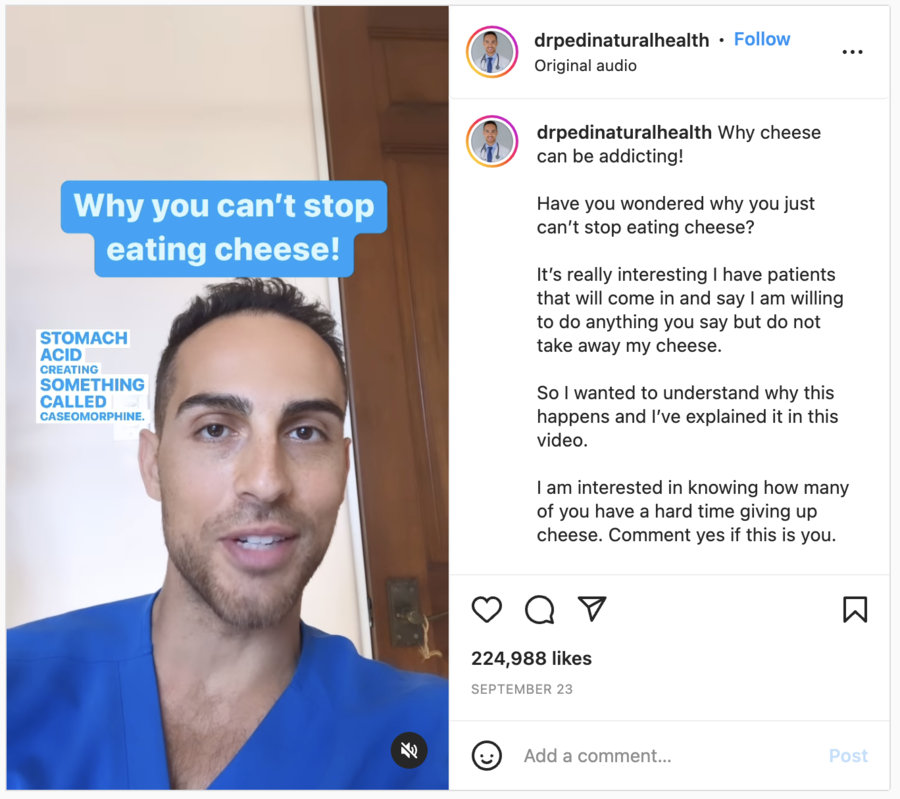 (Source: Instagram screenshot taken on Mon Oct 3 10:13:51 2022 UTC)
The 25-second clip does not cite any documentation to substantiate the "addicting" claim.
Lead Stories spoke with Jennifer Nasser, a registered dietician and nutritional neuroscientist at Drexel University College of Nursing and Health Professions. In an email sent on October 10, 2022, Nasser said there is no sufficient evidence that cheese is addictive:
Definitive experiments haven't been done yet to prove that any food or food component is addictive. There is a lot of evidence that certain foods are difficult to limit with respect to intake by some people, i.e. "Loss of Control" eating. However, loss of control in and of itself is not the defining factor of addiction. One difference between control of drug use and intake of food [or] food components is that the body has built-in complimentary systems (orexigenic and anorexigenic) to control oral food intake. They involve a combination of a peripheral body target (outside of the brain) with a mode of sensory input to the brain. Drugs of abuse don't seem to have these complimentary systems.
The National Institute on Drug Abuse (NIDA) defines addiction as "a chronic disease characterized by drug seeking and use that is compulsive, or difficult to control, despite harmful consequences." Researchers continue to investigate foods that are said to be "addictive," but there are no definitive answers as of this writing, Nasser said.
"Food addiction is an active area of research, and as such no DEFINITIVE results as to its definition or causations are yet available," she told Lead Stories.
Lead Stories reached out to the NIDA, which is part of the National Institutes of Health. A spokesperson responded on October 11, 2022, saying in an email: "Cheese is not addictive, not even when compared to caffeine, a drug that if consumed frequently and/or in high doses often leads physiological dependence and withdrawal symptoms."
The "cheese is addictive" claim first emerged with a 2015 study that described "which foods may be addictive." At the time, some media outlets misrepresented the study, giving rise to reports that cheese was "as addictive as drugs" and that "cheese really is crack."
Lead Stories also spoke with study co-author and neuroscientist Dr. Nicole Avena by email on October 5, 2022. She said that saying cheese is as addictive as drugs is an "overgeneralization" of the study, which rather identified pizza as the most "problematic" food in the context of addictive-like eating. High-fat content and highly processed foods (like some cheeses) were also identified as indicators of whether a food could result in addictive-like behaviors.
"Pizza contains cheese, usually, so I assume that is where this generalization came from. We did also look specifically at cheese, and it was ranked tenth in our study as being identified as addictive, but keep in mind that we only assessed 35 foods in this particular study," Avena told Lead Stories.
Additionally, the study itself didn't mention casein or casomorphin, both of which have been mentioned by media publications and social media users to argue that cheese is addictive.
Casein is a protein found in cow's milk that is used to make cheese. During digestion, casein releases a food-derived opioid called casomorphin. Casomorphin binds to opioid receptors, which help to make up the "complex" opioid system present in the gut, brain and internal organs to regulate pain, reward and addictive behaviors. Opioid receptors are found in the nervous system and embedded in nerve cells, or neurons. When opioids, including casomorphin, attach or bind to these receptors, interactions trigger chemical changes that can create sensations of pleasure or pain relief.
"Casein can release bioactive peptides that can bind to opioid receptors in the brain. However, lots of things can cause binding to opioid receptors and not result in addiction," Avena said.
For example, there is binding to opioid receptors that occur in response to being stung by a bee as a way to blunt pain. In the case of cheese, binding can cause pleasure.
"But, just because cheese binds to opioid receptors in and of itself doesn't mean it's addictive," Avena said.
The NIDA spokesperson said in their email response that "enzymatic degradation in the intestinal wall and in the blood appear to prevent" responses that could be considered addictive after consuming cheese.
This pleasurable response to food is not unique to cheese. Other food products, like those that contain gluten, also trigger similar responses in the body, described researchers.
Whether or not food addiction is recognized as a valid concept continues to be a debate in the scientific community. The nutrition webpage Examine notes that:
"Drug addiction" is a familiar concept, but the clinically preferred term is substance use disorder, as found in the [Diagnostic and Statistical Manual of Mental Disorders] DSM. While substance use disorder is a well-established clinical concept, food addiction is not, and there's no food-addiction diagnosis in the DSM.

The research and medical communities continue to debate whether the food addiction concept is valid, and if so, whether it's more like a substance addiction (e.g., tobacco) or a non-substance addiction (e.g., gambling). There is currently no consensus.
Avena added that although cheese may not have the same physiological effects as certain drugs, overconsumption may still lead to adverse health outcomes.
"The leading causes of death in the U.S. stem from diseases of lifestyle, for example obesity. Adverse dietary or weight outcomes are risk factors for many medical conditions, which compromise our immune systems, and can lead to premature death and decreased longevity," she said.
"These conditions are dangerous, but the difference between them and addiction is that they can take years to manifest into a problem. Drug addiction is more immediately dangerous, and can be dangerous to others. Just because lifestyle diseases do not show effects immediately does not make them less dangerous to the health and mortality of an individual."
Lead Stories also contacted the American Nutrition Association for comment and will update this article if a response is received.
2022-10-11T19:32:42Z

2022-10-11T19:32:42Z

Updated to revise the description of poster's credentials. Updated to include a response from the National Institute on Drug Abuse.