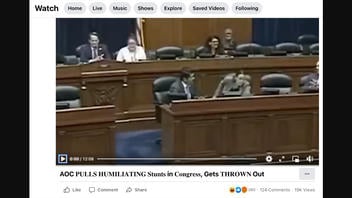 Does this video show Rep. Alexandria Ocasio-Cortez getting "thrown out" of Congress during a congressional hearing? No, that's not true: The footage is from a 2019 hearing and does not show her being ejected. The transcript from this hearing also does not show anyone asking Ocasio-Cortez to leave or be escorted out of the room. The headline is clickbait.
The claim appeared in a Facebook post on October 10, 2022, with the caption, "AOC 𝐏𝐔𝐋𝐋𝐒 𝐇𝐔𝐌𝐈𝐋𝐈𝐀𝐓𝐈𝐍𝐆 𝐒𝐭𝐮𝐧𝐭𝐬 in 𝐂𝐨𝐧𝐠𝐫𝐞𝐬𝐬, Gets 𝐓𝐇𝐑𝐎𝐖𝐍 Out. The video opened with Ocasio-Cortez saying:
Mr. Chairman, may I make a comment? I would like to do my job, and I try not to get out of my job at every opportunity.
This is what the post looked like on Facebook at the time of writing: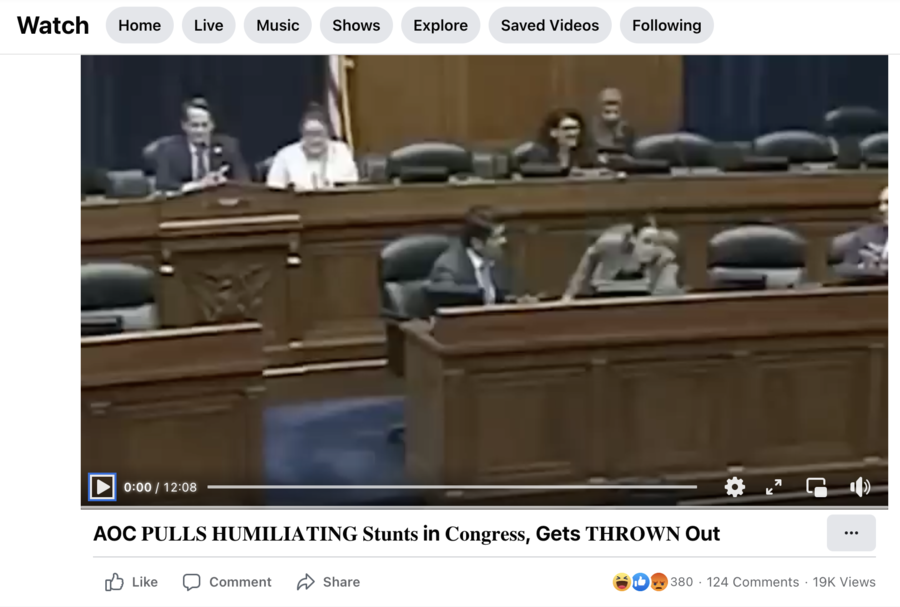 (Source: Facebook screenshot taken on Tue Oct 11 14:17:48 2022 UTC)
The post does not specify dates for the scenes in the video, and with present-tense verbs in the caption, it implies that the scenes are recent.
The 12:08 clip is from a October 29, 2019, congressional hearing about climate, car companies and California, according to the transcript from GovInfo.gov. Ocasio-Cortez speaks about how "an entire political party" is trying to get out of discussing cutting carbon emissions.
Ocasio-Cortez is in only the first two minutes of the video, the first of three different clips. The remainder is Rep. Rashida Tlaib and Sen. Ted Cruz speaking.
Lead Stories has fact checked a number of videos like this where the title of the video does not match the footage shown. Some examples are here, here and here.