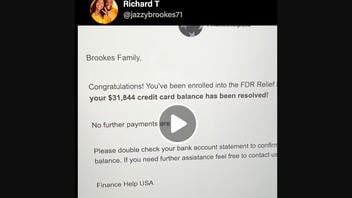 Does a federal financial relief program bearing the initials of former President Franklin Delano Roosevelt wipe out $25,000 or more in credit card debt for Americans? No, that's not true: Lead Stories found no evidence that the purported "FDR Relief Program" exists or that its promise of financial help is real.
The claim appears in multiple Facebook posts, including this one from September 12, 2022, under the title "The FDR Relief Program is Changing Lives - One Family at a Time." It opens:
Check if you are eligible to get $25,000 or more in credit card debt wiped away through the FDR Relief Program. Website now available for new enrollments.
Here's how it looked on the day of writing: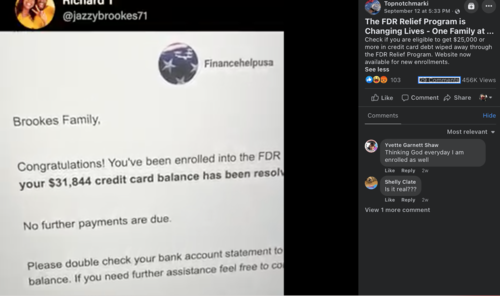 (Source: Facebook screenshot taken on Fri Oct 7 11:29:48 2022 UTC)
The post shows a shaky video of a letter or email that informs the recipient that their enrollment in the "FDR Relief Program" has paid off their credit card balance in an amount of more than $20,000.
To give the appearance of credibility, the post appears to trade on FDR's name and his creation of federal financial relief programs to assist Americans during the Great Depression of the 1930s.
Text that points to a website for information and enrollment includes no link to such a page. In addition, as seen below, a Lead Stories search of what appears to be a company name on the letter featured in the video -- Finance Help USA -- resulted in either references to Roosevelt's Federal Emergency Relief Administration or a list of financial assistance resources and websites, but none using the name "Finance Help USA."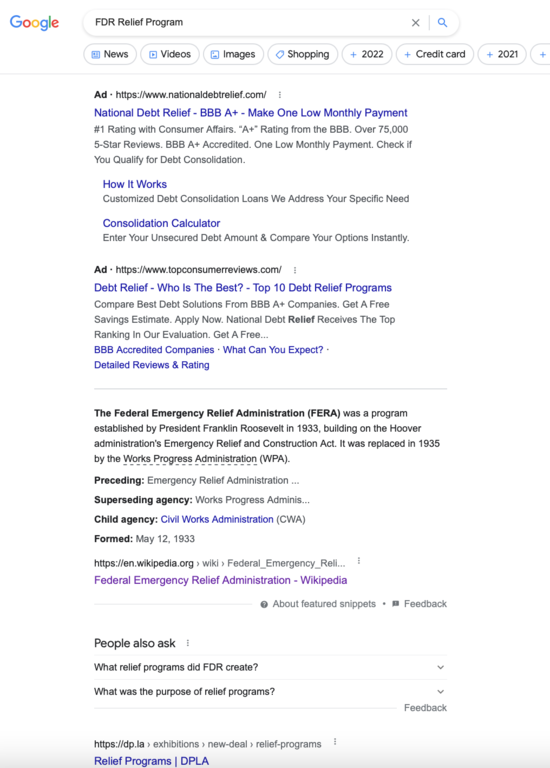 (Source: Screenshot of Google search page taken on Oct 7 18:30:02 2022 UTC)
Similar posts, including one from September 27, 2022, with a split image of the letter video and one of people screaming and jumping with excitement, uses the same text and offers the same promise.
Lead Stories found that in both instances, the Facebook landing pages where the claims originated included links to webpages that either do not exist or no can no longer be found, including the one for FinanceAssistAmerica.org.
On its website, the Federal Trade Commission (FTC) says many debt relief services scams target consumers with false promises to negotiate or resolve debt repayments obligations. The programs often charge large up-front fees, but fail to provide help, according to the agency, which frequently prosecutes those behind the schemes. Both the FTC and the Consumer Financial Protection Bureau provide information for consumers about spotting and reporting consumer financial fraud schemes.
Lead Stories has previously fact checked similar claims of debt relief from government programs that provide debt erasure, grants or stimulus loans for homeowners, Social Security recipients and other Americans that have all proved to be false.